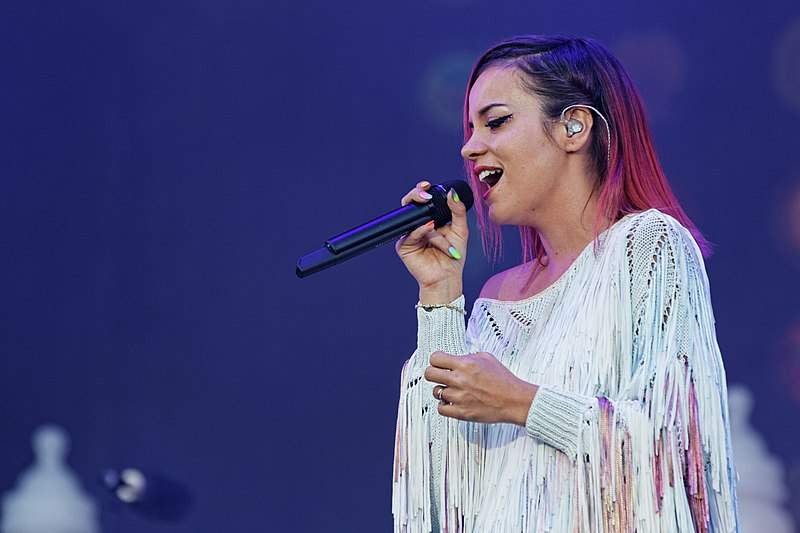 Born (the second of four children) to Welsh-born film producer and comedienne Alison Owen and British actor Keith Allen, on May 2, 1985, in Hammersmith, London, Lily Rose Beatrice Allen began acting when she was just three years old, in an episode of the British TV series The Comic Strip Presents… that her dad co-wrote. Her dad left them when she was four and the family had to live on a 'council estate'. They later lived for some time with their mother's boyfriend, TV comedian Harry Enfield.
At the age of 11, Allen impressed one of her teachers, Canadian Soprano/composer Rachel Santesso Zeffira, who overheard her singing Oasis' "Wonderwall" and offered her lunchtime lessons. This encouraged Allen to take up music, and she joined a chamber choir while learning to play the piano, trumpet, guitar and violin. She also appeared in the film Elizabeth (1998, her mum's co-production).
Dropping out of school, a 15-year-old Allen began working at a record store. Many record labels rejected her as she tried to record an album, so she temporarily took up horticulture, but soon returned to singing and song-writing.
Regal Recordings signed her up for £25,000 in 2005 for an album, but did not help much, prompting her to post her demos on her MySpace account. Gathering a solid fan-following, 500 limited edition of her song "LDN" (7" vinyl) was released.
With her MySpace friend-list skyrocketing, The Observer Music Monthly featured a cover story of her in May 2006.
Allen's debut album Alright, Still was released in July 2006 and went on to be certified 3X Platinum on BPI, while making the top 20 on Billboard 200 after release in the US (2007). The album was nominated for a Grammy in 2008, the year she won the BMI Songwriting Award for one of her album's singles, "Smile", and also hosted her own TV show Lily Allen and Friends (BBC Three).
Her second studio album, It's Not Me, It's You (2009) achieved multi-Platinum certification on BPI and ARIA, topped the UK, Australian and Canadian charts, and stood fifth in the US. "The Fear", its first single, topped British charts for the first four weeks and won her another BMI Award.
In 2014, she released her third album Sheezus.
Other acting credits include the Australian soap opera Neighbours (2009). Allen also appeared in the TV documentary Lily Allen: From Rags to Riches (2011).
In 2010, Allen opened her own garment store, Lucy in Disguise, with her sister Sarah Owen, which was however liquidated in 2014. Backed by Sony Music, she also launched In The Name Of (her own record label) in 2011.
Her award roster includes one Meteor Ireland Music Award (2007), two BMI Awards (2008 and 2010), one BRIT Award (2010), three NME Awards (2007, 2010 and 2014), one Elle Style Award (2014), two Glamour Woman of the Year Awards (2008 and 2010), three Ivor Novello Awards (2010), GQ Woman of the Year Award (2009) and one Q Award (2009).
Allen married builder/decorator Sam Cooper in 2011. They have two daughters—Ethel Mary and Marnie Rose.
An avid cricket fan, Allen supports the charities The Hoping Foundation and Save the Children.
She owns a £4.2 million country mansion manor in Gloucestershire and a £2 million flat in Notting Hill.
Allen's fourth album, No , is set for release on June 8, 2018.