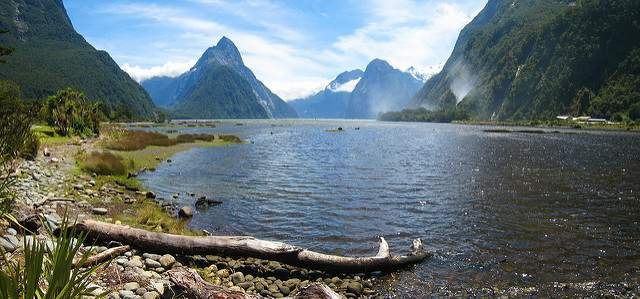 A wave of UHNW 'survivalists' are being drawn to New Zealand's rich, unspoiled backwoods, but London is a better bet, says Alec Marsh
News that an elite cadre of 92 US citizens, led by PayPal co-founder Peter Thiel, have secretly obtained New Zealand citizenship 'outside the normal procedures' has made interested reading in the last week. All the more so when it's being claimed that many of these UHNWs have been buying up vast estates in New Zealand, so that come the revolution or nuclear Armageddon (take your pick), they'll have some self-sustaining bolthole to run to. It's like Escape to the Country but on a whole different scale.
According to Matt Finnigan, from Sotheby's International Realty New Zealand, about 40 per cent of their clients are Americans. 'They want privacy, security and beautiful natural landscape,' he told the FT, adding that, 'Sustainable properties generally come with their own water supply and the ability to grow food.'
Which sounds jolly appealing; and as most of us know only too well, New Zealand offers unparalleled natural beauty and some of the most unspoiled habitats in the world – a few moments in the spellbinding company of Ian McKellen, Elijah Wood and the NZ tourist authority will convince you of that.
Furthermore, for those wishing to break free, New Zealand has an enviable population density – it's about 200 on the list, so just below South Sudan and above Norway, so if you are a HNW who wants to get away from it all and grow his own vegetables, South or North Island will oblige.
It's also situated in a fairly quiet corner of the globe, so to speak: there aren't too many hostile neighbours close by. Sydney, Australia, itself hardly in the midst of the beating heart of planet earth, is the closest landmass, some 1,600 miles away, so pushing four hours' flight away, private jet or not. And the Aussies aren't hostile, well not yet anyway.
But for those Spear's readers who like to travel and see the world, it's not so great, (which partly explains why quite so many Antipodeans are in London in the first place). That said, by the time that the likes of Thiel and co are getting stuck into UHNW survivalism among the Kiwis, there sadly maybe nowhere else to go. Which is the point.
The rest of us will be either toast or hardly sociable, to put it mildly. Against that backdrop chopping firewood and growing brassicas thousands of miles from where you might want to be doesn't look so unappealing. It will certainly make up for the fact that your collection of Rothkos and Jeff Koons balloon animals were eviscerated in the second wave of the strikes.
The sad truth is that the Doomsday clock, the metaphoric score of global hazard, has recently nudged back towards midnight – the closest it's been since 1953, when Stalin was still with us.
The other reason, Armageddon aside, that the survivalist übers have taken to investing in remote estates is fear of revolution: with the Gini coefficient showing the divisions of wealth is widening within Western countries and worldwide. Clearly some UHNWs are alarmed at the prospect of the little guys with pitchforks and burning torches coming after them.
I say, if you're really worried about that happening, then get giving – you might not be able change the fact that you're financially successful, but you can follow the leads of some of the world's wealthiest by giving some or a lot of what you've got away. It worked for Francis of Assisi, not that we'd all want to go that far. The point is that when people see what the rich give, then it should take some of the pain away. The other point is that public engagement matters and disengagement is unlikely to work.
The final question, before you board the never-ending flight to Auckland, to peruse some remote estate is whether you, or indeed the HNW in your life, could really hack it in the backwoods of New Zealand, beyond the reach of accepted norms like plumbing, a mobile signal and routine grocery deliveries – quite apart from Michelin-starred dining or concierge services?
My vote would be to stay somewhere safe like London, where, so long as the new Thames barrier gets built at some stage in the 2050s, we'll be safely protected from rising sea levels for decades to come; there'll be plenty of water to drink, a greater profusion of Michelin-starred restaurants per capita than almost anywhere else you would choose to be, fantastic theatre to enjoy and of course access to some of the best wealth management advise in the world. All you have to do is pay your taxes, which with the appropriate planning, will be a smallish price for not having to chop your own firewood.
Alec Marsh is editor of Spear's