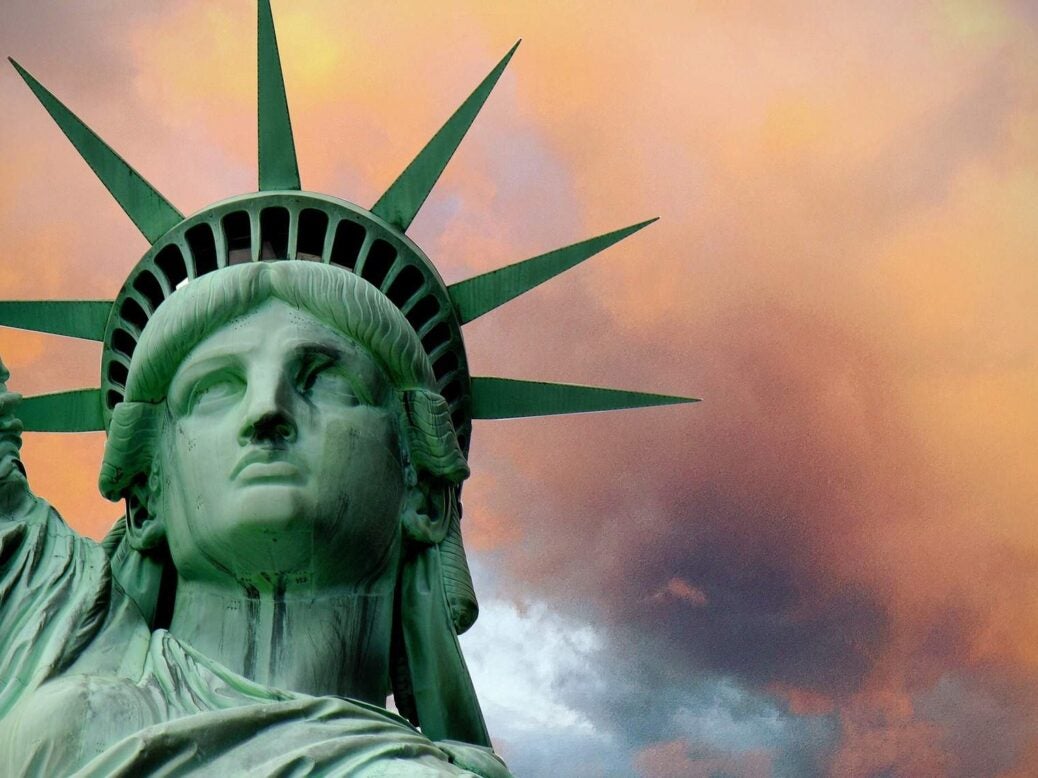 Innovative thinking is now required to design how the West engages with the rest of the world
Though we still have a few more months to go, 2020 is shaping up to be one of the most dramatically negative in recent memory.
Aside from the crushing weight of the pandemic and its associated economic recession, the year has been characterised by accelerating instability and the crumbling of Western hegemony in global affairs.
We've seen Beirut literally explode from decades of cumulative corruption, there is China's rapid evisceration of Hong Kong, Vladimir Putin's power grab for another 16 years, and Donald Trump's openly transgressive actions to undermine the legitimacy of the upcoming elections, among many other worrying developments.
Western leadership of a rules-based international system, many argue, is rapidly coming undone and its replacement has yet to take shape. History is moving at a velocity that makes it impossible to evaluate the aetiology of events fast enough. Many pundits are quick to describe these events as 'unprecedented' or to focus entirely on the actions of the individual protagonists instead of what has made their conduct possible.
I'm increasingly convinced by the argument that we are observing the results of a long-term process, an inevitable response to our sometimes brutal history that laid the foundation of our liberal world order.
Further, this is happening because we haven't reckoned with this past. But we bought the ticket. And, like it or not, now we have to take the ride.
It's a mistake to lay all the bets on the twin disruption events of 2016, Brexit and Trump. What had been building up for years was a tremendous deficit of trust in the West, a lack of trust in its purpose, its meaning and its legitimacy, which is unfortunately backed by rather robust evidence.
This undercurrent of cynicism in our society, amplified by the cacophony and disinformation of social media, was ripe for exploitation.
My bookshelves have grown crowded with impressive, sweeping surveys explaining how we broke the international system and weakened and lost alliances. One of the more memorable books this year comes from the US journalist and author Vincent Bevins, whose assignments to Brazil and Indonesia bring an insider's perspective to the atrocities committed in the name of preserving capitalism against communism during the Cold War.
While investigating the 1965-66 political violence and overthrow of Sukarno sponsored by the US government for his book, The Jakarta Method, Bevins discovered evidence of this model of repression being directly exported to Latin America, which would lead to some of the worst human rights violations imaginable. It was not only the policy of the US government to tolerate and sanction mass arrests and killings – its bureaucracy specifically helped put together the lists of dissidents to be eliminated.
It is difficult to overemphasise the influence these legacies of state terror continue to have on so many countries.
I recall early in my career working a difficult case in Guatemala, and the unforgettable lawyers on our team who risked their lives on a daily basis to fight the impunity of a rigged legal system put in place after the 1954 coup.
In Thailand, where I also worked for a number of years, citizens have suffered through 13 coups, as well as several massacres of students and protesters. The risk of the unelected government deploying violence to subjugate its citizens remains an urgent, daily reality for anyone who holds political beliefs in conflict with the status quo.
The conduct of the Thai military draws from a history of such actions originally being tolerated if not encouraged by Washington. As such, it may come as no surprise that the United States is not held in very high regard by the majority who have suffered this repression.
Thailand is under the unelected leadership of Prayut Chan-ocha, who ordered the killing of 91 protesters in 2010 – a crime for which he has never faced accountability.
The US government rarely mentions that bloodshed, instead holding bilaterals with Prayut about their desire to foster more 'proactive' trade relations. The story is similar in NATO ally Turkey, where a deep distrust of US meddling and attempts at regime change dates back to coups launched in 1960, 1971 and 1980.
Of the most recent failed coup, in 2016, then-Vice President Joe Biden denied involvement, remarking that the US 'did not, did not, have any foreknowledge'. Nevertheless, many are doubtful.
I believe we have the wherewithal to find a road out of this wilderness. But it will require innovative thinking in designing how the West engages with the rest of the world in a way that better respects sovereignty, that is more honourable in its dispensation of international law justice, and with a conviction based on values that would-be competitors in Beijing and Moscow have no ability to match.
Robert Amsterdam is the founder of Amsterdam & Partners LLP and hosts a podcast, Departures
Read more
Why recent protests are a wake-up call for HNWs
What Covid-19 is telling us about nation states
How the Coronavirus outbreak exposes the 'central weakness' of China's regime