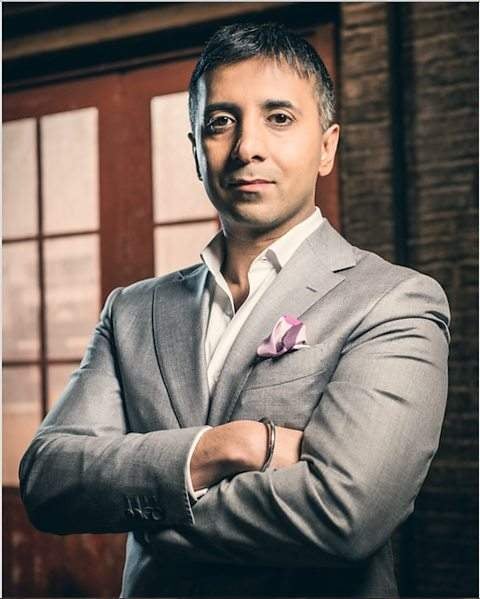 One of the latest Dragons in Dragons' Den, British-Asian multimillionaire entrepreneur and 'Prince of vitamins', Tej Lalvani has a reported net worth of £275 million.
Born in the UK in July 1974, Tej Lalvani is the son of Kartar Singh Lalvani. His mother is reportedly a former Miss India and Miss World runner-up. Following the aftermath of India-Pakistan partition, his father had to flee Karachi with his family to Bombay when he was just 16. Migrating to Britain from there, he completed his post-graduation in Pharmacy (London) and his doctorate in Medical Chemistry (Bonn, West Germany). In 1971, he launched his own neutraceutical firm, Vitabiotics, which specialised in vitamin and mineral-based food supplements.
Although wanting to become a movie director, the 20-something Tej Lalvani began working in his father's warehouse, driving forklifts. From there he gained experience in all departments of Vitabiotics and has now, 20 years hence, taken over as CEO from his father—who still remains Chairman.
With a £300 million plus turnover per annum and a presence in over 100 countries, Vitabiotics is currently the UK's largest and most innovative vitamin company and the young Lalvani plans to make it the world's largest specialist vitamin company soon.
Britain's top-selling vitamin supplements, such as Perfectil, Wellwoman and Pregnacare, are produced by Vitabiotics. Top celebrities endorsing the company include The Pussycat Dolls' lead vocalist Nicole Scherzinger and British model David Gandy. The company is planning to expand operations in Egypt, Indonesia and the US as well.
Under Lalvani, the successful Vitabiotics received several awards, including Boots' Vitamin Supplier of the Year (2002-2005), JP Morgan's Family Business Award (2009), Queen's Award for International Trade (2003 and 2008), Boots' Overall Supplier of the Year (2013) and the first British company to win the Queen's Award for Innovation in vitamin research (2013).
Lalvani and Vitabiotics support several charities such as Bliss, an organisation that lends a helping hand to women and babies across Britain.
The Indus Entrepreneurs (TiE) named Lalvani Young Entrepreneur of the Year in 2013.
In 2017, Lalvani was chosen as one of the Dragons for the 15th series of the BBC Two reality show, Dragons' Den (which began on August 20, 2017) along with fellow newbie Jenny Campbell. He replaced Crystal Palace Football Club co-owner Steve Parish. This is his first TV appearance.
Lalvani lives with his wife Tara Ruby (whom he married in 2011) near Marylebone, London, where they also own a property investment business.
He is also a talented musician who can play the guitar, keyboard and drums; apart from composing his own music (his private studio comprises a remote controlled mixing desk and faders).