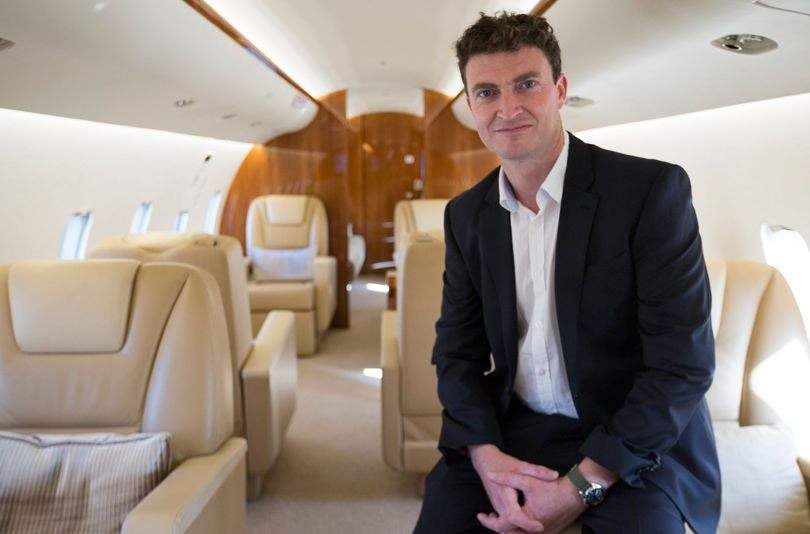 A former RAF pilot is looking to 'take a fleet of flying limousines and turn them into taxis,' bringing private jet travel to the masses.
A new online booking platform is set to transform the sector and cut the cost of private aviation.
Stratajet, officially launched this month, operates via both a website and app and is billed as 'the world's most sophisticated price comparison website' – the Skyscanner of private jets.
'What I really want to do is change the way people travel,' says former RAF pilot and Stratajet founder, Jonny Nicol.
Nicol is a military man, turned coding savvy entrepreneur who has spent the last five years developing the technology. Perhaps fittingly, stretches of the development process were carried out in the confines of an old war bunker. Nicol's team claims to have developed first-of-its-kind software that can provide real-time, accurate prices for flights, via the use of a complex algorithm. Up to now, private jet flights have typically been booked via a broker and operator using email or telephone. Nicol's aim is to speed up the booking process by an average of 800 per cent, providing flight details in under ten seconds.
'Our vision is to change the way people think about private aviation, removing the stigma of it being a closed industry and fundamentally changing the way people travel,' says Nicol, hoping to herald a watershed. 'By removing the staggering inefficiencies that exist in the industry, we have the capability to take a fleet of flying limousines and turn them into taxis.'
In addition to facilitating online bookings, Stratajet also claims to cut the cost of private aviation. The technology can search for wasteful 'empty leg' flights, bringing some prices in line with business class fares. Currently, up to 40 per cent of private jet flights are empty, as operators move the aircraft to the right airport in order to pick up passengers.
'Fast forward to the day when most of the world's jets are available through our platform and empty flights are a thing of the past,' said Nicol. 'This is the Stratajet revolution – one aimed at lowering costs, improving jet operator profitability and bringing private flight to the mainstream traveller.'
The system even searches for 'adaptive empty legs' – instances where empty planes can take small diversions to pick up paying customers.
But it has been a tough code to break. The Stratajet system has to factor in a 'pricing engine', which examines a vast number of fee variables, such as landing fees, handling fees and government air corridors. Additionally their 'compliance engine' examines elements like time and noise and the logistics of whether specific aircraft sizes can use particular airfields. Stratajet say just to calculate the landing fee for a flight requires the collation of approximately 250 pieces of information.
Stratajet is already live in 44 countries across Europe, with similar plans underway to expand into the U.S. market. The search and booking engine is currently unique but has clearly defined a market as competitors are already in the process of developing similar products.