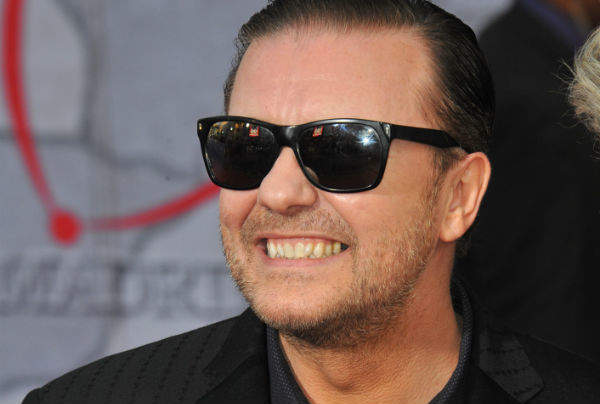 Ricky Gervais is estimated to be worth £55 million.
With a TV debut for Channel 4's "Comedy Lab", he came to public attention in 1999 on Channel 4's satirical The 11 O'Clock Show
When did Gervais get his big break to become the millionaire he is?

He took part in the 2001 Edinburgh Festival Fringe as a stand-up artist. He was later voted third greatest on Channel 4's 100 Greatest Stand-Ups in 2010.
Partnering Stephen Merchant, Gervais co-created a TV series featuring a seedy boss David Brent, called The Office (BBC, 2001-2003). Following worldwide popularity, they produced the US version (2005-2013). The Office garnered BAFTA's in 2002, 2003 and 2004, a Golden Globe in 2004 for Best Actor and Best TV series and Primetime Emmy in 2006.
Gervais and Merchant created and directed Extras (BBC, 2005-2007) with Gervais playing the lead. Gervais won an Emmy for Best Actor in 2007 and Extras won the Golden Globe in 2008.
Originally aired on Xfm (2005-2007), The Ricky Gervais Show?with Gervais, Merchant and Karl Pilkington became a free weekly podcast by Guardian Unlimited from November 2005. Downloaded over 4.5 million times, the show entered Guinness World Records 2007 as the World's Most Downloaded Podcast. The popularity of the podcasts led to the show being animated and broadcast for American audiences on HBO in 2010 and Channel 4 in 2012.
Gervais and Merchant also developed another sitcom Life's Too Short, broadcast on BBC Two in 2011 and HBO in 2012. Gervais wrote and directed another successful series called Derek (2012-2014) for Channel 4.
He wrote the hit Flanimals series for kids (2004-2009).
Gervais also lent his voice to The Simpsons, Robbie the Reindeer and Family Guy, plus the films Valiant (2005), Spy Kids 4D (2011) and The Little Prince (2015).
His movie appearances include Night at the Museum I, II & III (2006-2014), while he stars in Ghost Town (2008) and The Invention of Lying (2008).
He presented three successive Golden Globes shows (2010-2012) and directs and co-stars with Eric Bana in the upcoming comedy Special Correspondents (2016).
Gervais and his partner Jane Fallon live in a £2 million Victorian townhouse in Hampstead bought in 2007, which boasts a gym and swimming pool.
They also own two apartments on New York's Upper East Side in The Barbizon, which he bought for £1.1 million in 2008 and £2.5 million in 2011 respectively