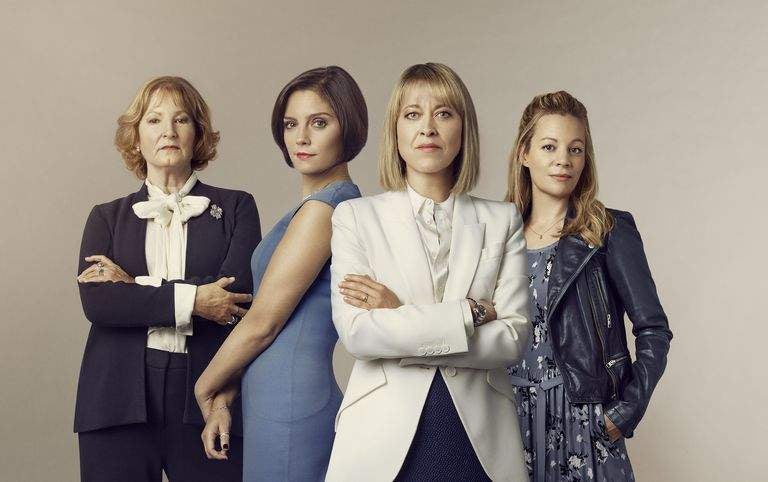 The new BBC legal divorce drama, The Split, exposes the emotional underbelly of family law — inaccuracies and clichés notwithstanding, writes Emelia Hamilton-Russell
The BBC's new divorce drama, The Split, opens in an enormous glass conference room in a flashy Holborn law office. A multi-millionaire husband is announcing to his wife, to her complete astonishment, that he wants a divorce. Coffee cups fly.
'It was so cringey… I had to turn it off,' says Zoe Bloom, a family law solicitor at Keystone Law, who switched off after 10 minutes. 'We would never meet a client in an enormous glass-fronted boardroom like that, and we would certainly never bring a wife in, without representation, to inform her that her husband wants a divorce – it just wouldn't happen.'
Maybe not, but a legal drama featuring high-flying divorce lawyers, while not a terribly innovative premise, at least promises some gripping action. This should be the BBC at its best, and in a certain sense, it is. You can just imagine the production meeting inside Broadcasting House: 'A gritty legal drama featuring high-flying female divorce lawyers. What can go wrong?' As it turns out, quite a lot.
There's certainly no shortage of real drama in family law. Eminent divorce lawyer Fiona Shackleton famously had glass of water poured over her head during the McCartney divorce, and Bloom herself has experienced 'a client slamming the door so hard that pictures fell off the wall' and she openly admits that law firms are 'constantly' poaching each other's clients. However, rather annoyingly, the show kicks off with some familiar stereotypes: the long-suffering working mother (the protagonist, lawyer Hannah Stern, played by the superb Nicola Walker); the frivolous, feisty and single younger sister Nina who also happens to be a lawyer; and the dragon, a 'legal doyenne' matriarch, Ruth, played by Deborah Findlay. And in true Austin tradition, there's also a sweetly innocent even younger sister, Rose.Quick-fire comebacks around the water-cooler expose the backstory: Stern (nee Defoe) has just split from the mothership firm – Defoe's – and joined a rival. In a ridiculously unlikely twist, Hannah's new job sees her pitted against the feisty sister as they find themselves on opposite sides of a divorce case. Already taut relations between rival lawyers are further twisted by family dynamics. Poaching clients is one thing, but a tight-lipped mother poaching a client from her daughter's firm rather hams up the intrigue. Catty remarks and legal jargon are offset by moments of gooey sentiment. It's all quite entertaining, but only up to a point. One clanger is a pearl of wisdom from the doyenne to her daughter: 'Family is fragile,' she says. 'No one is immune – not even you.' One might hope for something a little less obvious.
But action speaks louder than words and The Split, with all its limitations, successfully conveys the harrowing reality of high-stakes, high-conflict divorce proceedings. One thread follows divorce between comedian Rex Pope — creator of stand-up show 'My Ex-Wife's a Bitch' — and said ex-wife, who is understandably not amused. The ex-wife is blocking Rex from seeing their son, who is waiting in the next room. What follows is gut-twistingly awful. Rex, on discovering that his son is in the building, charges through the crowded law office yelling his name. The boy then emerges from one of the glass doors just in time to witness his father – who he hasn't seen in months – being hauled away by security.
Rather than reassuring us that a scene like that could never actually happen, Bloom says that, as far as the emotions are concerned, it was spot on. 'I usually have a toy lurking at the bottom of my handbag, which comes in handy for entertaining client's children while we're in meetings,' she confides.
As is often the case in depictions of up-tight professional women, it soon becomes clear that old wounds lurk behind Hannah's sharp façade. Half way through, we learn that the sisters' father, 'went out to get a newspaper and never came back'. Another cliché, perhaps, but it sets the tone for the for the series — this is after all, The Split. At the end we are left with the impression that Hannah will embark on a split of her own, this time from her husband (played by Stephen Mangan). Is it all intriguing enough to stick with? Maybe, especially if the peculiar torture of watching adults in their worst, most vulnerable and flawed moments is your thing.
The lawyers, at least, are enjoying their 15 minutes of fame: 'It is exciting to see our profession featured in a high profile drama,' says Connie Atkinson of Kingsley Napley, which advised on the show. 'I hope The Split will also give us the opportunity to share our advice, thoughts and experiences from inside the profession.' So far, the show has done little to reverse family law's reputation for backstabbing and excessive litigation. However, the phrase, 'it's always better for a child to see their Dad' – Hannah Sterns' professional mantra – is a worthy motif for the show's first episode.
Emelia Hamilton-Russell is a writer at Spear's