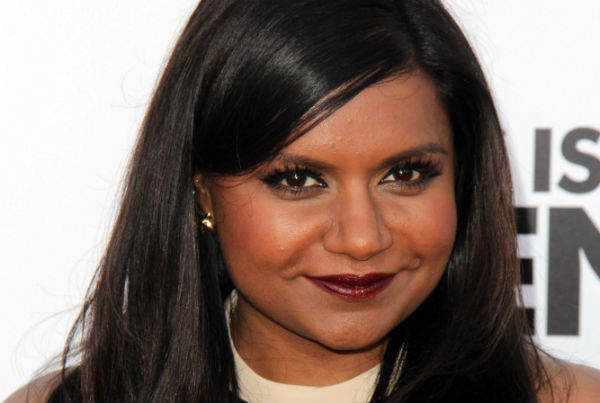 Mindy Kaling is reported to be worth £10 million.
Born to Indian parents in Cambridge, Massachusetts, on June 24, 1979,  Kaling enrolled herself at Dartmouth College, New Hampshire in 1998, where she joined an improv comedy troupe, an a cappella group, created "Badly Drawn Girl" wrote for the college's humour magazine Dartmouth Jack-O-Lantern and also studied Latin. Kaling also interned on Late Night with Conan O'Brien, as a 19-year-old sophomore. She graduated in Playwriting in 2001.
Moving to Brooklyn, Kaling joined the psychic show Crossing Over With John Edward as a production assistant and simultaneously performed stand-up comedy in New York.
Dramatising Matt Damon and Ben Affleck's friendship, Kaling co-wrote the play Matt & Ben in 2002, playing Affleck while her friend/co-writer Brenda Withers played Damon. A "surprise hit" at the New York International Fringe Festival 2002, the show was lauded as one of the "Top Ten Theatrical Events of the Year" in Time magazine.
Impressed by Kaling's spec script of BBC's The Office, Greg Daniels hired her in 2004 for his American adaptation (2005-2013), inviting her as writer-actor. The only female in a team of eight, she debuted in "Diversity Day", the second episode, writing 22 episodes overall.
Kaling then appeared in Curb Your Enthusiasm (2005) and featured on National Public Radio's American talk show Fresh Air (2006).
In 2009, she also wrote and directed a few webisodes of The Office and made her TV directorial debut in "Body Language" (Season 6).
Her contract, renewed in 2011 for Season 8, saw her become an executive producer. The cast and crew of The Office were nominated for the Primetime Emmy Award for five successive years and she was also nominated alongside Daniels for a Primetime Emmy for writing the "Niagara" episode. The Office went on to win the SAG Award for Outstanding Performance by an Ensemble in a Comedy Series in 2006.
Kaling then wrote and produced The Mindy Project, a single-camera comedy broadcast on Fox in 2012. Discontinued by Fox in May 2015, Hulu has picked up the fourth season (26 episodes).
Branded one of the "50 Coolest and Most Creative Entertainers" in Hollywood by Entertainment Weekly in 2013, Kaling's movie appearances include The 40-Year-Old Virgin (2005), Unaccompanied Minors (2005), License to Wed (2007), Night at the Museum: Battle of the Smithsonian (2009), No Strings Attached (2011), The Five-Year Engagement (2012), This Is the End (2013), and voice-acted in Despicable Me (2010), Wreck-It Ralph (2012) and Inside Out (2015).
Kaling owns two homes in Hollywood Hills: one bought in 2007 for around £956,000 and the other in 2013 for around £1.08 million.