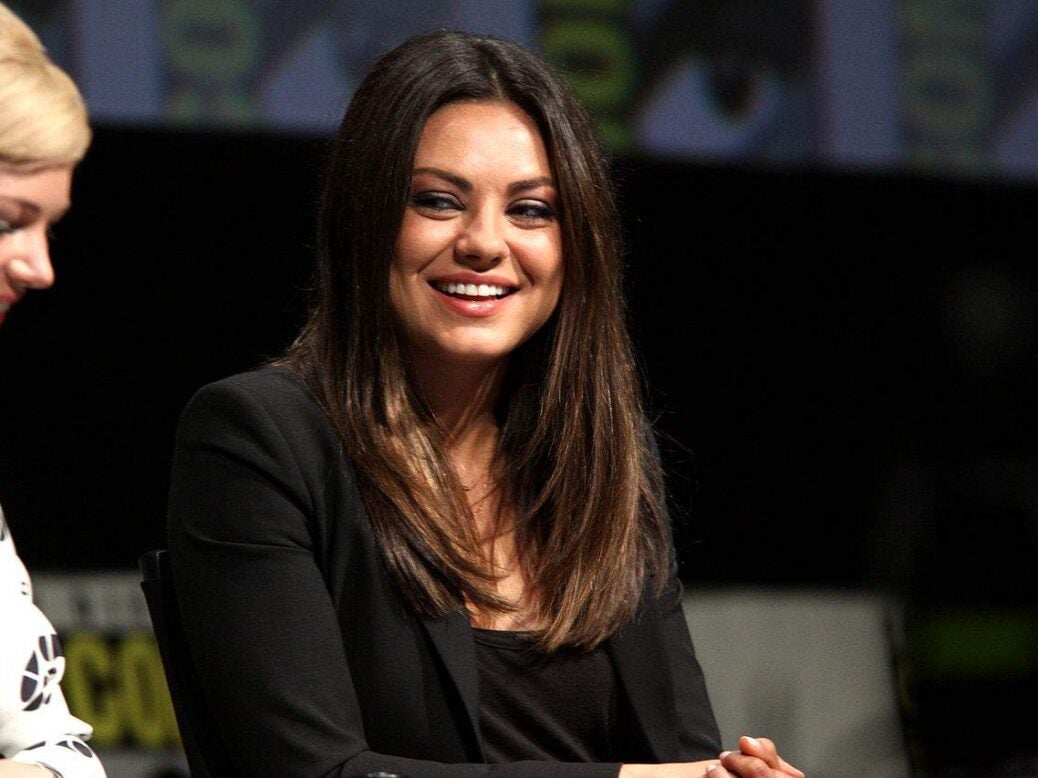 Famous for That '70s Show and Black Swan, but what is Soviet Ukraine-born American actress Mila Kunis' net worth?
Of Ashkenazi Jewish heritage, Milena Markovna Kunis was born to mechanical engineer Mark Kunis and physics teacher Elvira on August 14, 1983, in Chernivtsi, Ukraine, Soviet Union.
The Kunis family landed in New York, USA in 1991 with just $250 in hand and, within two days, moved to Los Angeles, California where she and her brother Michael were enrolled in school despite nil knowledge of English. Breaking through the language barrier, Mila Kunis graduated school in 2001.
Briefly attending college, she dropped out to pursue acting full-time due to previously taken acting lessons at Beverly Hills Studios as a nine-year-old. Her first assignment had been a Barbie commercial followed by an ad for Lisa Frank.
Kunis landed her first TV role in NBC's Days of Our Lives (1994). Next came different roles in two episodes of Baywatch (1994 and 1995), followed by the TV film Piranha (1995). After appearing in the sitcoms Hudson Street (1995), Unhappily Ever After (1996), Nick Freno: Licensed Teacher (1996-97), Kunis did small supporting roles in the films Santa with Muscles (1996) and Honey, We Shrunk Ourselves (1997).
In 1998, she was cast as the young Gia Carangi (one of the US' first supermodels) in HBO's Gia (with the adult Gia played by Angelina Jolie). The same year saw her win the role that would make her famous—the Fox sitcom, That '70s Show. Kunis reportedly earned $100,000 per episode, along with numerous award nominations.
Soon, Kunis garnered a starring role in American Psycho II: All American Girl (2002) and major supporting roles in Forgetting Sarah Marshall (2008), Max Payne (2008), Extract (2009) and The Book of Eli (2010).
However, the highlight of her career was the scintillating performance she gave in the 2010 Hollywood blockbuster Black Swan, which won her Best Supporting Actress at the Saturn Awards and Scream Awards, and the Marcello Mastroianni Award for Best Actress at the Venice Film Festival.
Kunis followed it up with five more box office superhits Friends with Benefits (2011), Ted (2012), Oz the Great and Powerful (2013), Bad Moms (2016) and A Bad Moms Christmas (2017).
Other film ventures include: Krippendorf's Tribe (1998), Get Over It (2001), Moving McAllister (2007), Boot Camp (2008), Tom Cool (2009), Date Night (2010), The Color of Time (2012), Blood Ties (2013), Third Person (2013), The Angriest Man in Brooklyn (2014), Annie (2014), Jupiter Ascending (2015), Hell and Back (2015, voice role) and The Spy Who Dumped Me (2018).
Further TV appearances include: 7th Heaven (1996-97), Walker, Texas Ranger (1997), Pensacola: Wings of Gold (1998), Family Guy (1999-present, voice role), Grounded for Life (2004, Fox sitcom), Robot Chicken (2005-2011), Sesame Street (2011), Good Vibes (2011) and The Bachelorette (2017).
Considered among the world's sexiest women, Kunis was ranked third (2012) and fourth (2013) on Maxim's "Hot 100". She was also Esquire magazine's "Sexiest Woman Alive" (2012), topped FHMs' "100 Sexiest Women in the World" list (2013) and the Guys Choice Award for "Holy Grail of Hot" (2011), and also ranked second on AskMen's list of Top 99 Women (2013).
The one-time brand ambassador for Christian Dior, Gemfields and Jim Beam bourbon is married to That '70s Show co-star Ashton Kutcher (2015). The Hollywood couple lives with their two children: daughter Wyatt Isabelle (born 2014) and son Dimitri Portwood (born 2016) in a $10.2 million house in Beverly Hills. They also have a recently purchased $10 million beachfront house just outside Santa Barbara in Carpinteria, California.
The Ukrainian and American citizen Kunis, who has heterochromia iridium—left eye is brown and right is green, will next be heard in the computer-animated adventure Wonder Park (2019).