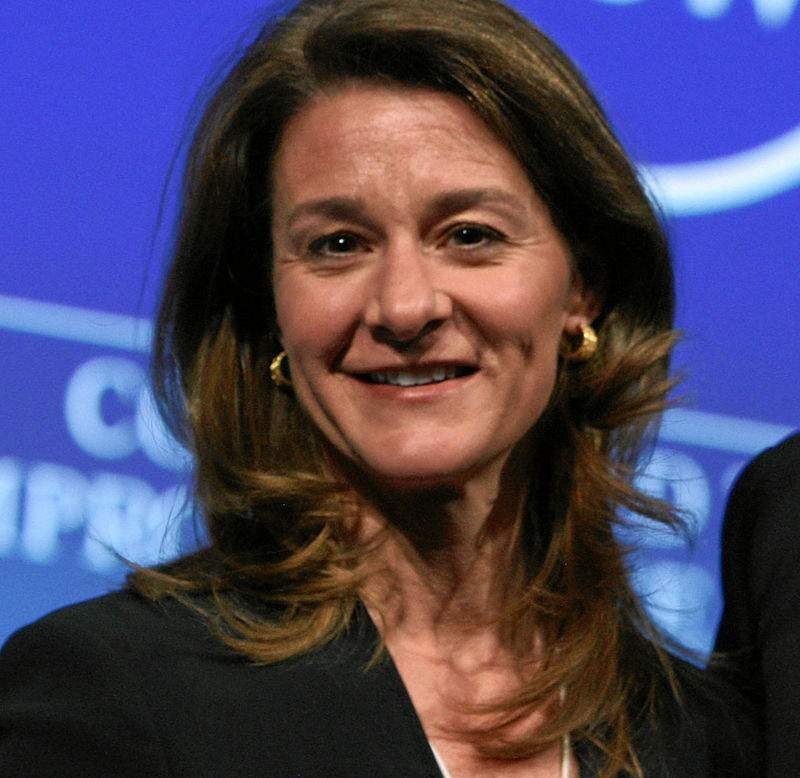 Philanthropist/billionaire and wife of Microsoft Mogul Bill Gates, Melinda Gates has a reported net worth of $70 billion.
Born Melinda Ann French, the second of four children, on August 15, 1964, to homemaker Elaine Agnes Amerland and aerospace engineer Raymond Joseph French Jr., in Dallas, Texas, Melinda Gates graduated in 1982 from Ursuline Academy of Dallas as valedictorian. She went on to complete her Bachelor's in computer science and economics from Duke University (1986), followed by an MBA in (1987) from Duke's Fuqua School of Business.
Hoe did Gates make her fortune?

In 1987, Gates joined Microsoft Corporation as product manager and was involved in cultivating many of the company's interactive multimedia products, such as Encarta, Microsoft Bob, Expedia, Cinemania and Publisher. A chance meeting with founder Bill Gates the same year led to dating that culminated in an exotic Hawaiian wedding in Lanai (1994). By 1996, Melinda, who was general manager of Information Products, left Microsoft to focus on family and philanthropy.
She served as a member of Duke University's board of trustees (1996-2003), is still on the Washington Post board of directors and attends the elite Bilderberg Group conferences too.
Her numerous accolades include the Jefferson Award for Greatest Public Service Benefiting the Disadvantaged (2002), Time's Persons of the Year (2005, along with Bill Gates and Irish singer Bono), ranked third in Forbes' list of the 100 Most Powerful Women (2013 and 2014), the UK's OBE (2013), India's Padma Bhushan (2015), the US' Presidential Medal of Freedom (2016), Germany's Otto Hahn Peace Medal (2017) and France's Legion of Honour (2017).
Gates is the co-founder of the Bill & Melinda Gates Foundation started along with Bill's dad in 1994 (then named William H. Gates Foundation, which was combined in 1999 with the Gates Learning Foundation and Gates Library Foundation). The Foundation supports projects fighting health problems and global poverty, family planning programmes for women in third world countries (pledging $560 million) and funding student scholarships.
In 2006, Warren Buffett donated $30 billion to their Foundation and until 2014 the Gates themselves donated $28 billion to the Foundation.
Bill and Melinda Gates were reported to be the world's richest couple by data company Wealth-X, in 2013. Their combined net worth was $85.7 billion.
Although her husband was ranked world's richest billionaire for the fourth successive year by Forbes in 2016, with an enormous net worth of $90 billion, Gates is not far behind with her $70 billion net worth.
The Gates, along with their two daughters and a son—Jennifer Katharine Gates (born 1996), Phoebe Adele Gates (born 2002) and Rory John Gates (born 1999)—live in Medina near Seattle in a palatial $125 million estate called Xanadu 2.0 (named after the fictional home of Citizen Kane) on the shores of Lake Washington. The estate includes a huge library with two secret bookcases and a hidden bar, which holds the $30.8 million Codex Leicester (Leonardo da Vinci's 16th-century manuscript), procured in 1994.
The Gates intend to leave only $10 million for each of their three children as inheritance, with the rest going to charity.