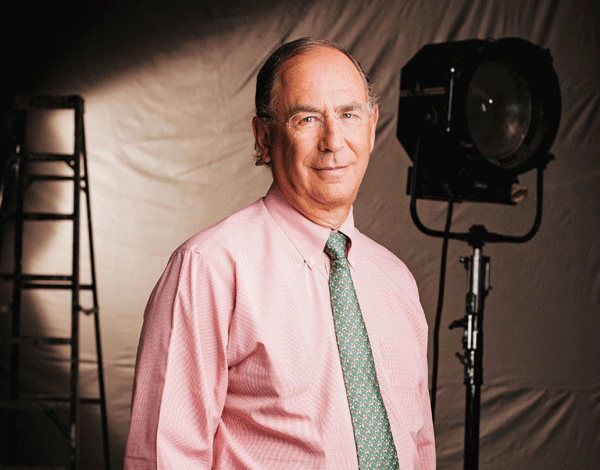 After a long business career, American Michael Garin is enjoying his unlikely new role helping to develop Abu Dhabi's film industry. Christopher Silvester reports.
Last October, three of the feature films and one of the feature documentaries shown at the 2015 London Film Festival were produced by Image Nation Abu Dhabi, one of the leading media and entertainment companies of the Arabic-speaking world, though still a relative newcomer. The Idol is a feelgood biopic about the Palestinian youth who won the Arab Idol TV contest; From A to B is a comic road movie in which a group of three Emiratis drive to Lebanon via Saudi Arabia, Jordan, and Syria — it makes mildly satirical observations about each country; Zinzana is an intense and stylish psychological thriller set in a police station in an unnamed Arab country at some unspecified time in the 1980s; and He Named Me Malala is a documentary about the Pakistani education activist Malala Yousafzai.
Funded by Abu Dhabi, Image Nation is led by its Emirati chairman Mohamed Al Mubarak and has an expat CEO, a Jewish American named Michael Garin, who is as passionate as any Emirati about its prospects. Most developing economies have a large population but a shortage of capital resources. They tend to move from exploitation of natural resources to manufacturing because it creates jobs. Knowledge-based industries come later. But Abu Dhabi and the UAE have been able to leapfrog that stage of development, thanks to a focus on value-added industries.
The United Arab Emirates was founded as a country in 1971 by Sheikh Zayed, under whose leadership the country invested heavily in education, women's empowerment, and freedom of religion. 'From the time Sheikh Zayed became ruler of Abu Dhabi,' says Garin, 'literacy in the UAE went from under 5 per cent to one of the highest levels in the entire world, over 95 per cent. And because 60 per cent of the college graduates in the UAE are women, the nation has managed to unleash the power of 50 per cent of the population, which remains a challenge in most other developing economies. The resources that are really powering the future of the country are education and women.'
One of Image Nation's next feature films will be directed by a woman Emirati director, who helped oversee the production of its recent TV drama series Qalb al Adal ('Heart of Justice'). 'I'd describe it as LA Law meets Dallas in Abu Dhabi,' says Garin. 'It's a courtroom show, it's a family drama, and it's shot in Abu Dhabi, set in Abu Dhabi, and shot in Arabic. Our aspiration is for that to be seen all over the world, in countries that run dubbed programming. When they are watching it dubbed in their local language, people don't care whether programmes are shot in Spanish or Portuguese or Turkish if it's a compelling television show with great production values. We have high hopes for this series.'
Al Mubarak and Garin expanded Image Nation's focus beyond feature films because they saw that films tend to be produced over relatively short periods, whereas television is a longer proposition critical to supporting a permanent infrastructure. Because Abu Dhabi's aim is to provide a sustainable industry, television has become a critical component in fulfilling this mission. In December Image Nation took this one step further, by moving from television production to broadcasting, when it launched the first non-news, non-sports, pan-Arabic television network, called Quest Arabiya, in association with the Discovery Channel. Quest is a free-to-air speciality channel that covers all 22 countries in the Arabic-speaking world — 45 million television homes.
'Television,' says Garin, 'is 24 hours a day, seven days a week.'
The UAE is late in developing a film and television industry compared to other countries in the region, such as Egypt, Lebanon, and Iran, and for that reason Arabic-speaking audiences are only just beginning to appreciate its potential. The dynamics of the region have changed since the 1950s, when the Egyptian film and television industry dominated, selling its melodramas and soap operas around the Arab world and even to Israel, with hardly any competition.
'The reason countries have sustainable entertainment industries is because they have large enough domestic markets to support them,' Garin explains. 'Countries with large populations can support a viable and sustainable industry, but virtually all their films are for their local market, and then once every ten or fifteen years you have a movie like Iran's A Separation that reaches a global audience. But the fact is they're making films every year. The same is true in Italy, France, Germany, where the vast majority of their revenues come from their home markets.
'Our challenge is different, because our home markets are too small for us to have a sustainable industry, and, therefore we must have films that can be seen and appreciated around the world. The problem is not that most people in the region are snooty about our output, it's that they have no experience of it. Until recently they hadn't seen a strong Emirati film, so their judgement is like, "How can it be any good?", especially when every successful Hollywood film plays in local theatres. So one of our challenges is educating not only filmmakers but also audiences, since every weekend they have a broad choice of movies, from Star Wars to Zinzana.'
Garin was born in Manhattan. 'My kids are the fourth generation of our family born in Manhattan. We kind of got there and stayed. My father was in the millinery business; my mother was a social worker.' Garin read philosophy at Harvard, where he quickly found his métier in the media. 'I joined the Harvard Crimson [the student paper] as a sophomore, and as soon as I walked in the door of the Crimson building I knew what I wanted to do with my life.'
After graduating in 1973, he was hired by Time magazine. He worked on both Time and Fortune, and then moved over to Time-Life Television, where he became the executive in charge of co-productions with the BBC from 1975 to 1978. 'The BBC in those days had very little money, and we co-produced many of their best-known series, like The Magic of Dance with Margot Fonteyn, The Shock of the New, The Americans, and the complete plays of Shakespeare. It was our co-production that made those series possible.'
Garin left Time, Inc. in 1978 and helped to found the company that grew to be the largest TV production company in the US, Lorimar-Telepictures. Garin had co-founded Telepictures, which merged with Lorimar in 1986. The company made some of the biggest TV dramas of the 1980s, including Dallas, Falcon Crest, and Knots Landing, as well as comedies such as Full House, Alf and Perfect Strangers and the animated series ThunderCats and Silverhawks. 'We sold Lorimar-Telepictures to Warner Bros in 1989 and Warner Television is the company that I helped start. I thought that would be my legacy, but I think that my real legacy will be what I'm doing now in Abu Dhabi.'
Garin changed careers completely, becoming an investment banker. He was asked to be co-head of the media and investment banking group at Lehman Brothers. He mentioned this to a friend, Roy Furman, who said: 'Look, if this is what you want to do, you should come here and build an investment banking practice for us.'
'I knew that I would make a lot less money doing that, but I also knew that I would be infinitely more happy, because bankers are miserable people whose only reward is money, and that's not who I am, or the kind of life I wanted to lead. I knew that if I was at Furman Selz I could build something and have a good life and still be, you know, a good banker and help companies. And I was very fortunate, because that's exactly what happened. I did that for ten years.'
Furman Selz was a small to medium capital bank, but Garin built a large cap media practice advising companies including NBC and General Electric, CBS Westinghouse, Thames Television, Caisse des Dépôts, Verizone and TCI.
When Furman Selz was acquired by the Dutch bank ING in 1997, Garin became the global head of telecommunications and media investment banking for ING for the next four years, before quitting to run a technology company that bit the dust in the dotcom crash. 'Unfortunately, at that time my first wife was diagnosed with lung cancer and I spent the next fourteen months just looking after her. When she died, I was 56. Despite my successful career, age discrimination was as real as sexual discrimination and racial discrimination, and I never thought I'd have a full-time job again.
'So I ended up going on boards. One of the companies on whose board I served asked me be the CEO. That was Central Media Enterprises (CME). I was able to take a company that was basically a collection of disparate minority investments and help it become one of the largest broadcasters in Europe, operating in seven countries — Ukraine, Romania, the Czech Republic, the Slovak Republic, Slovenia, Croatia, and Bulgaria. We grew the enterprise value from €350 million to a peak value of €5 billion.
'When I arrived all the local teams were from the local countries, but 100 per cent of the corporate staff were from the UK, Canada, the US or Australia/New Zealand. By the time I left, 50 per cent of the corporate team were from the region and my successor was from Romania — the first Nasdaq CEO from a central European country. And that's what Abu Dhabi aspires to — having its businesses run entirely by Emiratis.'
Garin first came to Abu Dhabi as the only expat on the board of the Abu Dhabi Media Company, on which he sat for five years. 'Because of my board position I became a trusted adviser. When the management of the Media Company changed I was asked to run Image Nation and came in with Mohamed Al Mubarak, the chairman. It has taken the two of us to be as successful as we've been, because Mohamed has the confidence of the Abu Dhabi leadership and I have his confidence — and this allows the two of us to do things that neither one of us could ever have accomplished on his own.'
Garin and Al Mubarak have a fully funded five-year business plan. 'Because I've always run public companies and had to work with shareholders and boards, and Mohamed runs a public company, Aldar, we created the same kind of accountability to our stakeholders, the leadership in Abu Dhabi, as we would have had if Image Nation were a public company. Because we provided the tools by which to measure the quality of what we were creating, it inspired great confidence.'
Garin enjoys the village atmosphere of Abu Dhabi and prefers living there to Dubai. 'Abu Dhabi is an Emirati city,' he says, 'and I went there to be with Emiratis, not to be with other expats.'
The goal for Image Nation is to produce local movies for modest budgets, and while these films may be low-budget by Western standards, they are not low-budget by a regional standards. Because of the technology and the experience of Image Nation's team, the films' production values belie their budgets. 'We have two big advantages in producing our films: one is that "above-the-line" costs are low, because we don't have expensive stars, and the other is that we don't need enormous P&A [prints and advertising] budgets, because in our part of the world, social media and other forms of communication are very powerful marketing tools.'
Another advantage Image Nation has, both internationally and domestically, is that it is not in the distribution business, hence it does not require a stream of product to feed a schedule — a summer movie or a Christmas movie. In the US, movies often go into production before they are ready, with their creative teams hoping to fix them as they go along. Image Nation has 'the luxury of only green-lighting pictures when they're ready and when we believe they'll be successful — either creatively, which is our criterion locally, or financially, which is our criterion internationally.
'It's not a guarantee of success,' Garin admits, ' but fortunately every local film we've made has met that creative criterion and every international film we've financed has met the financial criterion.'