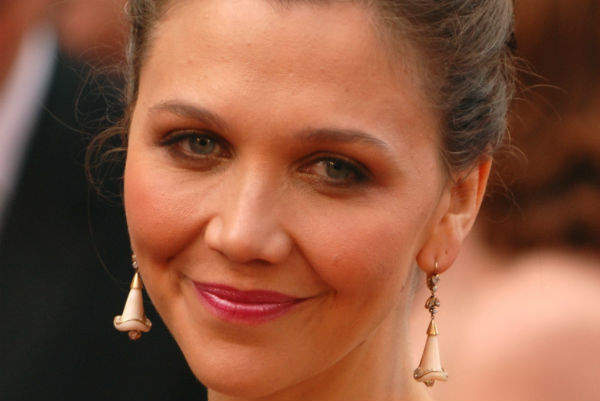 Maggie Gyllenhaal is reported to be worth £10 million.
Born in New York on November 16, 1977 to director Stephen Gyllenhaal and producer/writer Naomi Foner, Gyllenhaal was raised in Los Angeles. Graduating in 1999 from Columbia University with a Bachelor of Arts in Literature and Eastern Religions, she then pursued a course at London's Royal Academy of Dramatic Art.
Before this, she debuted in Waterland (1992) and then acted in A Dangerous Woman (1993) and Homegrown (1995); movies directed by her father with the latter two featuring her brother Jake Gyllenhaal. She also appeared with her brother and mother in the cooking show Molto Mario and co-starred with Jake in Donnie Darko (2001) as his on-screen sister. Apart from that she also acted in Cecil B. Demented (2000) and Riding in Cars with Boys (2001).
After a critically acclaimed stage debut with Closer in 2000, Gyllenhaal went on to perform Antony and Cleopatra, The Tempest, No Exit and The Butterfly Project.
She starred in Secretary, Adaptation, Confessions of a Dangerous Mind and 40 Days and 40 Nights in 2002.
She subsequently co-starred in Mona Lisa Smile (2003), appeared in Casa de los Babys (2003), Criminal (2004) and starred in HBO's Strip Search (2004).
Performing on stage again in Homebody/Kabul in 2004, Gyllenhaal then appeared in the movie Happy Endings (2005), for whose soundtrack she also sang.
In 2006, she voice-acted in Monster House, starred in Trust the Man, the international hit World Trade Center, Sherrybaby — where she was nominated again for a Best Actress Golden Globe and won Best Actress at the Stockholm International Film Festival 2006 — and Stranger than Fiction.
Gyllenhaal then starred in her most profitable movie, the $1 billion grosser The Dark Knight (2008). She then performed alongside Peter Sarsgaard — whom she later married — in the Off-Broadway production of Uncle Vanya and appeared in the movie Away We Go, in 2009. The same year, she acted to critical acclaim in Crazy Heart and was nominated for a Best Supporting Actress Oscar.
Her performances in 2010 included the films Nanny McPhee and the Big Bang and Hysteria, besides hosting the PBS documentary Independent Lens. Gyllenhaal starred alongside Sarsgaard in Anton Chekhov's Three Sisters, in 2011. She then starred in the movies Won't Back Down (2012) and White House Down (2013), debuted on Broadway with The Real Thing (2014) and starred in BBC's The Honourable Woman (2014), for which she was nominated for an Emmy and won the Golden Globe.
Apart from acting, she has also posed for Agent Provocateur, Reebok and Miu Miu. Her charity work includes supporting the human rights organisation Witness.
She and Sarsgaard live with their two daughters in a four-storey Brownstone on Park Slope Byway in Brooklyn.