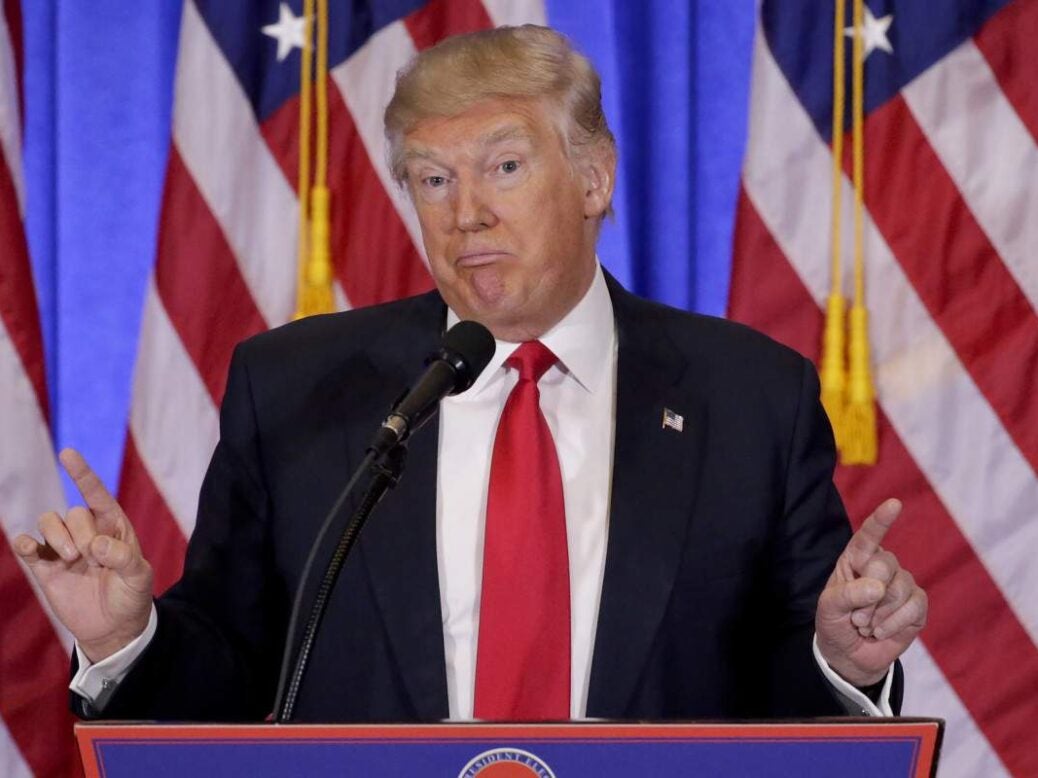 With 'Watergate size and scale' fires going off all round him, you have to wonder just how much longer the Trump Presidency will last, writes Alec Marsh
Regardless of whether you support him or not, how long do you reckon President Donald J Trump has got left behind the Resolute desk? Do you think he's got another seven years and might yet go to two full terms? If you do then you're a serious die-hard fan. What about his chance for lasting three years if he completes just one term?
If the James Comey affair and his alleged attempted to shut down the FBI investigation into Michael Flynn, don't get him; if what he said, or didn't say to the Russian foreign minister Sergei Lavrov doesn't either; then the answer to the question will definitely be resolved next year at the US midterm elections in November.
That's the point when all 435 seats of the House of Representatives – where the Republicans presently hold 238 seats to the Democrats' 193 – and a third of the Senate– including, crucially, eight Republican seats – are up for grabs. And with the GOP holding the 100-strong Senate with 52 Senators to the Democrats' 48, that will surely be the moment we all find out – even if the House doesn't fall to the Democrats.
Already the pressure of that vote as well as the collapse of President Trump's approval ratings is being felt in the real political arena – and beginning to force some senior Republicans to question their loyalty to the Commander-in-Chief.
Just last week, amid a blizzard of 13 Obama-era regulations that were repealed by Congress, one measure, concerning the repeal of methane regulations failed to be altered because three Republican Senators votes stopped it. Two of those who objected – former presidential candidate and Arizona Senator John McCain and Senator Susan Collins of Maine – are seasoned Washington veterans who have colleagues from their respective states who are standing again in November: it is hard to imagine that electoral considerations were far from their minds. That should worry Mr Trump.
As Richard Nixon came to know, it isn't difficult to find oneself at sea in the presidency once things start to go wrong. Indeed, the Wall Street Journal opined this morning: 'The larger point is that all of these Senators felt they could oppose the measure without paying a political price. This is what happens when a President's approval rating is close to 40 per cent. Senators look out for themselves.'
In respect of that Congressional election, swing-state Wisconsin will particularly be worth keeping an eye on: that's the home state of Republican leader in the House and former Vice-Presidential candidate Congressman Paul Ryan. A critic (albeit a strategically muted one) of President Trump prior to his winning of the 2016 presidential nomination, Ryan may – like the Senators above – start to look out for himself, and those of his colleagues in the House too, if push comes to shove.
And if it hasn't already, then that shove might come in November 2018, when a new political landscape of Washington DC could well be drawn up. As it stands Trump's Republicans control both chambers on Capitol Hill, what happens then can only be guessed at – and the guesses don't look good right now. With each day that passes the scale of the abnormality of this Presidency is being writ large: with each violation of the accepted norms of political life, President Trump is seeing his loyalists on Capitol Hill fade away.
All this presupposes that the Flynn-Comey affair– or indeed some other imbroglio that as yet can hardly be imagined – might not yet intervene to prompt President Trump's premature departure from office, even before the electorate has had a chance to cast its verdict. Indeed, amid reports that President Putin is preparing to release Russia's records of the meeting, Senator McCain has now commented that the President Trump's scandals have reached 'Watergate size and scale'.
Which prompts a final question, if Nixon were alive today, what advice he would give to President Trump? 'When the President does it that means it's not illegal,' was his famous line. Sounds just like something President Trump might say, doesn't it?
Alec Marsh is editor of Spear's