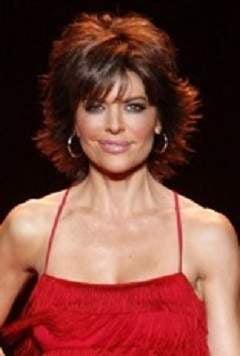 One of the stars on The Real Housewives of Beverly Hills, American actress and TV host Lisa Rinna has an estimated net worth of £6.2 million.
Of Portuguese, Italian and English origins, Lisa Deanna Rinna was born to Lois and Frank Rinna on July 11, 1963 in Newport Beach, California, but later moved with her family to Medford, Oregon when she was seven. Rinna began her acting career in 1985 when she appeared in "Naughty Naughty", a John Parr music video.
How has her acting made her millions?

Her TV career began to blossom in 1990 with The Hogan Family, where she acted in quite a few episodes. She got the attention and affection of the nation when she starred on the NBC soap Days of Our Lives (1992-1995, 2002-2003 and a reprise in 2012). In 1994, Soap Opera Digest gave her the title "Outstanding Female Newcomer".
She then moved to primetime with a role in Melrose Place (1996-1998) and later went on to appear in the movie Sex, Lies & Obsession (2001) and the teen crime-drama series Veronica Mars (2004-2007) opposite her husband Harry Hamlin whom she married in 1997. Her other movies include Another Woman's Husband (1999) and Good Advice (2001). She also acted in an episode of the HBO series Entourage.
In 2009, Rinna again starred alongside her husband Hamlin in Broadway's Chicago and in 2011 guest starred in the Nickelodeon series Big Time Rush.
A competent host, her role as co-presenter of Soap Talk (2002-2006) got her a nomination for a Daytime Emmy. In 2007, she began hosting the red carpet coverage of TV Guide Network apart from guest-hosting Live with Regis and Kelly and hosting Merge, a TV makeover programme.
Rinna also participated in season 2 of Dancing with the Stars partnering professional dancer Louis van Amstel and reached the seventh round.
In 2010, Rinna and Hamlin created a reality TV series called Harry Loves Lisa, which was based around their hectic family life. The show ran for six episodes.
The following year, she appeared in the fourth season of Celebrity Apprentice, but was eliminated on the second task. She returned in the sixth season. In 2013, Rinna appeared on an episode of Late Night with Jimmy Fallon.
Rinna was then selected for the fifth season of The Real Housewives of Beverly Hills in 2014, where her salary was set at $450,000 per season. But before that she had competed in Sing Your Face Off, a progressive game show/talent competition. (Therichest.com)
A model too, she notably posed for Playboy in a nude (pregnant) pictorial in September 1998 and a cover shoot in May 2009.