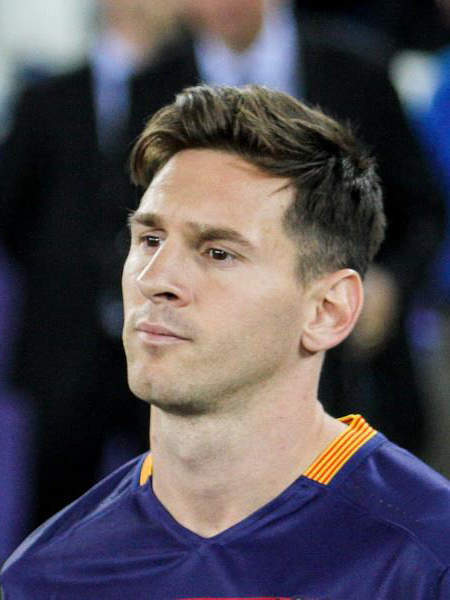 Argentine professional footballer who plays as a forward for Spanish club FC Barcelona and the Argentina national team, Lionel Messi has an estimated net worth of £260 million.
Born in Rosario, Argentina on June 24, 1987, Lionel Messi was signed up by Barcelona's Youth Academy in 2001. Debuting for Barça's first team at 16, his first professional signing was in 2004 with a £58.5 million buyout clause. Messi was promoted to the first team and at 17 became the youngest Barça player to win La Liga.
Messi then guided Argentina to the 2005 FIFA World Youth Championship trophy, while grabbing the Golden Boot and Golden Ball. At 18, Messi became the youngest Argentine and goal-scorer at the 2006 FIFA World Cup.
A new contract on his 18th birthday saw Messi signed up with Barça's senior team, with a buyout clause of £110 million.
In July 2008, a new deal signing made Messi Barça's highest-paid footballer, with a yearly salary of £5.7 million. Thanks to a Messi assist Argentina won Olympic Gold that year.
The 2008-09 season saw Messi and Barcelona win the 2008 Copa del Rey, La Liga, UEFA Champion's League, Supercopa de España, UEFA Super Cup and the FIFA Club World Cup. He also signed a new contract that same year including a salary of £8.8 million and buyout clause of £183 million. He again top-scored in Europe and was awarded the 2009 FIFA Player of the Year and 2009 Ballon d'Or.
Messi helped Barça win the Supercopa de España, third successive La Liga and the UEFA Champions League in 2010-11 and, besides top-scoring at three consecutive Champions League tournaments, went on to claim the first FIFA Ballon d'Or.
During 2011-12, Messi spearheaded Barça to Supercopa de España, UEFA Super Cup, Copa del Rey and the FIFA Club World Cup (earning the second Golden Ball). He also won the introductory UEFA Best Player in Europe Award. The season saw Messi score 73 goals in all club competitions in one season, plus win his third FIFA Ballon d'Or. He also holds the Guinness World Record for highest goals (50) in one La Liga season.
Messi's feats of 2012 include a Guinness World Record five goals in a Champions League match against Bayer Leverkusen and tying with Gerd Müller as top scorer in four UEFA Champions League tournaments. He also broke Müller's 85-goal record in a calendar year, scoring 91 goals for club and country, and won the FIFA Ballon d'Or a fourth time.
Season 2013-14 saw Messi sign a new contract with a salary of £9.5 million and captaincy. Messi top-scored for the second successive year in Europe and won the European Golden Shoe a record three times. In May 2014, a new contract was signed making his wages jump to £14.6 million. In November, Messi became La Liga's top scorer — he now holds the Guinness World Records with 286 goals — and also shares the Guinness World record of 77 Champions League goals with Cristiano Ronaldo.
France Football magazine claims Messi was the most expensive player in the world for five years between 2009 and 2014. Drawing £48 million in 2014, he now pockets a basic salary of over £26 million.
Messi guided Argentina to the final of the FIFA 2014 World Cup losing to Germany, but won the Golden Ball helped by his four successive Man of the Match awards.
In 2015, Messi scored the fastest hat-trick against Rayo Vallecano (11 minutes), his 32nd for Barça.
The season saw him win the La Liga, Copa del Rey and UEFA Champions League with Barça. He's also the first footballer to top-score at the Champions League five times; a record five hat-tricks included. For the second time, Messi won the UEFA Best Player in Europe award and remains Barcelona's top marksman with 412 goals.
Messi's sponsorship deals include Adidas, Pepsi, EA Sports, Turkish Airlines, Dolce & Gabbana and Audemars Piguet.
Although residing in Barcelona, Messi has still retained his family's old house in Rosario and also bought an exclusive penthouse for his mother.