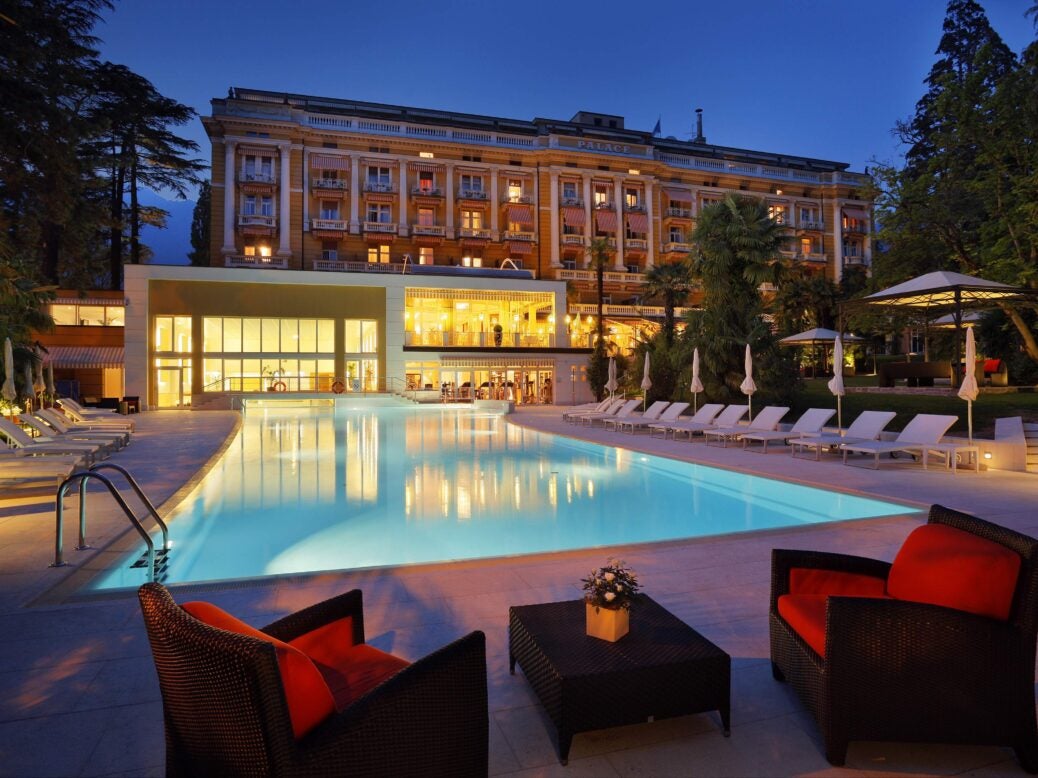 Tired of Gwyneth Paltrow's endless detox articles on Goop? Janine di Giovanni turns to the world's best wellness clinics for invigorating and practical health tips for exhausted jet-setters
I start 2017 by doing a life detox of sorts, and this includes an (attempted) digital detox whereby I give up phone and computer. That part doesn't last very long.
I also do a cupboard de-tox where I give away half my wardrobe, and a paper de-tox where I go through my files and throw away ancient contracts and bank statements. All of this has been inspired by the Japanese guru of minimal living, Marie Kondo, whose motto is that 'everything you touch needs to spark joy' or you toss it out. This means a pile of socks that have lost partners, pilling cashmere sweaters, expired bottles of Nurofen and old notebooks – all should go straight to the trash.
In tandem with this, I like to do a full body de-tox, and personally, I think the only way to do it is to go to one of the  places where practitioners have been guiding stressed-out people like me to cleanse themselves for years. They know how to do it, making it as painless as possible. If I read one more article by Gwyneth Paltrow advising at home detox with nothing but beetroot juice and zucchini spaghetti, I will scream. Trust me, it does not work to do this at home. You need help, and you need people who know what they are doing.
The two best detox in the world are the Sha Wellness Centre in Spain, and the Espace Henri Chenot in Italy. Both are alike in the sense that they combine the very best therapists, science and medicine alongside luxury, to make a week of eating little still seem like an extraordinary vacation. But they are very different in their philosophies, depending on your needs.
The Chenot Method was founded by an inspiring French physician, Henri Chenot, whose work mirrors the system of Chinese medicine – the seasons change our needs, and our organs dominate emotions – combined with high-pitched science such as state-of-the-art bone scans that tell you if you will have problems in coming years.  There are two centres in Italy – one at L'Albereta Relais Chateaux in Erbusco, in the Franciacorta area, province of Brescia, and the other in Merano, in the South Tyrol, where you can see Chenot himself, now 73, and his wife.
The couple live on the grounds and are available to talk you through the treatments. His wife, Dominique, an astonishing beauty in her sixties who has followed her husband's methods, directs the aesthetics program – i.e., plastic surgery. But unlike most aestheticians pushing Botox or Lasers, there is a solid sensibility to her. 'You don't need it,' she told me when I asked her about a laser body treatment which is meant to tone skin.  'Just walk more. Or swim.'
However, if you want it, you can have the most advanced laser treatments in the world, including Fraxel, which restores the quality of the skin, and Ultherapy, which basically replaces the need to have a facelift by awakening collagen reserves deep underneath your skin. Both have extraordinary results and there is no downtime – you don't walk around with red skin.
The Chenot Espace is inside a five-star, Old World former palace with wide, sweeping corridors and rooms with balconies looking out over a private park. The town, a five-minute walk away, is like a mountain retreat stuck in the 1950s, and the air is so pure that you want to be outside all the time, even in winter.
The food is exquisite – tiny portions, but real food, not rabbit fodder. You get pasta, you get meat, you get grains – you just don't get a lot. But your breakfast, tiny portions of fruit, cake, or porridge, looks so beautiful that you eat slower – the mantra there – and the headaches and the hunger go away after 48 hours. Then you start feeling extraordinary. The first thing I notice is that my eyesight becomes better, and my eyes actually look shinier. I cannot say enough about how radically my skin changes – it goes from grey to a pure glow – I am not exaggerating – by the end of the week.
Most people I met at Chenot had come, like me, because they were exhausted and drained and needed to re-boot the machine. Others were going through some heavy crisis – divorces, break-ups, changing jobs – and wanted to clean the slate and have a fresh start.  I can't describe how perfect this place is for that kind of restoration.
I have done the Chenot Method several times (it is recommended you do it once a year for anti-aging purposes) and each time I walked through the doors a wreck.  The best word I could think of is – sluggish.
When I left, I felt as though I was in a different body. As a good friend, a hard working editor at Vogue told me, 'I feel like I have a motor in my lower back now', one that is pushing her forward with a new kind of energy.
Equally impressive, though very different in style, is the SHA Wellness Clinic. Nestled in the mountains near Alicante, SHA draws a crowd who are serious about losing weight – I met someone who had been there for six weeks and had lost nearly twenty kilos. But there are also many there who are serious about healing something – illness, sleep disorders, smoking addiction. Because it is high tech and there is an amazing outdoor pool for summer nights, there is a sense of being at a chic resort.
SHA is ultra-modern, with glass rooms and sleek interiors, white leather sofas, oxygen masks on tap for pumping up your energy, and at the same time discreet and very, very rich. Outside my room was a magnificent view of purple-edged mountains – and a helicopter pad.
I also met people who were recovering from serious illnesses. As the SHA has a more medical approach – your visit starts with blood work and a full medical visit with doctors before you get a personalised treatment plan – there is a cocooned sense of being looked after. The founder, Alfredo Bataller Parietti, beat cancer by following a pure macrobiotic diet. The physician who treated him is now one of the treasured members of the SHA staff.
Whereas Chenot is Chinese medicine, SHA is Japanese. You get to choose which diet you want to be on, depending on your goals, and the presentation and preparation is exquisite. (There are also cooking classes in macrobiotic food, the first time I have ever done one that I truly enjoyed and paid attention to – it has changed the way I now cook).
You have a choice of several programmes at SHA – a general programme which includes treatments, diet and gym – one of the best trainers I ever met, by the way; or specific tailor-made programmes such as aesthetic (plastic surgery).  SHA will also do laser treatments, including Thermage, which uses radio-frequency to produce collagen – a different kind of ultherapy, which can also be used on the body.
You can go for four days, though they prefer to have you for a week to get the full cleanse, 'to clean accumulated impurities'. Just that phrase makes me want to drink lemon water for a week. You can stay as long as you want, if you can afford it – I have heard rumours of a young Russian lady who stayed for a year.
There are sleep recovery programmes for those who suffer from insomnia, and a serious anti-tobacco programme. In short, you give them what is troubling you and with a combination of MDs and practitioners, they sort it out.
I loved my time at SHA, because once again, I entered feeling polluted by stress and life, by filthy cities and too much air travel, by airline food and room-service dinners eaten late at night in bed with a computer propped up next to me.
I've never had a yearning to be vegan, but SHA taught me how to, in a sense, purify my life and to reduce, as much as I can, the stress levels. I am never going to be able to live like Gwyneth – a yoga and macro-biotic lifestyle that leaves me squeaky clean and glowing – but they did leave me with a legacy of how to replace things. Less meat, more vegetables (and since I genuinely loathe most vegetables, they gave me alternatives and choices), different kinds of exercise, and basically, how to live well.
One of SHA's tenets is longevity and anti-aging. I also left with a sack of supplements, which they manufacture, including a powdered collagen supplement which I take twice a day. Everyone I have seen since I left has complimented me on my skin.
I was introduced to SHA with a male friend who has one of the most stressful jobs I know of at a major multinational corporation. He oversees a staff of 800 and works non-stop as well as travelling all the time. But like most men, he's vain and wants to age well so that he can continue to impress the chicks. Last year he came back from SHA looking incredible – flat stomach (which he kept pulling up his t-shirt to show off); smooth skin (which he claimed was from the pure food diet), and none of the back pain which plagues him.
Usually there is an influx of women at spas like Chenot and SHA, but interestingly enough both places I went were male-heavy during my visits, with SHA probably more so. There was an entire table of very fun guys, all serious businessmen, who ate together every night (they had all been there for various problems for weeks on end). I advise my single girlfriends to go simply for the social life.
In a perfect world I would go to each place for one week a year. They are different, but also compatible in some ways. At any rate, they will change your way of living, eating and thinking. If you want to age well, do this.
Espace Henri Chenot:
Tel: +39 0473 271000
Espace Henri Chenot offers a 6-day programme from €2,650, including all meals, consultations and treatments. Accommodation for one week in a deluxe double room starts from €1,540 per person.
Fly to Verona (closest) or Innsbruck or Venice. Palace Merano will arrange transfers from any of these airports.
SHA Wellness Clinic
SHA offers the 4-day Discovery programme from €1,100 per person, including all meals, consultations and treatments. Mountain View Deluxe Suites start from €460 per night based on two adults sharing
Fly to Alicante or Valencia. SHA will offer transfers