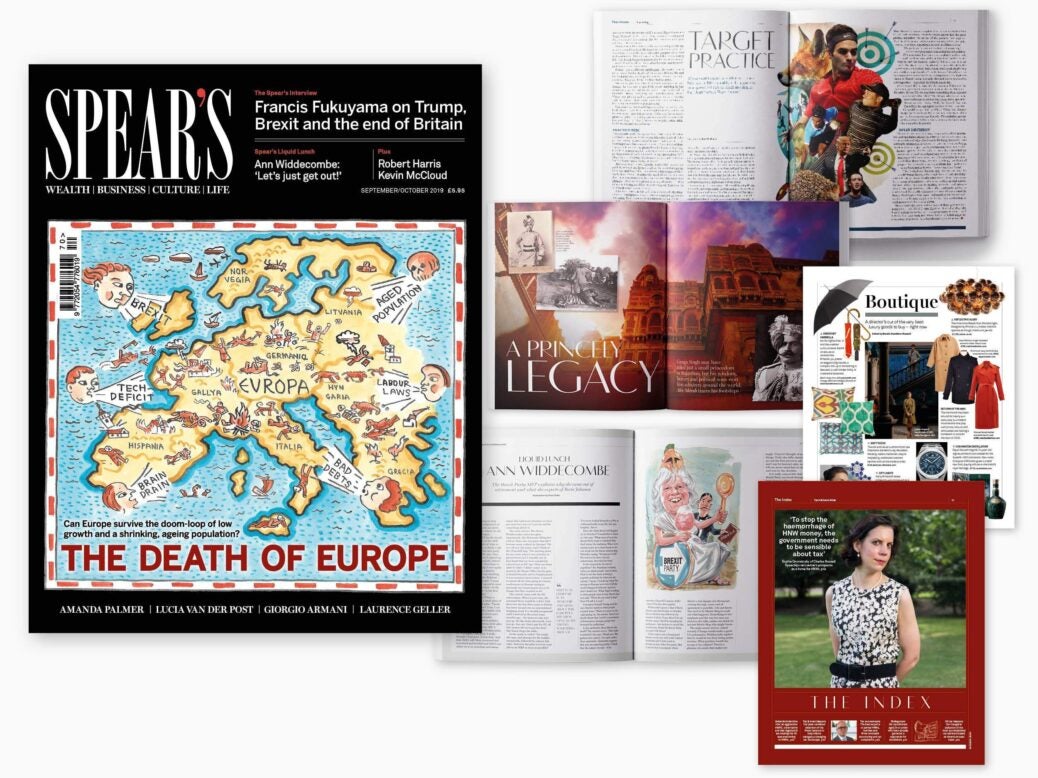 Francis Fukuyama, Ann Widdecombe, Giorgio Armani, and Robert Harris lead an essential lineup in the latest issue of Spear's, writes Alec Marsh
It's not often, as a journalist, that you get to write off an entire continent, but in this edition of Spear's we thought we would give it a go. 'The Death of Europe' began in earnest with a conversation with Christophe Donay at Pictet, but soon fanned out, with members of the Spear's team dispatched to various capitals and corners of Europe to test his thesis.
The truth is that many of the challenges that face Europe face Britain too. We have an ageing population, yet our total population is forecast to grow to around 81 million in 2070 rather than shrink, and we aren't greying to quite the same degree as they are on the other side of the Channel.
But we do lack for a tech giant or two, notwithstanding our fintech unicorns, and while our trend growth rate is above that of Europe, it's well below that of the US. So the purpose of the cover story is not to crow, but rather to ask important questions about where investors should be putting their money.
Elsewhere, this edition boasts a profoundly insightful conversation with Francis Fukuyama, the historian who called time on history in 1989, and is back now trying to work it all out for us again. His diagnosis of the crisis of liberalism, Putin, Trump and Brexit makes for essential reading.
Additionally, I travel to Exeter to lunch with Ann Widdecombe, who talks populism and the rise of the right and offers tantalising clues about the terms of a possible Brexit Party deal with the Tories in any forthcoming election. This edition is also buoyed by interviews with the novelist Robert Harris in our diary, with the architecture taste-maker Kevin McCloud, who is our Midas, and performance artist Amanda Palmer.
We also have our powerlist of the best tax lawyers and accountants. Find out who the best of the best in 2019 in our index where, For the first time, we also profile six US tax advisers.
In addition we have all our regular star writers – from John Arlidge (who meets Giorgio Armani ) to Lucia van der Post, who has the opening slot in our Good Life columns, reborn as Arcadia.
Finally, I'm delighted to announce that my debut novel, Rule Britannia, will be published in September by Accent Press. Years in the making, even longer in the waiting, it'll be a proud moment. There's a brief review of it by Spear's new deputy editor Edwin Smith, where you'll also notice a short review of the memoir from William Cash, Restoration Heart. Enjoy!
Alec Marsh is editor of Spear's 
To buy the latest issue and subscribe, click here