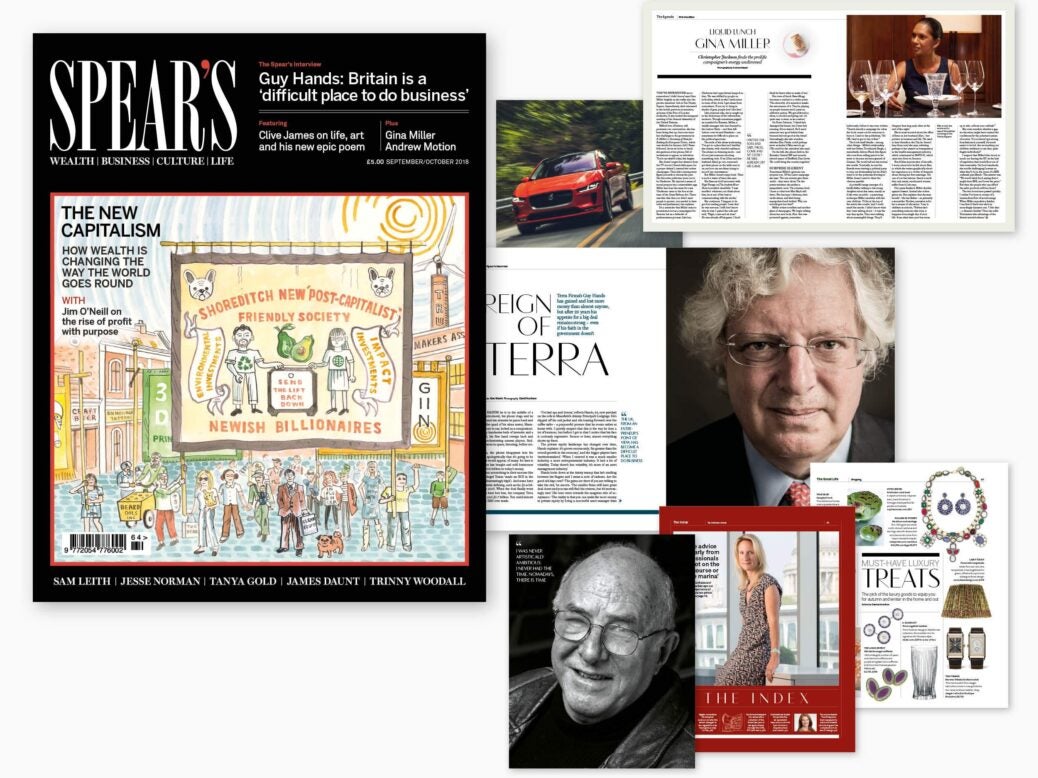 Featuring Gina Miller, Clive James, Guy Hands and more, the September/October edition of Spear's is out ­ – and filled with surprises, writes Alec Marsh
First, it's a pleasure to welcome back to Spear's, Jim O'Neill, the celebrated economist, who writes on investing with a social purpose exclusively in this edition. O'Neill's insights chime closely with the cover story of the edition – which focuses on what we're calling the New Capitalism, the seismic shift starting to take place in capitalism and investing in a more environmentally and socially sustainable direction. The latest edition features an important report from our writer Emelia Hamilton-Russell.
There are at least two other nods to sustainability in the September/October issue: John Arlidge gets behind the wheel of Jaguar's new all-electric I-Pace, which he reckons is the best Jag since the E-Type. We also get a primer on Adam Smith, the father of economics, courtesy of Tory MP Jesse Norman, who has a book out about the man and his work. I had the pleasure of meeting Norman, and what he and Smith have to say about capitalism is both surprising and highly relevant to the sustainability argument.
Elsewhere we have the former poet laureate Andrew Motion, who fills the diary slot. Then in our Spear's interview, we have the financier Guy Hands – whom I met on the day he was in Oxford to witness the opening (by Kofi Annan who died just a few weeks later) of a building bearing his name. Hands thinks the government is letting down business and the rich need to tackle tough causes. He also doesn't think Jeremy Corbyn is all bad, either.
Then there's a very lovely surprise: an interview with Clive James, who talks about his new epic poem, his family and his passions for Dante, art and Margaret Thatcher. And largely in that order. James's interview is a genuine triumph of this edition.
I am also delighted to welcome Gina Miller to this edition. She's our Liquid Lunch this time round and in Christopher Jackson's perspicacious report you'll find a rather different side from the person you thought you knew from Question Time or our newspapers.
With our wonderful columnists, plus a revealing interview with bookseller extraordinaire James Daunt and even a deep dive into the Maldives, this is a vintage edition of Spear's. And I've still not mentioned our authoritative annual index of the key players in private client tax world. Turn to the index on and you'll soon discover a wealth of talent and expertise.
To buy the September/October edition of Spear's visit a WH Smith travel store or buy it online or subscribe…