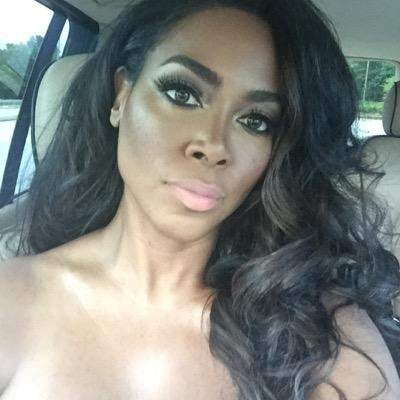 Former Miss USA, American model, actress and one of the stars of the TV series The Real Housewives of Atlanta, Kenya Moore's net worth is guesstimated to be £232,455.
Born in Detroit on January 24, 1971 to teenagers Ronald Grant and Patricia Moore, Kenya Summer Moore was brought up by her paternal grandmother and aunt as she was disowned by her mother at birth. Although into modelling since she was 14-years-old, Moore continued with her studies, graduating from Cass Technical High School in 1989 and later graduating magna cum laude with Communication (minor) and Psychology (major) from Wayne State University.
How did Moore earn her money?

In January 1992, she appeared on the cover of the magazine Ebony Man and soon began modelling for the cosmetic range of Ebony Fashion Fair. Moore soon went on to win Miss Michigan USA and Miss USA in 1993 (the second African-American to do so), and came in sixth competing for Miss Universe 1993. She also graced the covers of Glamour, Seventeen and Essence.
Moore then turned to a career in acting doing films such as Waiting To Exhale (1995), Senseless (1998), Trois (2000), No Turning Back (2001), Deliver Us From Eva (2003), Hot Parts (2003), Cloud 9 (2006), I Know Who Killed Me (2007), The Confidant (2010), Trapped: Haitian Nights (2010), Dolls of Voodoo (2013) and Sharknado: The 4th Awakens (2016), and TV series such as The Fresh Prince of Bel-Air (1994), Homeboys in Outer Space (1996), Smart Guy (1997), Living Single (1997), Nubian Goddess (1997), Damon (1998), The Steve Harvey Show (1998), The Jamie Foxx Show (1999), The Parent 'Hood (1999), In The House (1999), Men, Women and Dogs (2001) and Girlfriends (2004).
Apart from movies and TV, Moore has also appeared in music videos, namely 2Pac's "Temptations" (1995), Shai's "I Don't Wanna Be Alone" (1996), Nas' "Street Dreams" (1996) and Jermaine Dupri's "Money Ain't a Thang" (1998). She also got an advice book published in 2007 called Game, Get Some!.
In 2008, Moore established her own entertainment company called Moore Vision Media, which she used to produce and direct a few ventures, such as the films The Confidant and Trapped: Haitian Nights.
She was then cast in Season 5 of The Real Housewives of Atlanta, in 2012, being one of the main cast members until Season 8. Moore also released Kenya Moore: Booty Boot Camp, a workout DVD in 2013 and later appeared on the TV series' The Celebrity Apprentice 7 and Millionaire Matchmaker in 2015.
She also established the charity organisation Kenya Moore Foundation, helping deprived girls from her high school with scholarships.
Moore's net worth, which was estimated at £1.16 million in 2014, has plunged drastically and is now reckoned to be about £232,455.