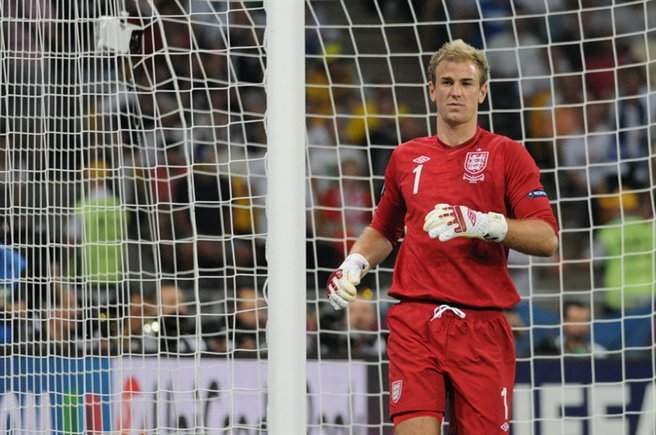 Braveheart goalkeeper of England and Manchester City, Charles Joseph John "Joe" Hart has an estimated net worth of £21 million.
Born in Shrewsbury on April 19, 1987, Joe Hart started playing for Shrewsbury Town football club, in February 2003, sticking with it during relegation for season 2004-05. Once the team again got promoted to League Two, Hart slowly claimed the 'number 1' jersey.
What teams has Hart played for to earn him his millions?

His international appearances began in October 2005 with the Under-19s. Hart was then selected for Euro 2007 in the Under-21s.
In 2006, the Professional Footballers' Association (PFA) awarded Hart Player of the Month in March, voted him Best Goalkeeper of League Two for 2005-06 and also selected him for the PFA League Two Team of the Year.
Hart was then lured to Manchester City on a £100,000 transfer fee in May 2006, but before full-time duties at City, he was lent to Tranmere Rovers (League One) and Blackpool in 2007.
In October 2008, Hart made it onto the Shropshire Schools & Colleges Football Association's Hall of Fame and also inked a new five-year deal with Manchester City. In 2009-10, he was lent to Birmingham City, where he won Birmingham City's Player of the Year title.
While Hart was given the Number One jersey in season 2008-09, he could only begin duties for Manchester City in the 2010-11 season; a man-of-the-match performance in a goalless draw against Tottenham Hotspur.
Hart performed brilliantly in the U21 Euro 2009 championship, but was suspended for the final, where England lost to Germany.
Although included in the 2010 World Cup campaign in South Africa, Hart was just a benchwarmer. He then helped England to the Euro 2012 quarter-finals with 19 saves; the most by any goalkeeper in the tournament.
Hart's accolades with Manchester City encompass an FA Cup win in 2010-11 and Premier League wins in 2011-12 (City's first Premier League trophy plus major title in 44 years).
With currently more than 100 Premier League clean sheets to his credit, Hart's individual titles and accomplishments include Manchester City Performance of the Season (2010-11), chosen for the Premier League PFA Team of the Year (2009-10 and 2011-12), Etihad Player of the Month (August 2010 and March 2015), and winning the Premier League Golden Glove a record four times (2010-11 2011-12, 2012-13 and 2014-15). He is also credited with 29 clean sheets in a season (2010-11), a Manchester City club record, with 18 of those in the Premier League.
After England's quick exit at the 2014 World Cup in Brazil, Hart inked a £31 million deal with City that December making him the world's highest-paid goalie, raising his weekly pay from £80,000 to £120,000 plus bonuses; a record broken in September 2015 by David de Gea of Manchester United.
Hart's position as number one keeper in Manchester City was cemented in July 2011 with a new deal until 2016.
Earning his 50th cap against Italy in March 2016—the sixth Englishman to do so, Hart is set to tend the goalposts at Euro 2016 France.