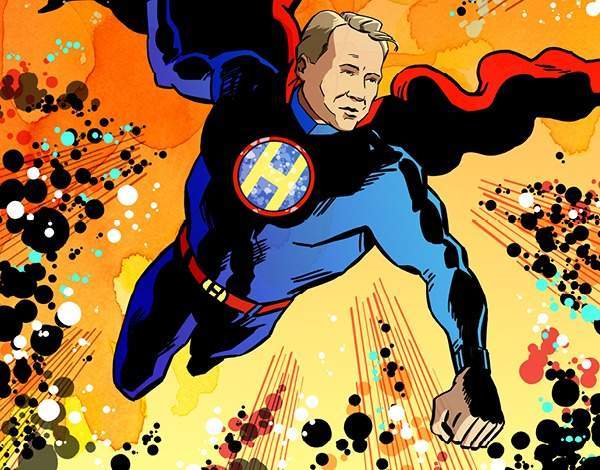 His family built its wealth on terra firma, now Jo Bamford hopes his own business can harness the power of hydrogen. But if the UK wants to be a leader in zero-emissions tech, it needs to step on the gas…
When you are named after Joseph Cyril Bamford, the man who founded arguably the world's most famous excavator company and whose initials adorn each of the yellow diggers, you have big shoes to fill.
When your dad is Lord Bamford, the man who took that company worldwide and made it the global success story it is today, that's liable to pile on the pressure too. It doesn't seem to have affected Jo Bamford (middle name Cyril), who has a boyish quality about him – as well as an enthusiasm for his subject that makes me wonder if he wouldn't have made rather a good chemistry teacher.
We're moments into our interview over Zoom, inevitably, and we've accomplished as much small talk as two unacquainted men in their forties can, so I plunge into our topic – the world of hydrogen power of which Bamford has become a champion. I begin by asking about his company, Ryse, which makes the stuff. What happens next is characteristic of the entire conversation – and, I expect, the man himself.
'Actually I'm going to give you a totally different answer so please forgive me,' he says, smiling. 'I can go into that in a bit. Look, when it comes to zero emissions I have a fundamental view, which is: the most difficult thing to change is human behaviour. At the end of the day, when it comes to transport, we're used to filling up our car in five minutes, then driving for four, five hundred miles and getting out and filling it up again. And off we go. So if you can find a zero-emissions solution that costs the same and is as easy to fill up as the incumbent, I think you get mass adoption.'
He lets that settle, then adds: 'That's why I think hydrogen is the one that works, because it operates in basically the same manner. That's why I think hydrogen is a cool thing.' His interest in the topic began about 15 years ago, when he read about hydrogen in a magazine, but now he believes that 'mass adoption' is on the cards.
Four years ago, he stopped working 'on a daily basis at the family firm' – that's JCB – and began taking the H of H2O seriously. 'Part of the problem with hydrogen has always been cost – it's always been too expensive,' says Bamford. 'I started looking at hydrogen,' he says, and asking: 'How can I make it and deliver it for the same cost as diesel – and where does that work in the market?'
He says he's cracked it: 'We can now deliver it in London for the same cost as running a bus on diesel.' Already there are 20 hydrogen-powered buses on the streets of London (made by Wrightbus in Northern Ireland, which Bamford bought from bankruptcy in October 2019) running on his gas, but the firm's zero-emissions buses are also running in Aberdeen and Birmingham.
His hydrogen-making firm secured planning permission in June to build a plant in Herne Bay in Kent, where it will take electricity from the Kentish Flats windfarm. When it's up and running by the end of next year, the plant will be able to generate 'green' hydrogen using a process known as electrolysis – enough to power 300 buses.
Currently the London buses use 'blue' hydrogen, made using natural gas with carbon capture. 'It's not green, but it's not really, really dirty,' he says – but the greener future is not far off.
Now he moves to the core of his argument. 'There are two zeroemissions solutions out there,' he explains. 'There's batteries and there's hydrogen: batteries do work and it's a nice solution, but it doesn't work so well when you get bigger and heavier.' His own firm makes buses powered by batteries, hydrogen and diesel, he says: 'A battery double-decker bus will do 60 per cent of the distance of a diesel bus and takes four and a half hours to charge – minimum – whereas a hydrogen bus will do the same distance and take seven minutes to fill up.'
And here's the rub: when you need a lot of power, batteries hit massive trade-offs. 'On a double-decker bus you're lugging around about three and a half tonnes of batteries,' Bamford says. 'Let's scale that out – if you wanted to do a Boeing 747 on batteries you'd need 2,700 tonnes of battery, so it would never get off the ground.'
The UK's chances of becoming a battery-making powerhouse are similarly unfeasible in his view. 'In the world of batteries, China has 73 per cent market share,' he announces. 'Any time somebody has 73 per cent market share, it's going to be difficult to knock them off their perch.' The only way would be to design a better battery or make it less expensive.
'In the case of China I don't see how you could be cheaper – they own the whole supply chain. There's one company that owns 52 per cent of all the world's lithium, for instance…'
They also have the human factor, he notes, pointing out that China's sixth-biggest battery company, BYD, employs 80,000 engineers working on improving battery science. 'Britain throws out 10,000 engineers a year from university in total, so the sixth-largest battery producer in China [has] eight years of our capacity.'
Bamford's conclusion? 'When you're talking about green energy, let's go guns blazing for hydrogen,' he says, noting that the industry will be worth $2.5 trillion by 2050. And he's got a plan for doing it: in February Boris Johnson announced £5 billion investment in Britain's buses, which included buying 4,000 zero-emissions buses.
Bamford says that if the three British companies that make hydrogen-powered buses were given those 4,000 to build, they could scale up production, cut costs and quickly get to a point where they were as cheap to build as the diesel version is today.
The commitment would also enable companies to start building a nationwide infrastructure for the manufacture and supply of the hydrogen needed, and pave the way for its use in other industries. Trains could follow in 2022 and ferries in 2025.
'What we should be doing is focusing on 4,000 zero-emissions buses,' states Bamford. 'If you could do that, for a couple of billion quid you'd have a bigger hydrogen economy than anyone else.'
The alternative, he says, is more electric buses carrying around tonnes of Chinese batteries – a prospect about which he is scathing: 'If you went and bought 4,000 zero-emissions battery buses and they all came from China, I don't think that would be a very cool thing coming out of a crisis, do you?'
But we should copy China's approach to technology, he says. 'Let's do what China did for batteries with hydrogen. Let's get it going in this country, let's get it going in one area as quickly as possible, get the volume up in that area – and once you've got costs down and you've the cheapest cost of everything in your own domestic market, you then export that around the world. China is great at that.'
That means going through the hydrogen supply chain – the distribution, fuel cells and filling stations – and attracting foreign suppliers to set up here or enticing British firms with the relevant capabilities to get involved. If a shift to hydrogen happens – and Mr Johnson is said to be very enthusiastic about hydrogen powering trucks, trains and aircraft – then Bamford will be ready.
'We're a gas business that happens to sell to buses because buses were the first UK customer,' he says, noting that regional prop-driven aviation will be hydrogen-fuelled from 2027. (The day before our talk he met Valery Miftakhov, CEO of ZeroAvia, which carried out a successful hydrogen-powered demonstration flight in September using a 'commercialgrade' aircraft.)
But time is running out. Other countries are spending big-time to get a lead in hydrogen – not just China and South Korea. The Germans have announced that they will be investing €9 billion over five years. So have the French – everyone is piling in.
The UK, he says, has got a year to get its act together or miss the hydrogen boat: 'You've got about 12 months and if you really focus on buses – focus on one mode of transport where there's enough volume in it so that you can go through the supply chain and get the cost down. If you focus on that in the next 12 months you'll get there. If you don't, I'll be going to make the stuff in Germany.'
Which is not what this JCB wants to do. On the contrary, my guess is that Britain's Mr Hydrogen wants to achieve something rather ambitious, to become as synonymous with hydrogen power as his own three initials already are with digging holes in the ground. And he doesn't want Britain missing out on the party.
'We know this going to be a big part of the world economy,' he says, 'so let's try and drive ourselves into it.'
Illustration by Paul Collicutt
This piece is from issue 77 of Spear's magazine, out now. Click here to buy and subscribe
Read more from the latest edition of Spear's:
Matthew Goodwin: Keir Starmer is yet to show he has a 'knockout punch'
Up in the air: Is the decline of airlines terminal?