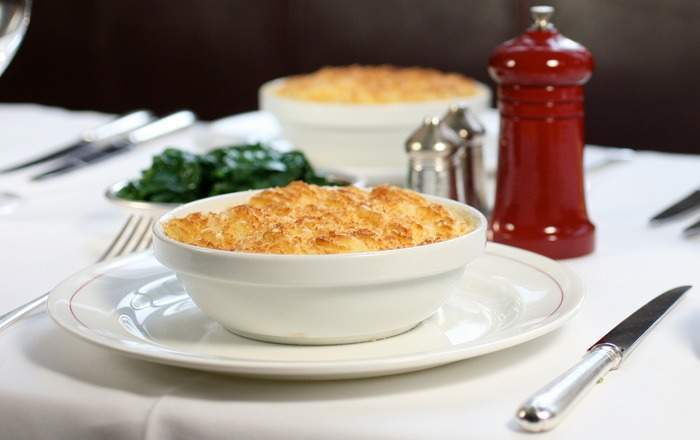 Spear's editor Alec Marsh enlists the help of Spear's editor-at-large William Cash to review that perennial Soho favourite, J Sheekey
The review of J Sheekey begins inauspiciously. My guest, William Cash – Spear's founder and editor at large –  is sitting outside in the restaurant's terrace area virtually alone, on what has become a rainy day. In his wide-lapelled green corduroy jacket and slacks he resembles a 1980s middle manager failing to come to terms with dress-down Friday.
But he brightens a bit when he sees me. 'I didn't dare order any drinks until you arrived,' he states, before squinting back down at his phone (his latest compulsion is Instagram). He dabs belligerently at the screen: 'Could we go inside? I like being outside but it's not great when it's raining.'
We had made a very late booking, hence the terrace table, but I ask all the same. Meantime we order two glasses of house champagne, which arrive promptly. Just what two thirsty journalists need on a wet Thursday.
Minutes later, we are led inside, passing Charles Moore, the Daily Telegraph columnist who is demolishing his pudding, into a fine wooden-panelled room. Here we're seated in a leather booth at a small oval table, surrounded by black and white photographs of the stars of the stage and screen. We are after all in the heart of Soho's 'theatreland'. I sit below Kenneth Moore while William slides in under Jack Hawkins in his pomp. Derek Nimmo looks down from the far wall.
From here we look out over a convivial sea of lunching patrons, conversing, chewing, scraping – it's a form of theatre in its own right. As you would expect from Ivy impresario Richard Caring, all the props are just so. The pale mustard-coloured napkins are folded with the restaurant's monogram on show, the white table cloth is immaculate and the Margolis silver cutlery is as you would desire it to always be. An oversized clam shell the size of washbasin stands nearby; a piece of sculpture.
After talking Spear's, we finally get to the menus. I gaze down at the oysters – Morecombe Bay, Lindisfarne, Ostra Regal and Natives – then then caviar and the starters. 'I'm getting quite excited actually,' William suddenly announces, his nose pressed to the starters. 'I'm going for the cheese soufflé,' he declares. 'Between the two of us,' he leans in, 'I've eaten like a king for the last two days.'
It's his fifth wedding anniversary, he reveals. He has dined at Le Gavroche and the Bear hotel in Oxfordshire, and this evening he'll be heading to the Chelsea Arts Club for a celebratory dinner. It sounds more like a recipe for a heart attack than a happy marriage…
We order. William opts for the monkfish and tiger prawn tikka masala with pilaf rice main course. 'Ask the chef to make it extra spicy,' he declares, handing over the menu.
We request a bottle of Cote de Rhone and William takes me to task about a recent Spear's interview. In my position, I expect nothing else…
Fortunately the starters arrive: William's Keens chedder soufflé is a perfect yellow-coloured bastion, like a large Madeleine, sprinkled with flecks of black truffle. He breaks into it with his fork, emitting sounds of strident inhalation. 'This is so unbelievably good,' he gushes, as another fork-load disappears. 'It's totally brilliant.'
I start on the dressed crab, which is plated out of the shell, with a stroke of marie rose sauce down the centre, flanked by grated egg. One of the signature dishes of the house, it's light, powerful and so fresh it could have scuttled out of the kitchen all by itself.
William draws my attention to the dough-like cross-section of his soufflé: 'It's definitely something that's not going to be found at a student dinner party,' he declares. The last morsel disappears. William, still pronouncing its brilliance, takes a deep tilt of his wine. 'God that was good,' he repeats before noticing an elegant silver jug of accompanying sauce for the first time.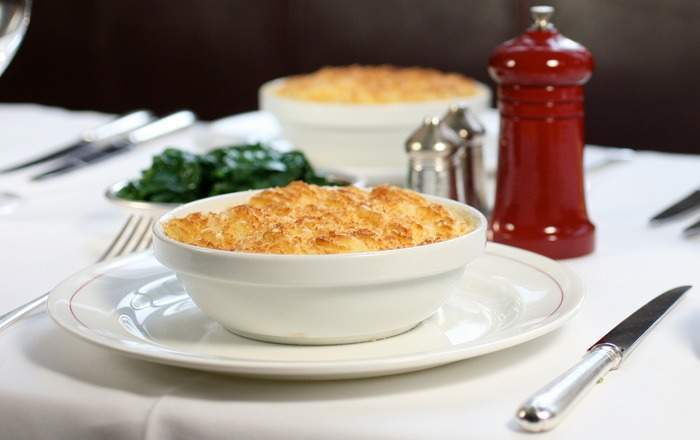 We pose for a picture – 'Good idea,' notes William, 'before we drink too much' ­– taken by the waiter. Then William wants another one for Instagram, so an Essex publican dining under Derek Nimmo does the honours. Turns out he knows my cousin, who is a publican near to him. William dabs at this mobile while we chat before giving up, exasperated.
We are saved from signal failure by the main courses: the monkfish and tiger prawn 'curry' glistens invitingly, and William pounces, making a passable impression of a Dyson. In comparison the J Sheekey fish pie looks less exciting, but break the crusty surface and the flavour is enormous: chunks of salmon and white fish emerge from a habitat that's got the winning formula of restrained creaminess, cheese and fundamental salt. It's good.
William breaks off from the monkfish tikka masala and sinks a glass of Cotes du Rhone like it's Tizer. Then he dives straight back in. If it's too spicy he's not saying.
I discover that we need another bottle of wine, which is ordered before an emergency ensues. It's accompanied by a couple of dessert menus.
The options are inviting: 'Am I a cheesecake sort of person?' asks William in a surprisingly reflective tone. Before I can reply he opts for the J Sheekey Fish Bowl. I plum for the honeycomb ice cream, which is served with hot chocolate sauce.
I'm afraid I can't describe the J Sheekey Fish Bowl: not because of the amount of wine enjoyed, but because it vanished in William's frenzied assault. Gone in 60 seconds? More like 30.  'God that was good,' he exclaims, getting his breath back.
I taste the rich, smooth honeycomb ice cream: it's excellent – seriously silky and vanilla-like with a honey-flavour that is sweet and long, and honeycomb that delivers a delicious crunch. Does it really need the chocolate sauce? Probably not, but it takes it to another level of indulgence all the same. I notice that our section of restaurant is now empty apart from us and the Essex landlord and landlady. The other tables have been re-laid for dinner. The daylight in the windows has gone. I have a coffee. William, I think, is off the caffeine following Lent. We order two more glasses of red.
Alec Marsh is the editor of Spear's