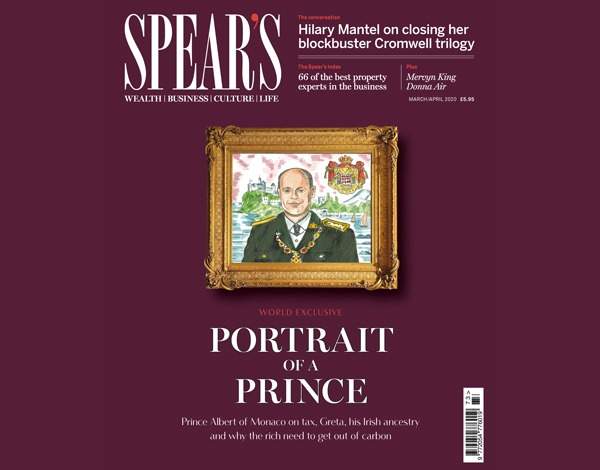 Crowned by a world exclusive interview with Prince Albert of Monaco, the latest edition of Spear's is the most stacked yet, writes Alec Marsh
There is something a little challenging about interviewing royals. It's a bit of a blood sport, to be honest. Whereas you can and should do your worst with politicians, monarchs are born to it, and therefore they're not professionals. That makes them a bit of a protected species.
Then there's the whole 'head of state' thing; certain courtesies have to be – and frankly ought to be – observed.
So, I don't mind admitting to some trepidation as I approached the front door of the Prince's palace in Monaco in order to interview the man inside. In the event, His Serene Highness Prince Albert II was incredibly polite, friendly and welcoming. He answered all my questions, too.
Even the ones I probably wasn't meant to ask. You can see it for yourself.
He also had a very clear message for readers of Spear's – which he gave without any hesitation. Get your money out of carbon. Which is worth bearing in mind.
Click here to buy the latest issue and subscribe
The interview – which is a landmark moment in Spear's history – is not the only regal attraction of this edition: we also meet another royal, Sheikha Bodour of Sharjah, who talks about the power of the written word to change perceptions of the Arab world.
We meet Hilary Mantel, who talks to us about the third and final chapter in her massively successful Thomas Cromwell series, and hear from the architect Sir Norman Foster, who shows us around his new hotel in Philadelphia.
We have lunch with London mayoral candidate Shaun Bailey, and Arun Kakar boards the sleeper for Edinburgh to take the pulse of wealth north of the border.
This edition also welcomes our new columnist Matthew Goodwin, professor of politics at Kent University and a fellow at Chatham House. Property is the focus of the edition: we present our power list of the 66 best property experts in the business.
We also size up the latest battle taking place in global property – who's in front, New York or London? Edwin Smith reviews real estate in the Big Apple and Big Smoke.
Click here to buy the latest issue and subscribe
And still, there's more to cheer about: Mervyn King talks to us, Nick Foulkes relishes the delights of Baselworld, Tim Barber celebrates the new-but-old Omega watch, and we experience Tom Aikens' new restaurant, Muse.
Lastly, I would like to thank our regular writers – including Lucia van der Post, John Arlidge, Robert Amsterdam, Annamaria Koerling and Jason Cowley – and welcome Anna Solomon to the editorial team. You can read Anna's Midas interview with Donna Air.
I hope you enjoy the issue, now available on newsstands and mailed to subscribers.
Read the Spear's exclusive interview with Prince Albert of Monaco here