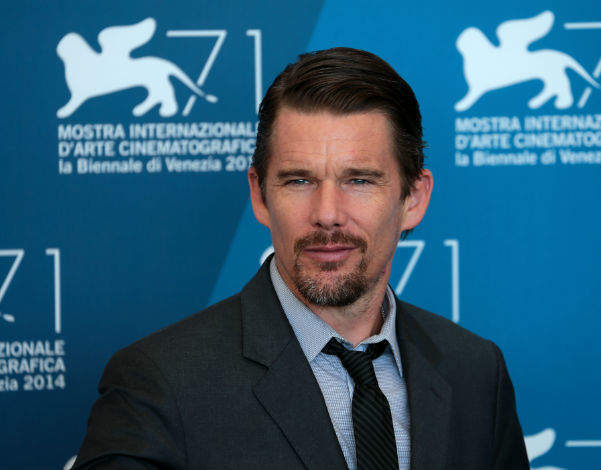 Author: Suren Prasad

Ethan Hawke is reported to be worth £31 million.
Initially appearing in school plays, Hawke was first cast in the film Explorers (1985) at 14. He then enrolled in an acting course at Carnegie Mellon University, but left in favour of performing in the 1989 blockbuster Dead Poets Society.
He was given the lead role in Jack London's White Fang (1991), which he followed up with A Midnight Clear (1992) Alive (1993) and Reality Bites (1994).
In 1995, he gave an acclaimed performance in Richard Linklater's Before Sunrise.
Hawke's literary aspirations came to the fore with his first novel, The Hottest State, in 1996, which was later sold to Little, Brown and Company. The novel was adapted for the screen in 2007 under Hawke's direction.
He then acted in a varied slate of films: Gattaca (1997), Great Expectations (1998) and The Newton Boys (1998).
Following a screen version of Hamlet in 2000, Hawke starred in Waking Life and Tape. He earned SAG and Oscar nominations for Best Supporting Actor in the 2001 hit Training Day.
In 2002, he debuted as a director with Chelsea Walls and published his second novel, Ash Wednesday (New York Times Best Seller).
Hawke returned to film in 2004 with Taking Lives and Before Sunset, for which he was nominated for his first screenwriting Oscar.
He played subsequent roles in the 2005 flicks Assault on Precinct 13 and Lord of War, followed by What Doesn't Kill You (2008) and New York, I Love You (2009), along with well-received performances in Daybreakers (2010), Moby-Dick (2011) and Sinister (2012).
The following year, he starred in Before Midnight, receiving his second Oscar nomination for Best Adapted Screenplay.
Shot over a span of 12 years, Boyhood was released in 2014 to critical acclaim bringing Oscar, SAG and Golden Globe nominations for Hawke.
Hawke directed the 2014 documentary Seymour: An Introduction on musician Seymour Bernstein, which premiered at the Toronto International Film Festival.
Claiming theatre as his 'first love', Hawke debuted on Broadway in The Seagull (1992), appearing over the years in many critically acclaimed plays including Camino Real (1999), Henry IV (2003), The Coast of Utopia (2006-2007, nominated for a Tony), The Winter's Tale (2009), Blood from a Stone (2011, Obie Award winner) and Macbeth (2013).
Hawke was presented the Michael Mendelson Award in 2008 for Outstanding Commitment to Theatre.
He has also directed a number of theatrical productions including Things We Want (2007) and A Lie of the Mind (2010, Drama Desk Award nomination for Outstanding Director).
After selling his Manhattan townhouse for a reported $6.25 million, Hawke now lives in a $3.95 million house in Boerum Hill and owns a private island in Nova Scotia.
His next film, sci-fi flick Predestination, is scheduled for release in the UK and US later in 2015.