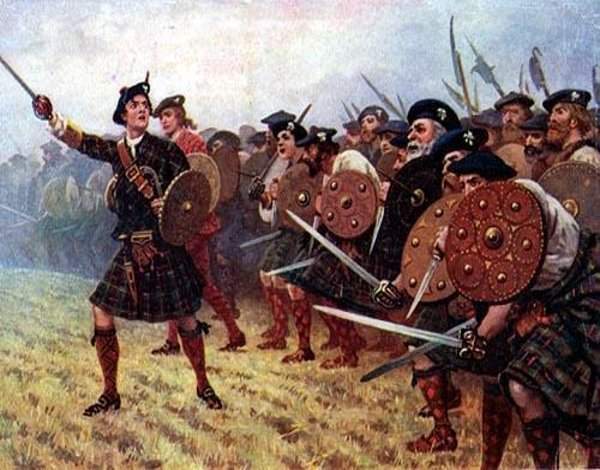 There's a very big anniversary in the air. It concerns one of the most important battles fought on British soil. The English and the Scots were having a go at each other, as so often happened in the regrettable mist of time ' and this time there was a truly decisive result.
The losing side was annihilated. There would be terrible repercussions for its leaders, some of whose chiefs were killed. You know which fight I'm talking about, I expect? The Scots will never let the Sassenachs forget Bannockburn. My goodness, they'll go to town for its septcentenary in 2014.
Actually, that wasn't the event I had in mind. September saw the 500th anniversary of the Battle of Flodden Field. You probably noticed the celebrations. No? Neither did I. You see, on that occasion, the English won. Although Sir Walter Scott, his imagination ranging over Border history from his baronial mansion on the River Tweed, wrote a ballad about it, people don't generally do that sort of history any more. Correction: the English don't.
Pictured above: Battle of Bannockburn
The Scots, egged on by the prospect of a referendum on independence, are running up the Saltire, spending over '9 million on a new visitor centre at Bannockburn. The visitor centre for Flodden, organised by a local group, is elegant but more modest. It occupies the inside of a red telephone box.
The English were, admittedly, thrashed at Bannockburn. Several English noblemen were slain there, but the king himself, Edward II, got away. He was a famously useless monarch and Bannockburn put him on the fast track to the red hot poker which provided an agonising end to his life in 1327. Still, Edward III was soon on the throne and Scotland was back doing homage as it had been before.
Flodden folly
Flodden, however, knocked the Scots out for a generation. Their James IV had been a generally effective king, who had made, in 1512, the bad miscalculation of forming an alliance with France. Romantics maintained that the beautiful French queen had something to do with it; he had a weakness for pretty eyes.
When Henry VIII invaded France the next year, James found himself expected to make a demonstration on the south side of his border. Having got a glittering army together, he led them to a highly defensible position a couple of miles within English territory and camped there. While waiting, he chatted up the ch'telaine of Ford Castle, whose husband was then absent.
An English force was despatched, but James had every reason to feel confident. He had everything in his favour — better artillery, more men, the latest equipment, the advantage of being fresh (Lady Ford might have thought so, anyway) and being the defender. It was accepted wisdom that defenders won.
Pictured above: Battle of Flodden Field
The English commander was the Earl of Surrey. The role wouldn't attract Mel Gibson, star of Braveheart. He was 71 and so racked by gout or arthritis that he had to be carried on a litter. He was determined to make the best he could of it, but the prospects did not look good. James had no intention of abandoning his high ground.
His heavy artillery was dug in. Surrey's trump card was the atrocious weather: sleeting rain and fog prevented James from seeing what was up. Surrey took his army on an 11-mile march, avoiding the bogs that might have swallowed them, and the English appeared behind the Scots. If James stayed on his hill, they could walk through the back door that he had left open and take Edinburgh.
A slippery slope
Hurriedly, the Scots about-faced. For the first time in British history, the battle opened with an artillery duel. But James's heavy guns were difficult to manoeuvre, and later in the day his supposedly superior weaponry again let him down when the centre of his army advanced downhill.
Their 18ft pikes were only effective in tight formation; slithering in the mud, the soldiers could not keep together. They found themselves attempting to fight with the equivalent of telegraph poles against Englishmen armed with billhooks. Sensing disaster, the king leapt on his horse, only to be cut down. As well as the king, Scotland lost nine earls and fourteen lords, not to mention 10,000 men.
But it isn't in the English temperament to crow about these things. Let the Scots enjoy their Bannockburn celebrations as they will. I wouldn't want to say that they're a nation of losers, but you know what I mean. Bless them. It's what has made them what they are.