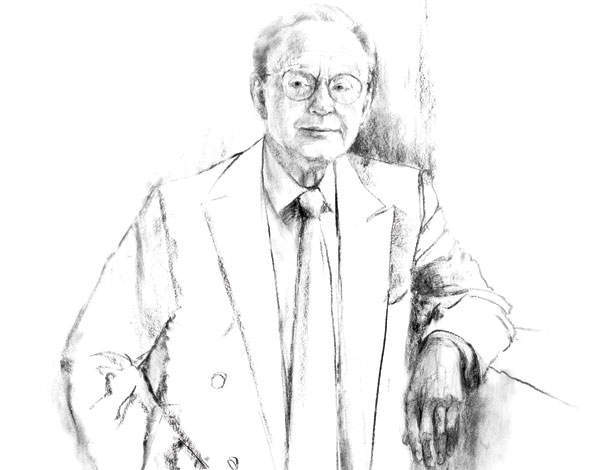 Since swapping the East End for Mayfair 60 years ago, 'hair guru' Philip Kingsley has enjoyed a golden touch. Here he combs over a fine career with Christopher Silvester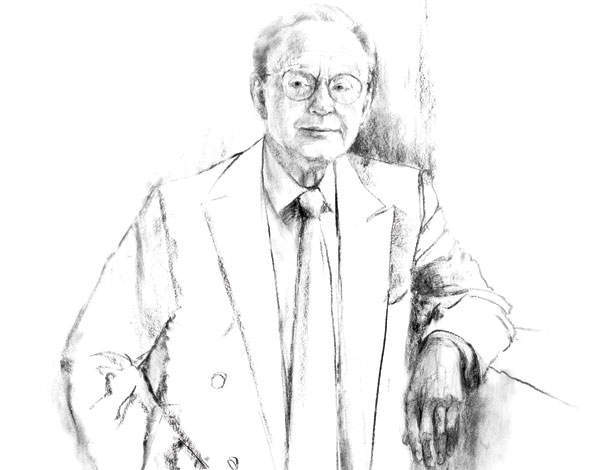 Philip Kingsley may have coined the phrase 'bad hair day'. He can't be absolutely sure, but it was something he was quoted as saying in 1957 when Veronica Papworth, an influential beauty writer for the Sunday Express, visited Rich', the hairdressing salon on Hay Hill, Mayfair, where Kingsley had his own treatment room as in-house trichologist. Still in Mayfair 60 years after he first went to work there, he now lives above the shop, his London clinic, at 54 Green Street, having first acquired a lease in 1968 and then recently the freehold from the Grosvenor Estate. Kingsley was one of a gang of boys-made-good who gravitated towards Mayfair in the 1960s, including the photographer Terry O'Neill, the tailor Doug Hayward and, most famous of all, Michael Caine.
Kingsley was born in 1931 in Bethnal Green, in the East End, when it was a slum. 'At school I was always interested in science and I actually wanted to be a doctor, but my parents couldn't afford it, so I studied trichology, which is the science of the hair and scalp.' As soon as he had qualified at the Institute of Technology he got his first job at Rich', in 1955, where he stayed for five years. 'Sidney Rich' had introduced something called champagne shampoo, which was shampoo with champagne in it. It was a bit of nonsense. Although I didn't know much, I knew more than anybody else there. I sort of winged it and became very popular, because I was learning as I went along. I finished up being the busiest person in the place. I had my own room there in which I did treatments and made my own stuff. I gradually built up a following.'
In 1960 he went into business on his own, taking a small room, enough space for a treatment area and a tiny lab, on the first floor of a building in Dorset Street, off Baker Street. 'I was lucky because Harry Andrews, a National Theatre player, came to see me, and Harry, who had very little hair, told Larry Olivier I was very honest. When he came, everybody at the National Theatre followed — Maggie Smith, Robert Stephens, Derek Jacobi, Jeremy Brett — all because the big man came. And that's how Terry Stamp came to see me.'
Terence Stamp was making a movie with Olivier in 1962 called Term of Trial. One day he wandered into Olivier's dressing room and noticed a bottle of Kingsley's hair tonic. Once he had discovered Kingsley's clinic he brought along his girlfriend Jean Shrimpton, the supermodel of the day. And once the papers learned that this golden couple was seeing Kingsley, his clinic was swamped with clients, who queued up the staircase.
In 1965 he moved to 80 Park Street. 'It was astonishing what a Mayfair address did for my business,' he recalls. He was in Park Street for three years when he found 54 Green Street. At first he didn't want it, but he was persuaded to take it by his friend Derek Forsyth, the creator of the Pirelli calendar, who oversaw the conversion of the premises. By another stroke of luck, Morris Wigram, a well-known Mayfair private bank at the time, all four of whose principals were already clients (as were their wives and girlfriends), lent him the '20,000 he needed to acquire the lease and refurbish the building. His first new client in the new premises was another actor, Anthony Quayle.
His most thrilling client, 'apart from a few royals', was Audrey Hepburn, who first came to him in 1974. She made an appointment under the name Dotti, because she was married to an Italian psychiatrist called Andrea Dotti. 'I said, "I hope you don't mind my saying this, but you really look like Audrey Hepburn." She almost fell off her chair laughing. It was for her that I made what is now an iconic product called "elasticiser". It was the first pre-shampoo conditioner, which I later called elasticiser because it aided stretchability and stopped her hair from breaking. She was thrilled to bits and used it till the day she died. I used to send buckets of it to Switzerland when she went to live there.
'I also made the first flaky-itchy scalp shampoo for Larry Olivier. The formula I have now is based on the formula I had then. It's been tweaked and improved but is essentially the same.'
In 1976 Kingsley was persuaded ('much against my will') to start a clinic in New York. Candice Bergen, who was a friend of Doug Hayward and had become a client in London, was returning to New York and didn't want to do without Kingsley's ministrations. 'There were four investors in my clinic in New York, all of whom I paid off within a year because I was written about in New York magazine, in a very glowing article by the novelist Dotson Rader, and the phone didn't stop ringing for six months; I had six lines put in. I went over there intending to spend one week in six, but I got so busy I ended up coming back here one week in six. I had a very good team here, with a really good reputation, and so I left them in charge.'
Kingsley met his second wife Joan, a psychotherapist, while in New York, where their two girls went to the Chapin School. The family came to live in London in 1992 because Kingsley wanted his daughters to finish their education here.
Following the success of his New York clinic, Kingsley launched a retail line, Philip Kingsley Products (PKP), in Saks Fifth Avenue in 1983. It sold out three times in the first week. 'Bloomingdale's came knocking on my door, then Macy's, then Neiman Marcus — all thebig stores.' He was about to sign a deal to license his products to Clairol when Eli Lilly, the owner of Elizabeth Arden, swooped, flying Kingsley to its head office in Indianapolis to meet the board. Eli Lilly paid $5.5 million for PKP. The two investors he had recruited to fund the start-up, Doug Hayward and John Pringle (the founder of Round Hill and Jamaica's first director of tourism), had reason to be grateful: 'They put in $18,000 each. Ten months later they got back $180,000 each.'
Since Kingsley's contract was with the parent company, he was allowed to reclaim his business when Eli Lilly decided to sell Elizabeth Arden to Faberg' in 1987. He later took it back from another corporate owner. Since 2011, with Graham Fish as his non-executive chairman, PKP has gone from strength to strength, doubling its sales in less than three years, with US distribution starting this year.
'When I first moved to Mayfair I was awestruck,' says Kingsley. 'As boys growing up in the East End, my cousin and I used to call MAY numbers just to find out how people in Mayfair spoke. When I moved to Park Street — I only had the clinic, I wasn't living there — the area was rather villagey.
'Then, when I came back from New York some 23 years ago, it had completely changed — not for the better. But since then it's come back to being the most extraordinary place to live, because it's central, it's got all the shops, all the restaurants. I don't have to go out of Mayfair for anything — I mean I do, I have a house in the country — but I don't think there's anywhere in London that could compare with Mayfair, with all that it has to offer.'
He lunches with Terry O'Neill in the restaurant at the Beaumont Hotel at least once a month. Scott's is within walking distance. He adores Robin Birley's 5 Hertford Street, and knew Mark Birley well, having made the hair and body wash products for his Bath & Racquets Club. He enjoys Coya, but his favourite restaurant in the world is Harry's Bar, when he feels he can afford it. 'It's nice, because being an old-timer here I know everybody. I know all the doormen.'
Kingsley has been the innovator behind a number of niche products that the big cosmetics companies have copied and promoted with rafts of advertising. 'Now everybody does pre-shampoo conditioners, but I started it off 40 years ago. Everyone does scalp tonics, but I started that nearly 60 years ago. I'm in the unusual and privileged situation of still being involved in the science and the testing of new products. Nothing goes out without my testing or approval. And I'm one of the few brands whose founder is still here — though I don't want to tempt providence.'