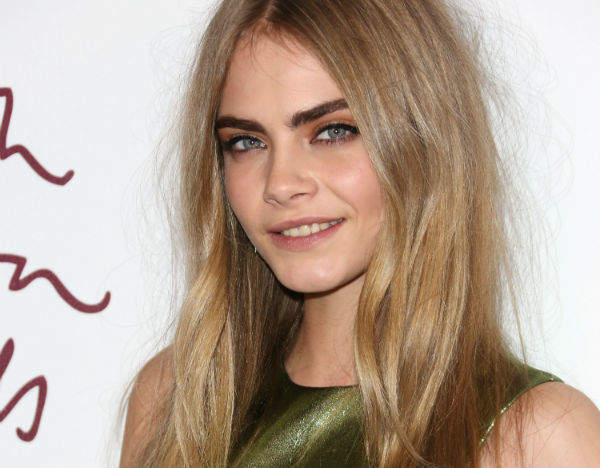 Young catwalk queen, dubbed the new Kate Moss, with her 'caterpillar' eyebrows that outdo Emma Watson's, Cara Delevingne has an estimated net worth of £4 million.
Was Delevingne born into the world of modelling or did she land her own career?

Cara Jocelyn Delevingne was born to Charles Hamar Delevingne and Pandora Anne Delevingne on August 12, 1992 in London. Although she has a predominantly English lineage, the fashion model's stock comes from a strong cultural background abounding with accomplished people of French, Scottish, Irish and Jewish descent. Much of her ancestry lays claim to rubbing shoulders with the aristocracy. Even her 1980s society beauty mum counts Sarah Ferguson, the Duchess of York as her 'BFF'.
Delevingne's godmother is none other than Hollywood star Joan Collins and her famous older sister, model and socialite Poppy Delevingne, is an ambassador for the British Fashion Council. Born into the Belgravian elite, their Grade II listed house was sold by her property tycoon dad for a reported £10.5 million, according to the Mirror. She attended Frances Holland School for Girls, near Sloane Square, and then studied at the 'bohemian' boarding school Bedales in Hampshire.
Tomboy Delevingne's modelling career began via Cadbury chocolate ads as a child. Vogue Italia featured her pictures, courtesy ofillustrious photographer Bruce Weber, when she was just 10 years old.
The snub-nosed model later caught the eye of Sarah Doukas, her schoolmate's mother. Doukas, the MD of Storm model agency who discovered Kate Moss, took no time in booking her with the agency. Since then, onesie-wearing Delevingne has modelled for various high-profile fashion houses, such as Burberry and Chanel.
British Vogue called her the 'star face' of the 2012/2013 Autumn Winter show season where she sashayed for Dolce & Gabbana, Burberry, Stella McCartney, Oscar de la Renta, Moschino, Victoria's Secret and Fendi. Her impish face has adorned the covers of Vogue UK, i-D, Russh, Style.com and Jalouse. At present, she models for Chanel, Burberry Beauty and DKNY and recently became the new face of TopShop.
The Evening Standard labelled her one of 'London's 1,000 Most Influential of 2011'. At the British Fashion Awards 2012, Delevingne won 'Model of the Year', where Joe Zee, Creative Director of Elle magazine, branded her the new Kate Moss.
An audition for Tim Burton's Alice in Wonderland marked the onset of her fascination with acting. Though she didn't score the role, she impressed the production team with her acting confidence. Delevingne later landed a minor role as Princess Sorokina in the 2012 film Anna Karenina – the title role was played by Keira Knightly. With the British film Kids in Love, she secured her first lead role, later acting in other movies, such as London Fields, The Face of an Angel and Pan.
This Xbox-playing video game buff also appeared in 2013's Grand Theft Auto 5 as the DJ for the Non-Stop-Pop radio station.