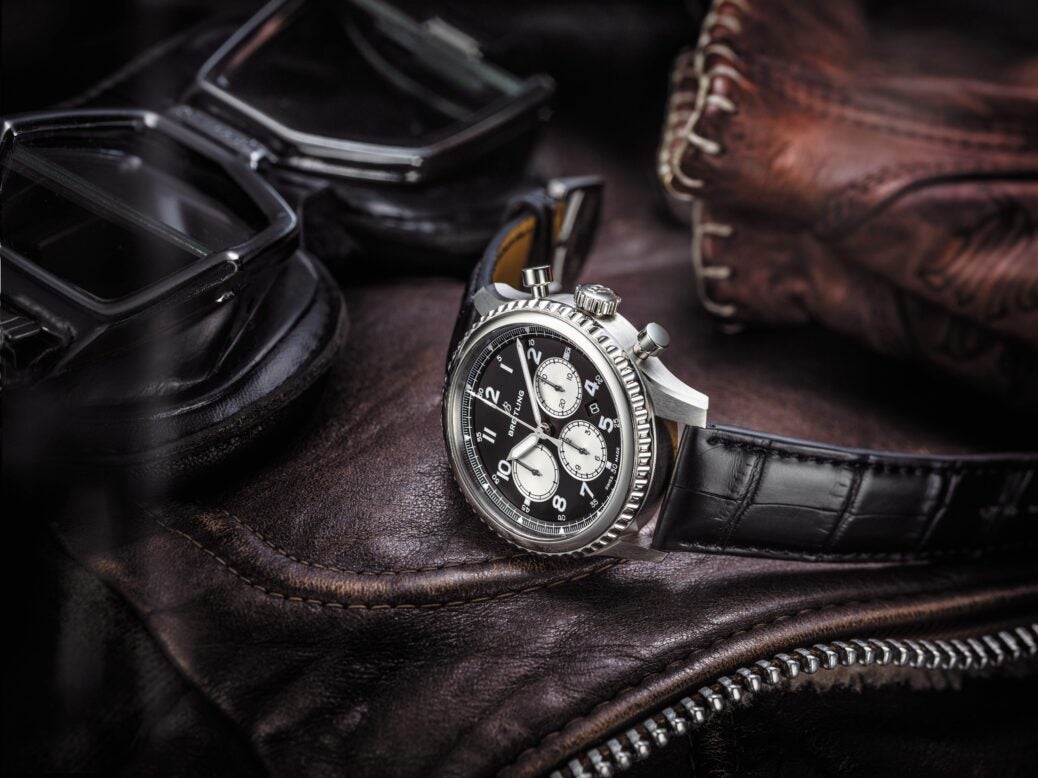 Timothy Barber on the adventure instrument that is the Breitling Navitimer and how this classic watch remained unchanged since 1952, until now…
Beware new watches bearing old names – they may be quite unlike their forebears
You'd probably think it a bit rum if, say, Porsche were to design a completely new car, one intended to broaden its appeal, and then decided to call it a 911.
The 911's funky engine-in-the-back essence has remained unmistakable since 1963 – it's a unique template, and an enduring design classic. You don't mess with it.
In the watch world, the Breitling Navitimer is a near equivalent to the 911, though it has 11 years' seniority on the car. Designed for pilots, its particular quirk – and the source of
its appeal – is a rotating outer bezel loaded with arcane markings, which works with the watch's chronograph function to act as a slide-rule for navigational calculations. You'll never meet a soul who's navigated more than the boiling of an egg with it, but that's not the point. The Navitimer has the character of an adventure instrument, a tool as well as a timekeeper. It's both technical and mysterious, and has survived intact, with minor upgrades, since 1952.
You know where this is going.
This year Breitling has brought out a Navitimer that simply isn't a Navitimer. In fact it's brought out a whole family of them, styled along classic aviation watch lines, but with no slide-rule bezel, and several models that aren't even chronographs. Yet the name, confoundingly, is Navitimer 8. The number ostensibly refers to a division the firm established in the 1930s, Huit Aviation Department, to develop flying instruments – though the cynic in me is tempted to observe that linking things to auspicious number eight tends to be a winner in superstitious Chinese and Asian markets.
As it happens the '8' is a watch that Breitling rather needed. The real Navitimer may be legendary, but it's a bit of a heady brew for the mass market and Breitling, of which a majority stake was sold by its family owners to the CVC private equity group last year, has needed to update its approach.
CVC brought in Georges Kern, the uncompromising former boss of rival brand IWC, who immediately set to work with a very large broom, flushing out Breitling's dusty corners, modernising the messaging and sharpening the product offering. Tired boutiques are being reconceived as fashionable 'lofts'; new synergistic partnerships developed (the UK's historic Norton motorcycles being the first to sign up); celebrity ambassadors, including Brad Pitt, brought aboard amid clouds of hashtags; and the watch selection heavily streamlined and honed.
The Navitimer 8, leading the charge, is certainly handsome, and with top-line models containing Breitling's excellent in-house chrono movement, it offers a strong value/quality proposition. I rather like it. But a Navitimer it is not.
But then, there is a sense in the watch world just now that the old rules don't apply. After three years of torpor, the industry is in profit once more – but to ensure its future it's having to adjust rapidly to a world of digital sales platforms, millennial lifestyles and new concepts of luxury, in which storytelling and experiences are as critical as craft.
Zenith is another brand hitting the reset button, having struggled (for ever, really), to give a real and consistent identity to its watchmaking, despite producing arguably the finest chronograph movement in the world, the El Primero calibre, and no end of terrific watches containing it. Under new CEO Julien Tornare, Zenith is looking to add aspiration and cool to its cold technical prowess, and it has gone back to an old name to spearhead its new direction.
Defy expectations
In the 1970s the 'Defy' was Zenith's clunky but intriguing entry into the new market for lifestyle sports watches; in the early 2000s it was the platform for some of the most absurd watches ever conceived, in a wayward attempt to lift Zenith into the extrovert, ultra-luxe market. That's where the new Defy range is taking it, though with rather more style, in the form of skeletonised, highly architectural designs with mega-versions of Zenith's terrific in-house movements. They'd be just the job on private yachts, but may have a wider draw than that. Zenith is banking on it, and I suspect it will succeed.
A game-changing new take on the mechanical watch movement was also unveiled in the Defy style last year. Named the Defy Lab, it replaces myriad moving steel parts with a single, flexing silicon component, and is intended as a direct challenge to traditional notions of horology.
Meanwhile, even Jaeger-LeCoultre has been looking to inject new energy – it announced a new marketing direction earlier this year, and itself launched an entirely new range of watches designed to fill a void in the mid-price sports watch category. Named after (and designed around) its famous 1960s diving watch, the Polaris, it suggests that one rule in
the watch industry is remaining consistent amid all the flux: if you want to do something new, it helps to have something old to call it.