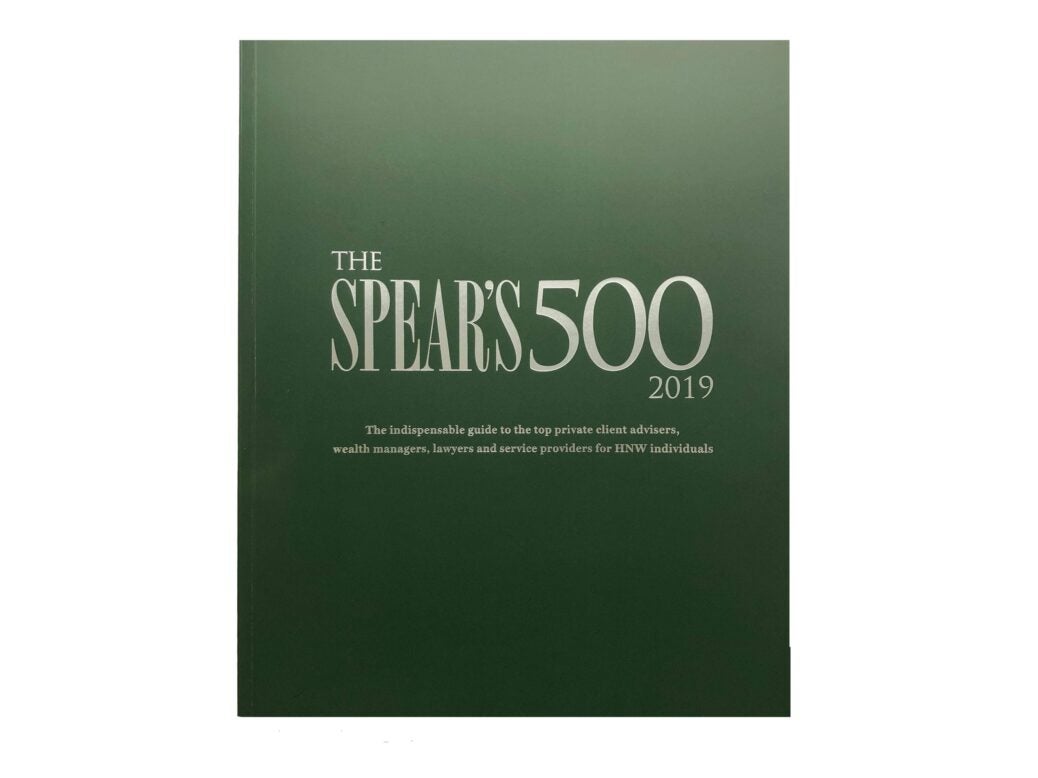 The most comprehensive guide to the private client world will be celebrated alongside the City's most luminous stars at the Dorchester this evening, writes Alec Marsh
Tonight we launch the Spear's 500 2019 edition, our largest and most comprehensive private client guide of Europe's most innovative advisers, at our flagship Wealth Management Awards ceremony at the Dorchester.
Originally conceived as a gazetteer of the 500 leading individuals in the private client fields covered by Spear's in a given year, four years on the book has sprawled to cover nearly 500 pages – 80 more pages than last year, with some 1,245 professionals listed. Not only are we covering familiar segments in ever-greater depth in the 2019 edition, but we are occupying new ground altogether: just as the needs of the wealthy continue to expand into new categories.
This year we welcome new sections focusing on Alternative Investments – bringing you experts in crypto assets, private equity, hedge funds and life sciences for the first time – and weaving it together with existing sections on P2P lenders, precious metals and UHNW Alternative Assets, to create a new chapter. And matching the geographical expansion of the magazine's editorial interests, the Spear's 500 has expanded its horizons, too: we are delighted to bring you an entire chapter dedicated to Lawyers and Accountants Beyond London – professionals who are beacons of excellence in towns and cities the length and breadth of Britain.
In band two, for the first time the 2019 edition boasts a page on nannies – and we have a section on matchmakers in Black Book, which has been promoted to occupy its own chapter in this edition.
Dedicated readers of the Spear's 500 will be heartened also to see a return of our important Aviation and Yachts section, bringing you the essential contacts in sales, brokerage, hire as well as the specific legal and insurance fields for this sector. All this means that this edition of the Spear's 500 is our most commodious yet – covering professionals and organisations across fields as diverse as property, wealth management, tax and trust, family law, education, art, wine, cars, psychology, and even landscape gardeners.
In addition, we have exclusive articles written for this edition by such luminaries as Rosalyn Breedy, Stephen Foster, Diana Parker, Mark Somers, Phil Smith, and Mark Stephens. And I'm delighted to report that it's a thoroughly good read: as it should be. After all, herein are the experts, the crème de la crème, the exalted cadre of men and women to whom we turn in moments of dire need. And what they know about the world makes compelling reading.
So, in short the Spear's 500 2019 edition is our greatest yet, and – as I said last year – given the disproportionate buying and investment decisions it can influence, it is arguably one of the most significant tomes printed in the English language in a given year.
Don't forget – this was the year that private wealth worldwide topped $200 trillion. No wonder the Spear's 500 is bigger than ever this year.
Alec Marsh is editor of Spear's