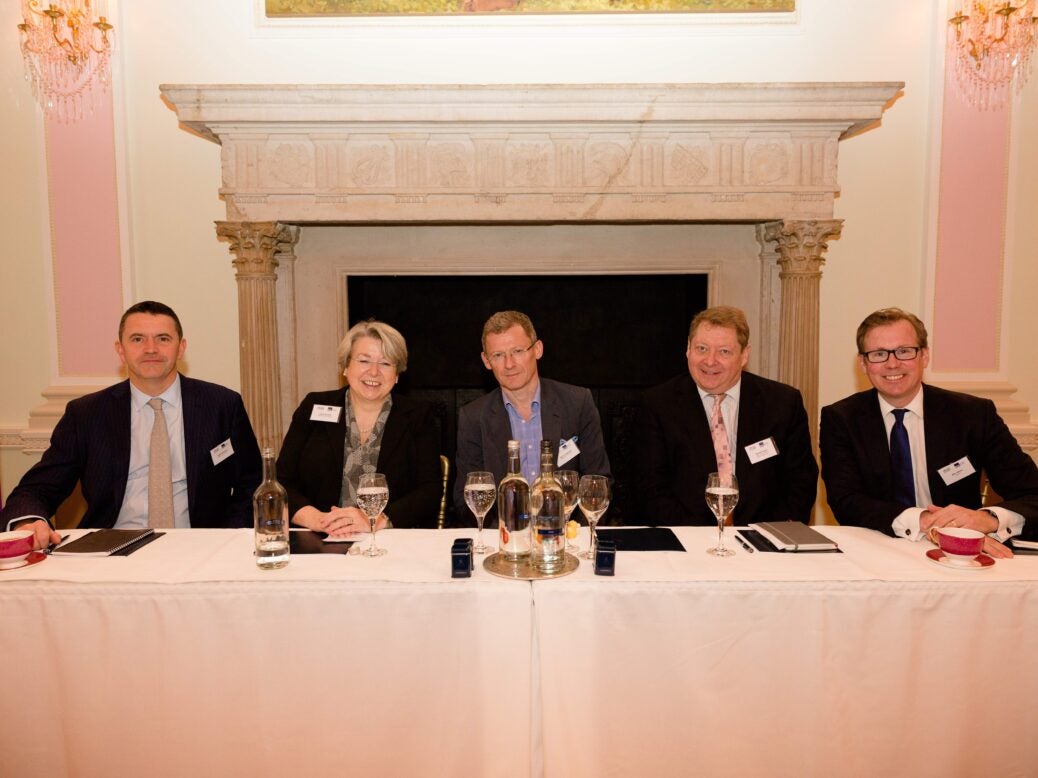 What is 'offshore', how can it help, and where should HNWs go? A panel of experts got to grips with the realities, risks and benefits of taking assets offshore at a Spear's breakfast briefing
When asked 'What's the point of offshore?' by a journalist during the Panama Papers scandal in 2015, James Quarmby, the outspoken tax partner from Stephenson Harwood, replied: 'That's like asking: "What's the point of France?"'
But the value and benefits of 'going offshore' are not so obvious to the uninitiated, which is precisely why the sometimes controversial topic was the focus of a recent Spear's breakfast briefing held in association with the Bermuda Business Development Agency at the Ritz. The discussion was chaired by Spear's editor Alec Marsh and HNW guests were welcomed by Sean Moran from the Bermuda Business Development Agency.
Precisely what, and how best to navigate the complex offshore landscape was discussed by an expert panel comprising Quarmby, trust expert and partner in Carey Olsen Bermuda, Keith Robinson, the Spear's columnist and partner of boutique private client law firm Maurice Turnor Gardner, Ceris Gardner, and the seasoned Bermuda-based private client lawyer Randall Krebs from Harbour International Trust Company.
'It's very interesting that people associate offshore with small islands – John Grisham-style – where basically criminals and drug dealers stash their money,' noted Quarmby, for whom offshore 'is basically everything that's not in your own jurisdiction'. 'Where actually, when you're looking at offshore, it's very interesting that the United States of America, one of the largest countries in the world, is considered to be an offshore jurisdiction by many tax lawyers.'
Meanwhile, noting that 'the lines have blurred' between what are traditionally regarded as offshore or 'near' shore jurisdictions, Canadian-born and trained Krebs noted that as a Canadian tax lawyer he regarded the UK's res non-dom scheme 'as offshore'.
But from the UK perspective, 'offshore' means a tax-neutral jurisdiction where 'clients can do business without that extra layer of tax,' explained Gardner. 'They're paying their tax perfectly normally in their own jurisdictions but they don't need for their international businesses to have extra tax put in place.'
Those seeking tax neutral offshore location 'automatically think' of Bermuda, Channel Islands, and Cayman Islands, noted Gardner — describing them as 'at the top of the tree.'
For Carey Olsen's Robinson, the offshore locations at the top of the league — he named the likes of Bermuda, Guernsey, Jersey and the Isle of Man — were 'places where there's real business going on'. Bermuda, for instance, is the third largest centre for reinsurance after New York and London, Robinson asserted: 'In terms of substance, it's a real business centre.'
More than this, recent years have seen a 'resurgence in Bermuda trust law' involving regulatory and trust reform, building on the overseas territory's legal and justice traditions. 'Bermuda trust law is essentially English trust law from 1925 with a few additions, like non-charitable purpose trusts, perpetual trusts – trust that can last for ever,' added Robinson, 'things that are perhaps better for an international family but that England and Wales might not want to bring into force.'
So what does Bermuda do better than other jurisdictions?
'As a trust lawyer and litigator I think we're the best jurisdiction for trust restructuring,' stated Robinson. 'If you want to perpetuate your trust for future generations and do a modern restructuring of an older structure. I don't know of any other jurisdiction which has got as flexible regulation and is doing as much.'
Private client lawyer Krebs noted another benefit that Bermuda enjoyed — as well a 'robust courts' and rights of appeal 'all the way up to the Privy Council' —  was the flexibility of the legal sector which meant talent could be brought into the professions there, as well appearance rights for UK barristers in the courts.  'It's a flexible jurisdiction to bring in players,' he said, noting that this meant an enriched talent pool in the colony.
Within the context of private client work, he described effective offshore locations as 'niche jurisdictions' where groups of experts could deliver results for HNWs. 'Just like Silicon Valley where you get a concentration of tech people and that creates synergies and efficiencies, the same thing happens in the offshore world.' For instance in Bermuda the concentration of insurance expertise leads to innovation and quick speed-to-market for new products in comparison to London or New York, 'where you don't have the interaction between business, government and legislators'.
As well as the robustness and independence of the judiciary from political pressure, longevity is key when looking for offshore locations — especially if wanting to set up a trust for several generations or more.
Among outliers, Italy is emerging as a key offshore centre, thanks to its new non-dom regime, commented Gardner. But she noted: 'Lovely weather, but what about the government, what about the stability, how long's it going to last – is it really going to be there for the foreseeable future?' When you're looking at an offshore location, Gardner added: 'Stability is key, reputation, being able to rely on the people – again the most important thing.'
For stability, Robinson was happy to note that law of Bermuda was 'the law of England on 11 July 1612, as amended from time to time thereafter'. He added: 'Bermuda's been there for 400 years, so you've got longevity and stability and a reputation which hopefully is going from strength to strength.'
Quarmby noted that in the context of offshore funds, there was a 'premier league' of jurisdictions with the Cayman Island, BVI and Bermuda. But he also warned HNWs to seek advice before going offshore: 'There are jurisdictions which we just can't go near. When it comes to the offshore landscape you've got a number of smaller jurisdictions that are really scrapping for that work that no one else wants. The only way forward for offshore is high value work in specific industries such as insurance and funds where you can be highly compliant with international regulations. The gap between the best and worst is getting bigger.'
He added: 'Looking at asset protection for clients, which we have to these days, it's risky business making money, so when you've taken all your risks and made your money you don't want it to disappear.
'With Bermuda and some of the Overseas Territories there is a long tradition of judicial independence where those courts will respect the local law and will not be swayed by political interference. That judicial independence is a massive incentive for using jurisdictions like Bermuda.'
He added: 'Reputation and risk is absolutely crucial to the jurisdiction that you choose. Therefore you've got to choose from the premier division because if you go below that your risk levels go up and your reputation is at risk as well when it hits the newspapers if you're anyone interesting at all.'
This was a view endorsed by the panel: 'There's definitely been a flight to quality,' noted Gardner. 'Forget quantity because nobody wants that anymore.' They want stability in jurisdiction. They want to know that there are good professionals there across the board. They want good reputation because no one these days can afford to go somewhere which doesn't have a good reputation because it's going to rub off on you.'
The Spear's breakfast briefing, The Bermuda benefit: An introduction to going offshore for HNWs, held in association with the Bermuda Business Development Agency was held on 16 April at the Ritz. Visit bda.bm for more.