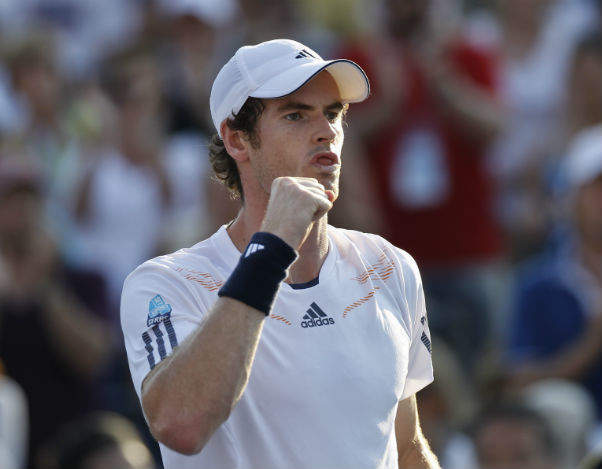 Tennis player Andy Murray has an estimated net worth of £58 million. He is the first Brit to win Wimbledon after Fred Perry.
Born to Judy and William Murray, on May 15, 1987, in Scotland, Andy Murray went through a traumatic experience as a child. In March 1996, when he was in his classroom at the Dunblane Primary School, a gunman named Thomas Hamilton invaded the school and murdered 17 people before shooting himself. Murray escaped by hiding in the headmaster's office.
How did Murray make his millions?

Murray showed promise as a 12-year-old when he won his first tournament, Florida's Orange Bowl, and nabbed the US Open junior title five years later. He was awarded BBC's "Young Sports Personality of the Year" in 2004 and was the youngest to play Davis Cup in 2005.
Murray moved to Barcelona to concentrate on tennis and trained at the Schiller International School – on clay – with former world number one doubles star Emilio Sanchez, despite suffering from a bipartite patella (a condition where the kneecap is two separate bones instead of being fused together during a person's childhood days). Reaching the ATP top 10 in April 2007, he went up the rankings to 2 within two years.
The 2012 US Open witnessed Murray became the first Brit since 1936 to win a Grand Slam singles after beating Djokovic in five sets. Publicist Max Clifford claimed that this triumph paved the way for a potential pay cheque of £100 million to "tennis king" Murray. The magnitude of Murray's financial gain became obvious post-match as a frantic Murray began hunting for his Rado watch. The Swiss watch company declared him ambassador three months earlier to a supposed seven-figure deal. Fortunately, the £2,580 D-Star Automatic Chronograph was discovered in time for him to sport it while receiving the trophy.
Later, the Scot partied at the Hakkasan restaurant, New York, along with his girlfriend Kim Sears and 30 others, picking up a tab for £4,000. Though Sears seemed to be sipping champagne, teetotaller Murray had lemon soda.
He's the only British male to win an Open Era Grand Slam, and also the only man to have won an Olympic gold (in 2012, beating Roger Federer in straight sets) and the US Open back-to-back. That year his net worth touched £22 million. (The Sunday Times UK Rich List)
The Scot stood runner-up in three Grand Slam finals: the 2008 US Open, and the 2010 and 2011 Australian Open. He reached the semis of all four Grand Slam events in 2011, becoming only the seventh player in the Open Era to do so.
Since turning professional at the age of 18, he has amassed $20 million counting a five-year Adidas contract worth over £10 million, in 2009. This was his first deal since changing agencies to Simon Fuller's XIX Entertainment, which also handles David Beckham's finances. Murray's sponsors also include the Royal Bank of Scotland and Head rackets.
Coached by Ivan Lendl from 2011 to 2014, Murray is the first Briton to win Wimbledon after Fred Perry's 1936 triumph. Incidentally, he beat Djokovic for the coveted cup in 2013. Murray was incredulous at the £1.6 million Wimbledon wages mentioned by the All England Club chairman Phillip Brook at the champion's dinner. Still, the only reward for him was quiet time with his girlfriend.
When his professional journey began, Murray had portended that he would peak in his mid-twenties and he has been true to his word. Andy Murray's net worth of $38 million or £22.4 million (Forbes) encompasses $16 million worth of sports earnings and $22 million in endorsements. Murray, who received the Order of the British Empire (OBE) from Prince William in 2013, is likely to see his wealth shoot up to US$160 million, which includes sponsorships, rocketing him behind Sharapova with Djokovic standing third.
Murray was the Great Britain flag bearer during the opening ceremony for the 2016 Summer Olympics. After a 4-hour final, Murray defeated Juan Martin del Potro and successfully retained his title as Olympic champion, achieving a second Olympic gold medal – a feat which no other singles player has achieved.