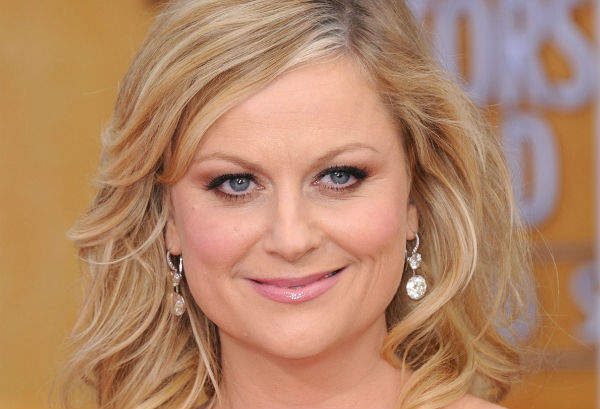 Born in Massachusetts on September 16, 1971, Amy Poehler is estimated to be worth £12 million. She studied Media and Communications at Boston College.
Graduating in 1993, she went to Chicago to attend improv classes at Second City alongside her friend Tina Fey and studied at ImprovOlympic under Del Close. She later became a member of the improv team Upright Citizens Brigade (UCB). The team arrived in New York in 1996, landing a regular gig on Late Night with Conan O'Brien. Their eponymous sketch comedies debuted on Comedy Central in 1998. They then set up an improv theatre/training centre in New York.
Debuting in 2001-2002 on Saturday Night Live (SNL), Poehler's became the third comic to be promoted to full cast member right in her first season, following legends such as Harry Shearer and Eddie Murphy. That same season she also appeared on the American sitcom Undeclared.
During 2004-2005, Poehler partnered Tina Fey to present the SNL sketch Weekend Update. Continuing to co-host alongside Seth Meyers, in 2008 and 2009 Poehler became the first SNL performer to be nominated for a Primetime Emmy.
A pregnant Poehler took a break in October 2008, returning intermittently until the 40th Anniversary show in 2015.
In 2008, she starred in the NBC sitcom Parks and Recreation. Earning about £160,000 per episode, she wrote four episodes, directed one and was executive producer of the series. Her Primetime Emmy nominations for the sitcom include Outstanding Lead Actress (2011, 2012, 2013 and 2014) and Outstanding Writing (2012). Poehler also won The Comedy Award for Best Comedy Actress (2012) and Best Actress Golden Globe (2014).
She also wrote and executive produced an animation series for Nickelodeon called The Mighty B! (2008-2011), for which she also lent her voice too. Poehler also executive produced and appeared in her brother Greg Poehler's Swedish sitcom Welcome to Sweden (2014-2015).
Her film appearances include Deuce Bigalow: Male Gigolo (1999), Mean Girls (2004), Envy (2004), Southland Tales (2006), Blades of Glory (2007), Mr. Woodcock (2007), Hamlet 2 (2008), Baby Mama (2008), Spring Breakdown (2009), Freak Dance (2011), Are You Here (2013), They Came Together (2014) and Sisters (2015). She also voice-acted in Shrek the Third (2007), Horton Hears a Who! (2008), Alvin and the Chipmunks: The Squeakuel and Chipwrecked (2009 & 2011), Hoodwinked Too: Hood vs. Evil (2011), Free Birds (2013) and Inside Out (2015).
In 2008, Poehler co-produced the series Smart Girls at the Party for YouTube. She has presented the Golden Globe Awards ceremony alongside Fey thrice (2013, 2014 and 2015).
She got her memoir Yes Please — a million-dollar deal — published in 2014.
Married to actor Will Arnett from 2003-2012, Poehler now lives in LA and is seeing comedian Nick Kroll.