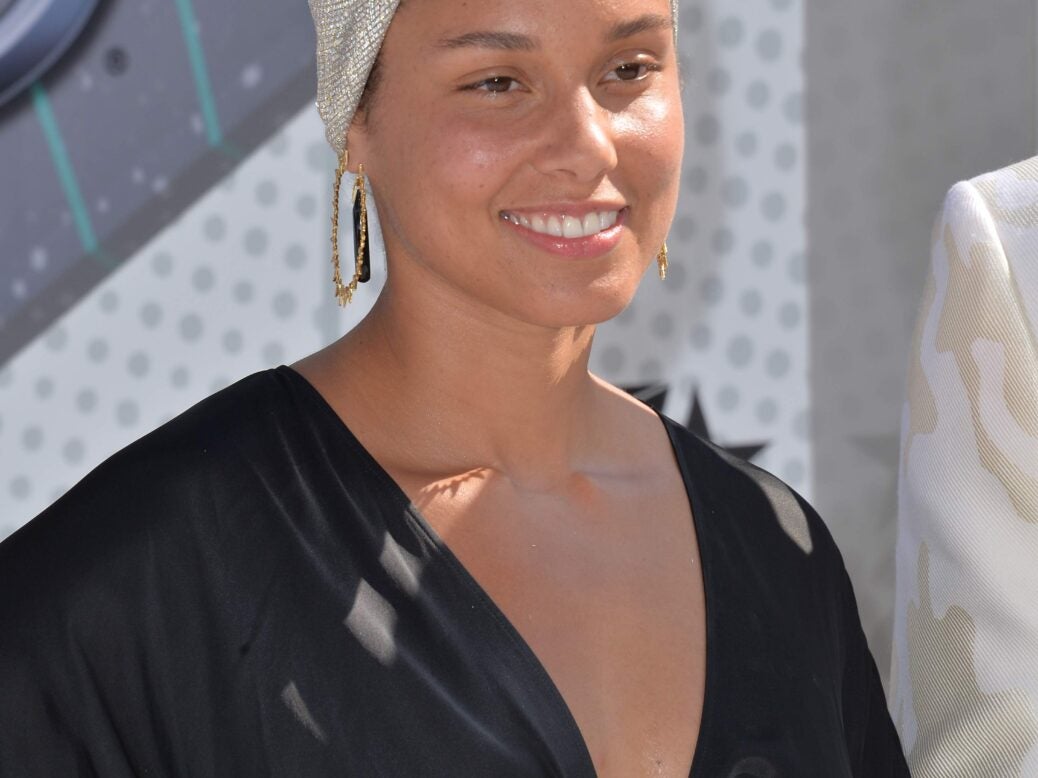 American singer/songwriter/actress and multiple Grammy Award winner Alicia Keys has a guesstimated net worth of $70 million.
Born Alicia Augello Cook to Craig Cook and Teresa Augello in Hell's Kitchen, Manhattan, on January 25, 1981, Alicia Keys was raised by Teresa from the age of two.
She began classical piano training at the age of seven and got into Professional Performing Arts School (majoring in choir) at 12. Keys started writing songs at 14 and two years later graduated as valedictorian.
Her first professional recording, "Dah Dee Dah (Sexy Thing)", which she co-wrote, made it into the Men in Black soundtrack (1997). She soon adopted the stage name Keys.
How did she become a multimillionaire?

Keys shot to fame with her debut album Songs in A Minor (June 2001), which hit top spot and garnered six times Platinum certification by RIAA. It's first single "Fallin'" emerged a chartbuster on the Billboard Hot 100. The album secured five Grammys in 2002.
Second album, The Diary of Alicia Keys, topped Billboard 200 upon release (December 2003) and received Platinum certification four times to become the second biggest-selling album by a female R&B artist.
In 2005, following four Grammy wins, Keys' MTV Unplugged album immediately topped Billboard 200—the first chart-topping Unplugged by a female artist.
Her third chartbusting album, As I Am (November 2007), tied her with Britney Spears for fourth consecutive number one album debuts on Billboard 200 by a female artist.
Keys also sang the first duet in Bond movie history—"Another Way to Die" in Quantum of Solace (2008)—alongside Jack White.
Putting her talents to the written word, Keys' wrote Tears for Water: Songbook of Poems and Lyrics (2004)—a New York Times bestseller in 2005, and her first children's book, Blue Moon: From the Journals of MaMa Mae and LeeLee (2014).
Her TV appearances include The Cosby Show (1985), Charmed (2001), Sesame Street (2005), The Backyardigans (2006, voice role), Cane (2007), America's Next Top Model (2012) and Empire (2015). Smokin' Aces (2007), The Nanny Diaries (2007), The Secret Life of Bees (2008) and We Are Here (2016) are some of her big screen ventures.
Keys co-owns a recording studio called The Oven Studios, in Long Island, with Kerry "Krucial" Brothers and also co-founded KrucialKeys Enterprises with him.
A total of 15 Grammys, 17 NAACP Image Awards, seven BET Awards and 10 Billboard Music Awards garnish her accolades. Keys also set a Guinness World Record in 2008 when she became the first singer to replace herself at the zenith when "Like You'll Never See Me Again" replaced "No One". Both songs also helped Keys rule the Hot R&B/Hip-Hop Songs chart for 17 weeks (October 2007-February 2008).
Keys is the co-founder of the charity Global Ambassador of Keep a Child Alive. Her various endorsements include Reebok, Blackberry, Glacéau's VitaminWater, Proactiv, American Express and Levi's.
A coach on America's reality singing competition The Voice, since March 2016 (Season 11), Keys coached this year's winner Chris Blue (February 27-May 23, 2017).