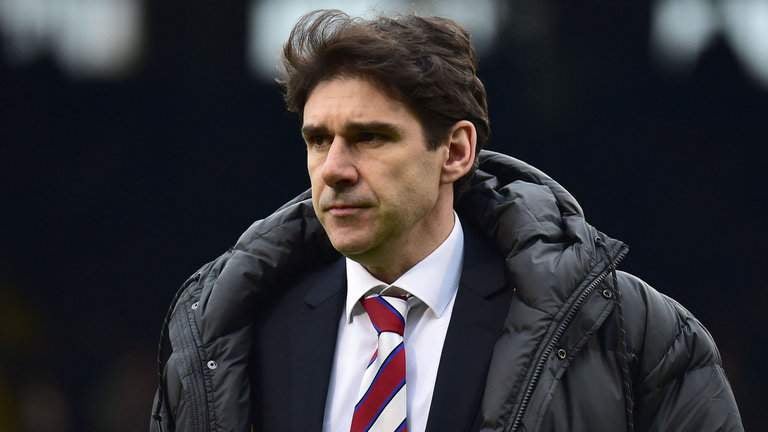 Aitor Karanka net worth – we calculate the former Spanish international footballer and Middlesborough manager Aitor Karanka's net worth

Born on September 18, 1973 in Vitoria-Gasteiz, Álava, Spain, Aitor Karanka de la Hoz began playing as a young lad for hometown club Deportivo Alavés, but soon shifted to Athletic Bilbao, its Basque neighbours.
Playing mainly as a central defender, Aitor Karanka saw his senior debut with Bilbao's reserve team in the Segunda Division (1992). The following year, he was brought into the main squad for his La Liga debut against Celta de Vigo by Bilbao's German coach Jupp Heynckes. He went on to play 100 league games in three full seasons before being lured to La Liga's Real Madrid, in 1997, by Heynckes who was now manager for the "Galácticos".
Although used as a backup for a majority of the games, and missing most of the 1998-99 season because of a heart condition, Karanka still played 33 UEFA Champions League matches for Real (1997-98, 1999-2000 and 2001-02), including a 3–0 win in the 1999-2000 final against Valencia. He also played the Supercopa de España in 1997 and 2001.
Returning to Bilbao for season 2002-03, Karanka was instrumental in "Los Leones" or the Lions climbing to fifth place from seventh and qualifying for the UEFA Cup in his second season there.
In a major switch, in 2006, Karanka left La Liga for Major League Soccer in the USA to play for Colorado Rapids, where he helped them reach the final of the Western Conference play-offs.
Only once did Karanka play for the Spanish senior national side on April 26, 1995, in a 2–0 away win against Armenia for the UEFA Euro 1996 qualifiers. However, he played 14 games for the Spain's Under-21 side, which included a Third place in the 1994 European Championship and the Runner-up spot in the 1996 European Championship, losing to Italy in the final. Karanka also played for Spain in the 1996 Summer Olympics in Atlanta, USA.
His involvement with football soon took a different turn when he joined Real Madrid in a managerial capacity, in June 2010, under coach and manager José Mourinho. He had to leave in 2013 when new manager Carlo Ancelotti came with his own coaching entourage.
In November 2013, Karanka replaced Tony Mowbray as manager of Football League Championship club Middlesbrough. His contract was renewed for another four years in August 2015 and that season Karanka led the team into the Premier League (after achieving second place in the Football League). Middlesbrough had stepped into the top division after a long seven years.
During season 2016-17, he steered Middlesbrough to the quarter-finals of the FA Cup, where they lost to Manchester City. While at 'Boro', his accolades included being voted Football League Manager of the Month for January 2015, September 2015 and December 2015.
However, in March 2017, Karanka was asked to quit the club, with the club three points away from being saved from relegation. Karanka's salary at Middlesbrough was £355,000 per annum. (Express.co.uk & Daily Star)
A recent offer by Birmingham was declined by him, while Alavés is trying to bring him back to Spain. Karanka is still on the market, mulling over his next move.
His younger brother, David, also played football as a striker for Athletic Bilbao for a while.