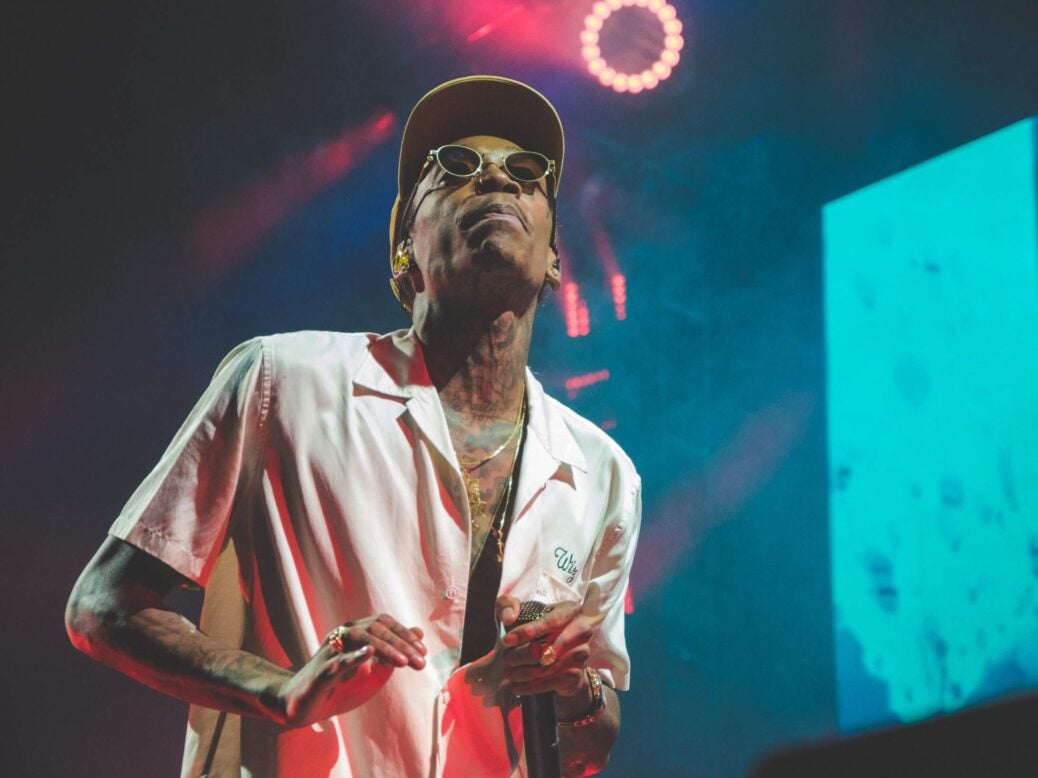 Born Cameron Jibril Thomaz, on September 8, 1987 in Minot, North Dakota, to parents serving in the US military service, Wiz Khalifa was always on the move, living in countries such as the UK, Germany and Japan. Although his parents divorced when he was three years old, he got to finally settle down in Pittsburgh, Pennsylvania where he completed his schooling, but what is Wiz Khalifa's Net Worth?
Khalifa (a stage name given to him by his Muslim grandfather) began to attract attention with his music, impressing Benjy Grinberg, president of Rostrum Records, in 2004. Signing up with Rostrum, Khalifa released his debut mixtape Prince of the City: Welcome to Pistolvania (2005). Next followed Show and Prove (2006), his first full-length album, prompting Rolling Stone to declare him "artist to watch" that year.
Khalifa signed up with Warner Bros. Records and released the mixtapes Grow Season (2007), Prince of the City 2 (2007), Star Power (2008) and Flight School (2009) through Rostrum. Bidding goodbye to Warner Bros. in 2009, but continuing with Rostrum, Khalifa released the mixtape How Fly and second studio album Deal or No Deal.
In March 2010, he appeared on the cover of American hip hop magazine XXL and another magazine The Source named him "Rookie of the Year". That year, he signed a deal with Atlantic Records and was also named Hottest Breakthrough MC by MTV.
"Black and Yellow", his first single with Rostrum/Atlantic, climbed its way to the zenith of the US Billboard Hot 100.
His other albums are Rolling Papers (2011, second spot debut on the US Billboard 200), Mac & Devin Go to High School feat. Snoop Doggy Dog (2011), O.N.I.F.C. (2012, second spot debut on the US Billboard 200), Blacc Hollywood (2014), Khalifa (2016, compilation album) and Rolling Papers 2 (2018).
A bit of big and small screen dabbling resulted in Khalifa appearing in the films Gangs of Roses 2: Next Generation (2012) and Mac & Devin Go to High School (2012), the reality TV shows Master of the Mix (2012), Punk'd (2012), This is How I Made It (2012) and Ridiculousness (2012), and the comedy shows The Eric Andre Show (2014) and American Dad (2016).
Khalifa's awards include: one BET Award (Best New Artist, 2011), three Billboard Music Awards (Top New Artist in 2012 and Top Hot 100 Song and Top Rap Song for "See You Again" in 2016) and two Teen Choice Awards (Choice R&B/Hip-Hop Song and Choice Song from a Movie or TV Show for "See You Again" in 2015).
Khalifa married model Amber Rose in 2013, but they divorced a year later. They have a son, Sebastian Taylor (born 2013).
The rapper, who is learning Brazilian jiu-jitsu and Muay Thai, raked in $28 million from his Weed Farm mobile app and Khalifa Kush marijuana strain in 2017.
December 12, 2012 has been declared Wiz Khalifa Day by the Pittsburgh City Council in honour of the artist. Earlier, in January 2012, he had bought a house in Canonsburg, Pennsylvania. He also rents a $16,000 house in Los Angeles, California.
While his car collection boasts a 1969 El Camino, a Mercedes Benz, a Chevelle, a blue Porsche 911 Carrera S and two classic Chevy Impalas, his son too has his own miniature versions of a '57 Impala, a Ghost Rolls Royce, a Kawasaki and a Range Rover.