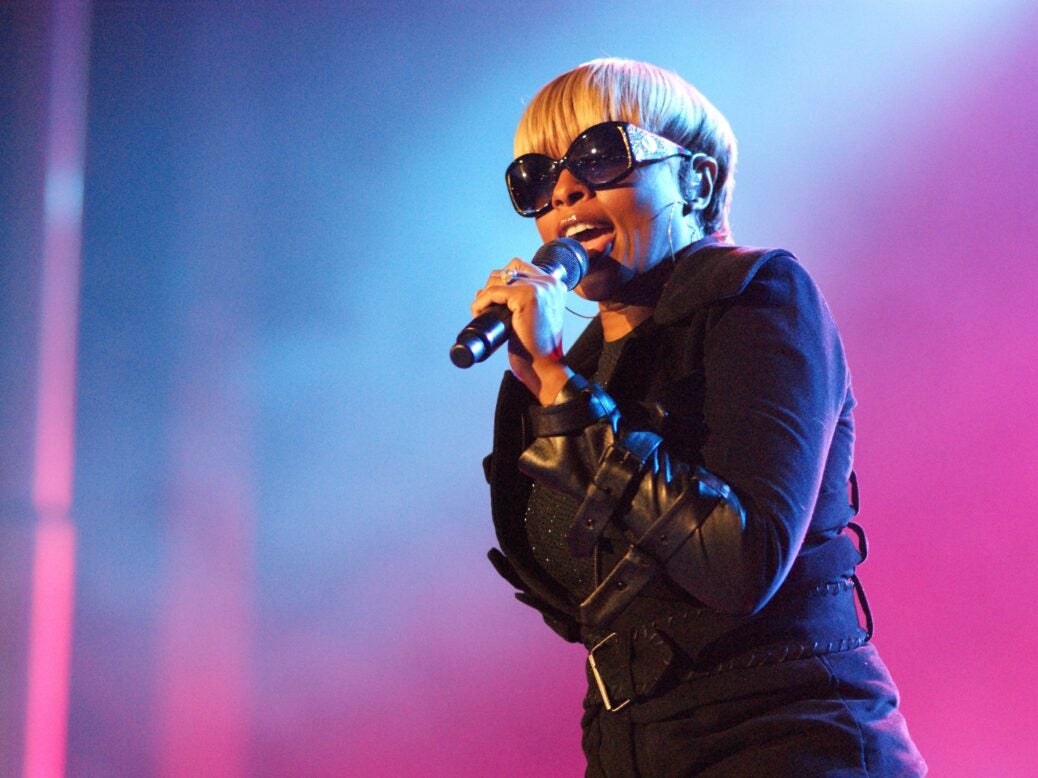 Mary J. Blige was born in Brooklyn to Vietnam War veteran Thomas Blige and nurse Cora on January 11, 1971. Her church choir upbringing in Georgia, laid the foundation for her singing career, but what is Mary J. Blige's net worth?
Mary J. Blige's impromptu cover of Anita Baker's "Caught Up in the Rapture" (recorded at Galleria Mall, New York, in 1988) managed to land at Uptown Records. In 1989, Blige was signed up as Uptown's backing vocalist and first female (and youngest) artist.
Her first album What's the 411? (1992)—based on her previous job as a 4-1-1 operator—conquered the Top R&B/Hip-Hop Albums chart, while earning triple-Platinum and two Soul Train Music Awards (1993).
Branded "Queen of hip-hop soul", Blige churned out 12 more Top R&B/Hip-Hop Albums and Billboard 200 chartbusters.
Her second album My Life (1994) made Rolling Stone's 500 Greatest Albums of All Time list (2003) and Time magazine's ALL-TIME 100 Albums (2006).
Blige won her first Grammy for the song "I'll be there for you/You're all I need to get by" (1996).
Her third album Share My World (1997)—commercially, her most successful—won her an American Music Award (1998).
The song "Family Affair" (2001) became her first Billboard Hot 100 topper and "He Think I Don't Know", won Blige her second Grammy (2003).
"Be Without You", the lead single of Blige's chartbusting seventh album The Breakthrough (2005), ruled the Hot R&B/Hip-Hop Songs chart for 15 successive weeks and won two Grammys. The Breakthrough won her two American Music Awards, nine Billboard Music Awards, a Soul Train Award, two NAACP Image Awards, two BET Awards and three Grammys.
She also won the Legends Award at the 2006 World Music Awards and the Voice of Music Award in 2007 from ASCAP.
Blige's duet "One" with U2 (1992) became her biggest British hit to date. In 2004, Blige launched Matriarch Records—her own label.
She went on to clinch two more Grammys for "Never Gonna Break My Faith" (with Aretha Franklin) and "Disrespectful" (with Chaka Khan), in 2008. That year, a career-showcasing special, The Evolution of Mary J. Blige, was aired by BET.
Another Grammy came her way through her eighth album, Growing Pains, in 2009.
In 2010, Blige's ninth album Stronger with Each Tear (2009) earned her two NAACP Image Awards. She also topped Billboard's list of Top 50 R&B/Hip-Hop Artists of the Past 25 Years.
"The Living Proof", Blige's lead single to The Help's soundtrack (2011), received a Golden Globe nomination followed by ninth rank for her on VH1's "The 100 Greatest Women in Music" list (2012).
Blige's eponymous album from the film Think Like a Man Too (2014) tied her for the second-Most Top 10s (16th) by a Female Artist (with Mariah Carey) on Billboard's R&B/Hip-Hop chart.
In 2010, Blige launched her own range of sunshades—Melodies by MJB—and fragrance—"My Life" (collaborating with Carol's Daughter). The ultra-successful perfume won two FiFi Awards.
Films she appeared in include Prison Song (2001), I Can Do Bad All By Myself (2009), Rock of Ages (2012), Black Nativity (2013), Mudbound (2017) and Sherlock Gnomes (2018).
Mudbound won her the Breakthrough Performance Award at the 2018 Palm Springs International Film Festival and Hollywood Film Awards' Breakout Actress Award. Blige was also nominated for Best Supporting Actress Oscar, SAG and Golden Globe, and an Oscar and Golden Globe for the song "Mighty River".
Her TV appearances include: New York Undercover (1995), Moesha (1999), Strong Medicine (2001), Entourage (2007), American Idol (2010 and 2012, guest judge and mentor), Betty & Coretta (2013), The Wiz Live! (2015), How To Get Away With Murder (2016) and The Umbrella Academy (2018).
Divorced from husband Martin Isaacs since March 2018, Blige is now trying to sell her $13 million New Jersey mansion for $8.9 million.