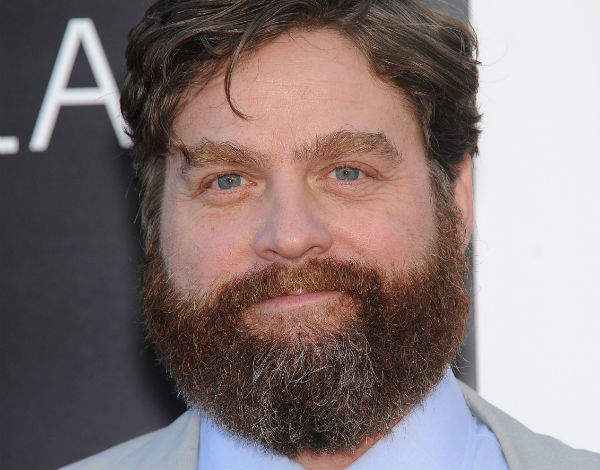 Author: Suren Prasad

Zach Galifianakis is estimated to be worth £13 million.
Of Scottish and Greek origins, Galifianakis was born in North Carolina on October 1, 1969. After leaving a communications course at North Carolina State University, he started appearing in the sitcom Boston Common (1996-97).
In 2001, he co-starred in Out Cold and played minor roles in films like Corky Romano, Heartbreakers,and Bubble Boy. In 2001, he appeared in an episode of Comedy Central Presents and acted in Below (2002), Into the Wild (2007), Largo (2008) and Little Fish Strange Pond (2009).
Hosting his own talk show on VH1 in 2002 called Late World with Zach, he later appeared in Fox's Tru Calling (2003-05), Jimmy Kimmel Live! and Reno 911!.
Galifianakis also starred in Comedy Central's Dog Bites Man (2006), a programme that fooled people into thinking they were being genuinely interviewed. He also had recurring roles on Tom Goes to the Mayor (2004 – 06) and Tim and Eric Awesome Show, Great Job!.
In 2006 and 2007, after featuring in music videos for Fiona Apple and Kanye West, Galifianakis released a comedic hip-hop/rap/dance single entitled Come On and Get It (Up in 'Dem Guts) featuring Apple's vocals.
Galifianakis appeared on MTV's Jackassworld.com: 24 Hour Takeover and earned his first major movie role with Visioneers in 2008.
The comic also conducted interviews with celebrities and public figures, including President Obama, as part of Between Two Ferns With Zach Galifianakis (2008 – present). As producer of the series, he nabbed the Primetime Emmy Award for Outstanding Short-Format Live-Action Entertainment Program.
Galifianakis made it to the comic A-list withThe Hangover (2009) winning the MTV Movie Award for Best Comedic Performance. Made for just $35 million in total, the comedy went on to rake in $467.5 million at the box office.
He subsequently won supporting roles in G-Force (2009), Up in the Air (2009), Youth in Revolt (2010) and Bored to Death (2009-11 HBO series).
Galifianakis hosted Saturday Night Live in 2010 and 2011, shaving his beard and getting a mohawk cut during the shows.
His 2010 films include Dinner for Schmucks, It's Kind of a Funny Story and Due Date. The following year, he reprised his role as oddball in-law Alan Garner in The Hangover Part II and voiced Humpty Dumpty in Puss in Boots.
After a role in the political parody The Campaign (2012), he starred in The Hangover Part III (2013), which collected $362 million at the box office.
His critically acclaimed performance in Birdman (2014) won him the SAG Award for Outstanding Performance by a Cast in a Motion Picture.
Married to Quinn Lundberg since 2012, Galifianakis splits time between his farm in North Carolina and work in Los Angeles. He rides a Vespa LX125.