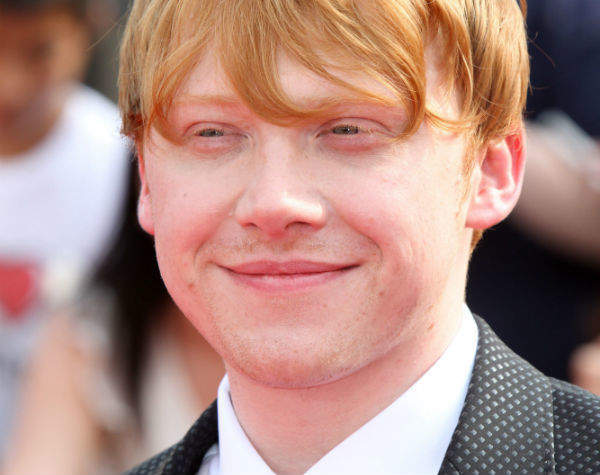 Author: Suren Prasad

Rupert Grint is reportedly worth £35 million. He was born to Nigel and Joanne Grint in Essex, on August 24, 1988. A fascination for theatre during schooldays made him join a theatre troupe.
Recognition came with the Harry Potter series (2001-2011), based on J.K. Rowling's bestsellers. Grint sent a video of him rapping on how much he wanted to play Weasley's part. He landed the role along with Daniel Radcliffe and Emma Watson.
He did major roles in Thunderpants (2002), Driving Lessons (2006), Cherrybomb (2008), Wild Target (2010), Into the White (2012), CBGB (2013) and CBS' TV movie Super Clyde (2013). The same year, he did the black stage comedy Mojo.
Grint's debut in 2001 with Harry Potter and the Philosopher's Stone saw record opening-day and opening-weekend sales, grossing $974 million. Grint won the Young Artist Award for Most Promising Young Newcomer and the Satellite Award for Outstanding New Talent for the movie.
The second part, Chamber of Secrets (2002), brought more favourable reviews for Grint. The series' lowest-grosser, Harry Potter and the Prisoner of Azkaban (2004), earned only $795 million.
After the fourth part, Goblet of Fire (2005), came Order of the Phoenix (2007), collecting a record opening-weekend of $394 million. That year, Grint stood 16th on Forbes Magazine's list of Top 20 Earners under Age 25.
Harry Potter and the Half-Blood Prince (2009), totalled a record $933 million in just ticket sales. Grint had earned an estimated £7 million by now.
Grint acted outstandingly in both bits of the final part. Deathly Hallows-Part 1 (2010) raked in more than $950 million, with Grint nominated for Performance of the Year at the National Movie Awards in 2011.
Deathly Hallows-Part 2 shattered records such as biggest first-day opening, biggest midnight release and biggest opening-weekend. The 4th highest grosser in film history, it is also the second highest-grossing film (sans James Cameron), to collect over $1.3 billion in worldwide earnings.
Grint was affectionately termed as one of "The Big Seven" of the Harry Potter series stars by author Rowling, in her speech at the 2011 world premiere of Deathly Hallows-Part 2, in London.
Grint also had the honour of being one of the torchbearers at the 2012 London Olympics.
A fan of hot-rods and old Mustangs, he also owns an orange Range Rover Sport, mini-hovercraft, quad bike, golf cart and coin-operated fortune-telling machine. He also realised a childhood dream, using his earnings to buy an old Mr Whippy ice cream van.
His enormous Hertfordshire acreage includes his parents' mansion (with its own putting green and lake), his 18th century manor, and six more properties. One of the properties was purchased for £495,000 and has been let out for £2,700 per month. Another townhouse was bought for £975,000 and converted into a boutique hotel by his parents. All of this is worth over £12.9 million.
Grint founded Eevil Plan Properties, which handles total rental income of all his properties.
Clay 10, his other company established to handle film paycheques, showed £8.6 million as pre-tax profits.
Grint will make his debut on Broadway in It's Only a Play, in October 2014 and is likely to be seen in Enemy of Man (2013 film adaptation of Macbeth).