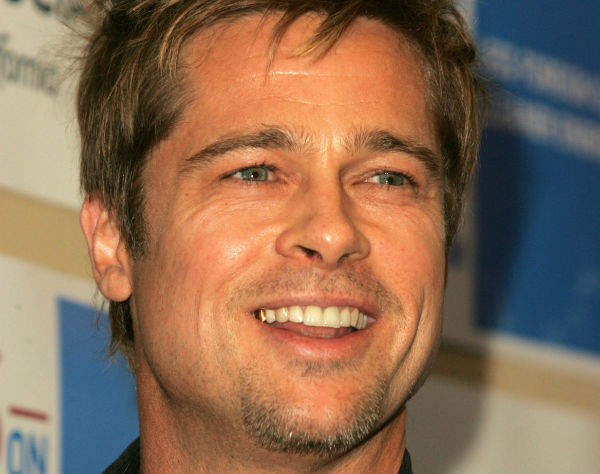 American actor and film producer, William Bradley 'Brad' Pitt has an estimated net worth of $240 million.
Born in Shawnee, Oklahoma, William Bradley Pitt's family moved to Missouri in 1982 where he studied journalism at the University of Missouri. His love for movies made him drop out just two weeks before graduating and move to Los Angeles, where he took up acting.
How did Pitt make his millions?

Pitt's career began in 1987 with small parts in films such as No Way Out, No Man's Land and Less Than Zero. His first leading role came with The Dark Side of the Sun (1988). After a struggle to establish himself, Pitt's hitchhiker act in Thelma & Louise (1991) established him as a nineties sex symbol. His career received a much-needed fillip soon after, with A River Runs Through It (1992).
He went on to appear in a string of major movies, including Interview with the Vampire (1994), The Devil's Own (1997) and Meet Joe Black (1998).
Legends of the Fall (1994) earned him his first Golden Globe nomination for Best Actor; he was also praised for his role in Seven (1995).
His next outing in 12 Monkeys (1995) earned him the Golden Globe for Best Supporting Actor and an Oscar nomination for the same category. That same year, he played a mountaineer in Seven Years in Tibet, for which he trained in the Alps and California.
For the cult classic Fight Club (1999), he learnt boxing and taekwondo and even allowed pieces of his front teeth to be removed during shooting. Later hits in 2001, like The Mexican and Spy Game, raised his acting stature even further.
A guest appearance on the TV sitcom Friends with-then wife Jennifer Aniston saw him gain an Emmy nomination for Outstanding Guest Actor in a Comedy Series.
Then came the heist superhit Ocean's Eleven (2001), where he rubbed shoulders with George Clooney, Matt Damon, Julia Roberts and Andy García, which raked in a cool $450 million. The subsequent sequels – Ocean's Twelve (2004) and Ocean's Thirteen (2007) -earned $362 million and $311 million, respectively.
In 2002, he established his own production company, Plan B Entertainment, along with Jennifer Aniston and Paramount Pictures CEO Brad Grey. In 2004, the company produced the movie epic Troy, which grossed $497 million worldwide. Pitt trained with swords for six months to personify Achilles in the film.
The Departed (2006), produced by Plan B Entertainment along with British producer Graham King, went onto win the Oscar for Best Picture. Pitt was given an on-screen credit as a producer, however the Oscar went to King.
In 2003, he voice-acted for the first time in Sinbad: Legend of the Seven Seas, and later in Megamind (2010).
He then starred with Angelina Jolie in one of 2005's biggest hits, Mr. & Mrs. Smith (the film grossed $478 million worldwide). This was followed by the highly praised Babel (2006), for which he earned a Golden Globe nomination for Best Supporting Actor.
Pitt next played the eponymous American outlaw in The Assassination of Jesse James by the Coward Robert Ford (2007), another Plan B production.
The Curious Case of Benjamin Button (2008) earned him nominations for a Screen Actors Guild Award, Oscar and Golden Globe. The film raked in $329 million at the global box office.
In 2009, he starred in the Oscar-winning Inglourious Basterds, which grossed an impressive $311 million worldwide, and Moneyball (2010), which earned him another Oscar nomination for Best Actor.
Pitt's most profitable production and acting venture came with the zombie apocalypse World War Z (2013) which amassed $539 million, with Pitt drawing a reported $14 million in salary. He also produced the widely appreciated 12 Years a Slave (2013), which won the Oscar for Best Picture that year.
After a five-year marriage with actress Jennifer Aniston, Pitt started seeing Angelina Jolie in 2005. One of the most universally talked about couples, the paparazzi gave them the sobriquet 'Brangelina'. Raising six children, they finally tied the knot on August 23, 2014 at their $35 million estate, Château Miraval, in Provence, France.
In 2013, the couple reportedly signed a $380 million pre-nuptial agreement meaning that, in the event of a split, Pitt and Jolie would retain their respective assets.
Pitt's sponsorship deals with Cadillac and Chanel 5 are reported to be worth $3 million and $7 million respectively.
The couple has a Los Feliz Mansion worth an estimated $1.7 million and a $16.18 million mansion in Richmond, south-west London. Pitt's automobile collection includes a custom black Jeep Cherokee, an Audi Q7, a BMW Hydrogen 7 and a silver gray Lexus LS 460 F Sport. His bikes include a BMW R1150GS Adventure, Yamaha R1, Triumph Bonneville, Royal Enfield Bullet 500, Ducati Desmosedici RR and several Harley-Davidson choppers.
The couple regularly contributes millions of dollars towards various causes through their Jolie-Pitt Foundation. Pitt's latest film Fury is to be released in October 2014.