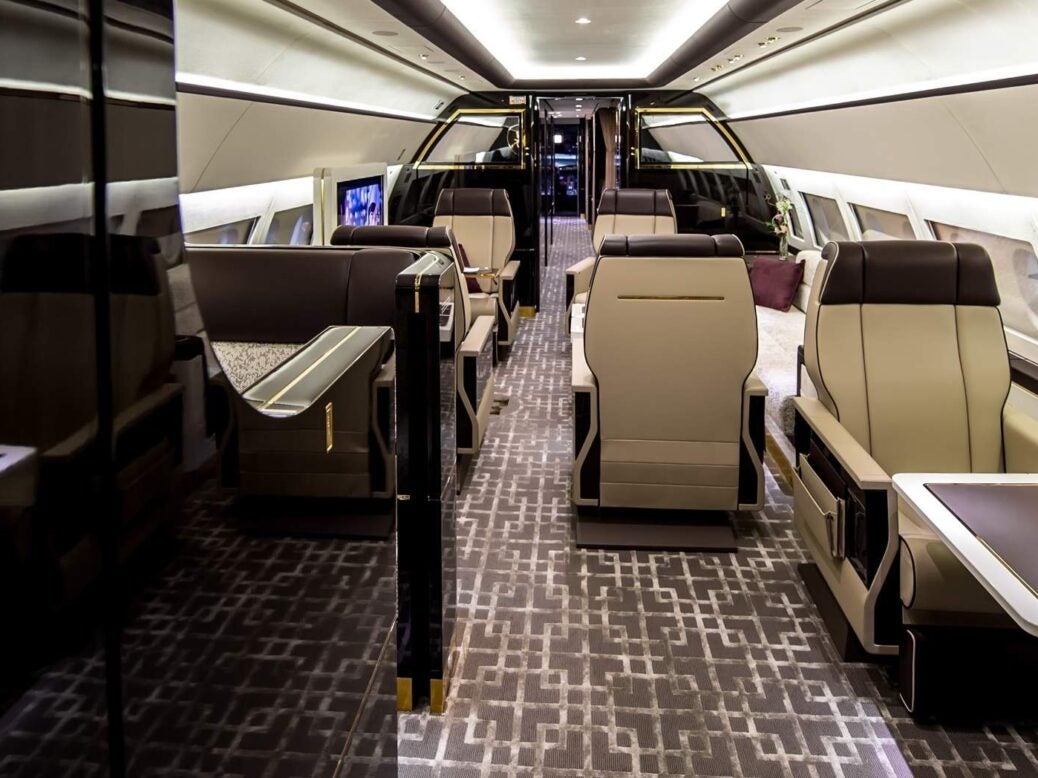 Combining a classic retro aura and an aristocratic sense of space and simplicity, the new ACJ319 jet interior evokes the privacy and cosiness of a vintage-train cabin.
Designed for jetsetters who enjoy the comforts of traditional train travel but necessitate the speed of an intercontinental jet, the new interior from Airbus creates the experience that combines the two together. Airbus Corporate Jet Centre (ACJC) fulfils one of its principles to complete the best top-of-the range cabins on the market, and provides a company in Asia with an art deco-inspired custom cabin in an ACJ319 jet with ingenious features of vintage trains, to one of the largest companies in Asia.
Take a first look at the train-inspired jet.
Accommodating up to 19 passengers, and incorporating comfort, function, and innovative design, the ACJ319 Cabin is equipped with five individual mini-suites, each with inventive storage spaces and hi-tech personal devices.

Inspired by the ambiance on a luxurious vintage-train and integrating traditional and modern design, the VVIP cabin was developed and stylized by ACJC's Creative Design Studio. A brown-and-cream palette creates a sense of space and minimalism in the cabin, and gold-colored details enhance a traditional deluxe atmosphere.
The jet features a main lounge, with an innovative parlour area where two passengers can share a widescreen TV.

The master bedroom offers an en suite bathroom with a square shower, a private office space, and a two-place sofa which is convertible into a low-table with two VIP seats, separated by a low table.. There are two bars hidden behind mirrors, with their own dedicated devices — they emerge when needed with the push of a button.
The dining area seats up to six in a cosy booth-like setting. The retro styling is paired with state-of-the-art amenities and cabin controls. All 15 of the seats can recline to a fully flat position and are controlled via Wi-Fi from a digital tablet.
The ACJ319 cabin is 78 feet long by 12 feet wide, and the jet can travel up to 6,900 miles nonstop, at speeds up to about 540 mph.
Image Credit: Airbus Corporate Jet Centre (ACJC)