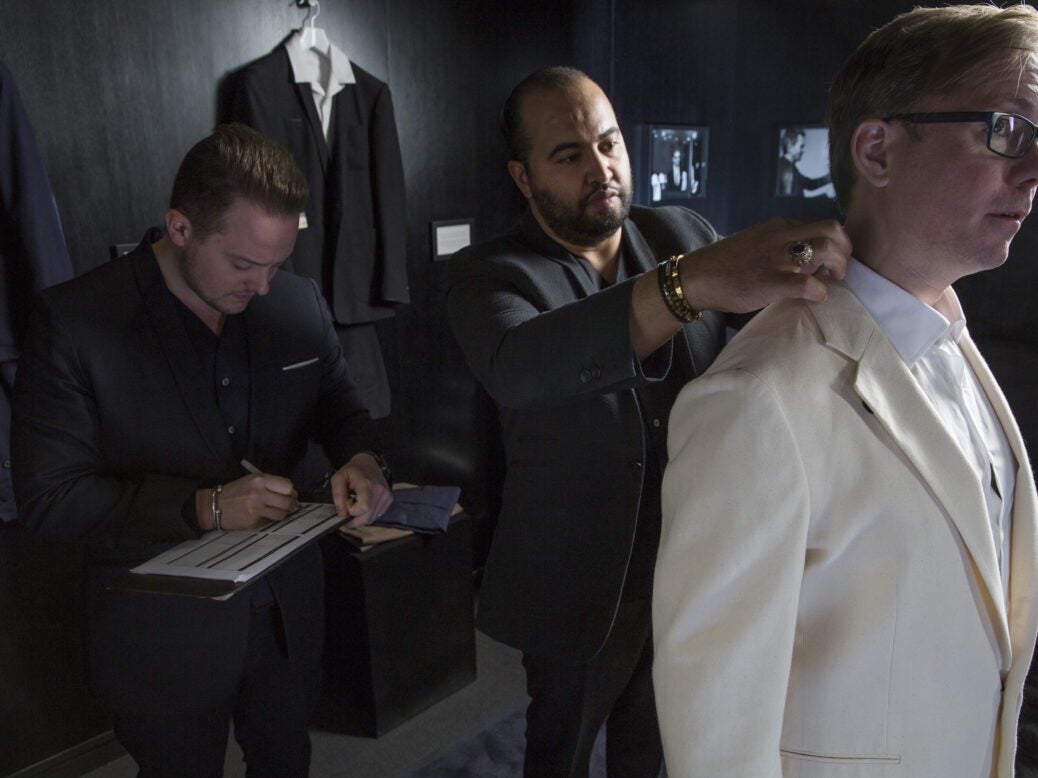 A new bespoke wardrobe offering from Spencer Hart provides ultra-stylish tailoring in the most welcoming of environments, writes Alec Marsh
Wodehouse wrote that any man under 25 who told you he wasn't afraid of butlers was lying. I have a similar feeling about tailors. You know the drill – you descend into some basement, immediately get judged for dressing (in my case) like a supply Latin master, and then get to stand around in your underpants for a good bit of body-shaming while being stuck with pins and having your inside leg measured.
But how wrong I am. Once through the door that leads to tailor Spencer Hart – noting the blue plaque that announces that Berlioz once lived here – I am whisked into a parallel judgement-free world where sartorial excellence is collective endeavour. Nick Hart, a Savile Row tailor to the stars and the visionary at the heart of a new clothing proposition called The Wardrobe by Spencer Hart, leads me through the dark antechamber, a spotlit exhibition space showing of examples of his work.
'Our job is to make you look the absolutely best version of yourself in a way that it looks like you haven't tried or thought about it,' he says. 'You've just nailed it.' Even to the most sartorially recalcitrant, that sounds appealing. 'We're trying to solve a problem,' continues Hart, who has one of those appealingly dry, rock-star-style voices and consonants that have spent a little too long in Palm Springs.
'Most clients who come and see us are extremely time-poor. They want to look good, they probably haven't invested that much time over the years in that, but now they're having to up their game because of shareholders, investors, social media, this type of thing.'
Others, he says, just want to treat themselves – and then there are customers sent by their wives or girlfriends. And, who knows, both? Hart leads me past examples of their work. His touches include the 'Quincy-Nehru collar' – a mash-up inspired by record producer Quincy Jones and the Indian statesman's stand-up collar – along a chic avenue of suits and outfits.
There's a jacket in dark grey Prince of Wales check, another in very dark blue cashmere, a flannel suit – across the board there's a cool, 1970s vibe with a flavour of 1950s workwear. In my green tweed jacket I've never felt less like an extra from All Creatures Great and Small.
We're soon discussing style icons. 'The thing about Steve McQueen,' says Hart, breaking into laughter, 'although everyone talks about how effortless his look was, actually he had everything altered. It was all thought through. A lot of those iconic shots of him were a lot more tailored than one might think, even when it's just a pair of white Levis.'
White Levis? Now that is a step too far. Within minutes, however, I am being measured up in a white suit from whose known measurements I am more efficiently sized ('dropped shoulder – one inch,' notes staff member Oliver, while another, Faisal, takes it all down).
There are 15 measurements in all for the suit, and another ten for the shirt. Several sorts of jacket are brought in – some more 'structured' than others. A glance tells everyone that my physique benefits from 'structured' jacketing.
Suit yourself
Then there are the questions: do I want one or two vented pockets on the trousers? Would I like a button fly or zip? Do I wear a belt? Would I want a pocket for a pen? ('Absolutely!') What about piping, braiding or lining – any preferences? And how about the controversial subject of jacket buttons: two, three or… one? One? That's for dinner suits only, isn't it? Then a jacket with a single button is held up and I thread my arms in – and hey, presto: what do you know?
It's a zinger. Nick Hart, watching, nods approvingly. I'm in. Measuring and some essential choices negotiated, we head next door, from the dark into a bright, white room.
Sheepskin rugs adorn the white-carpeted floor, and the walls are decorated with a collage of existing and former clients on one side and Spencer Hart's godfathers of style on the other: jazz icons from the Fifties, the clothing captured in the lens of Weimar photographer August Sander, the Rat Pack (so there's Sinatra), and McQueen.
Hart says he mixes these influences with music of the Seventies and traditional Savile Row tailoring to produce his look, shown over the other side: David Bowie, Benedict Cumberbatch, Ben Whishaw, Jason Statham, Robbie Williams, Jeff Goldblum, Tinie Tempah, James Corden, Jay Z: you've got the picture.
We sit down at a broad white table, and Hart and Oliver ask me about my daily and weekly routines; work, rest, and play: where I holiday, what I do there – it's a career and lifestyle audit, but their eye is on the clothing. 'Would you wear a black suit?' asks Hart. 'What about grey?' In that moment, you're in the mind of experts who think about clothing very deeply. So you don't have to.
Three days later, an email arrives from Oliver, detailing 15 outfits, comprising 46 garments: this is The Wardrobe by Spencer Hart – a unique service proposition. My wardrobe includes a mid-weight flannel suit, a linen suit for the visits to Monaco, say, a poplin outfit for the beach club, the evening suit for awards ceremonies – and the cashmere coat for town. All this comes at a price: £30,000 (plus VAT), which Spencer Hart insists is a massive discount over individually purchased bespoke items.
Indeed, since last summer when it launched, so far 16 customers have bought into the service, and with a tour of China in the diary, Hart is optimistic of hitting 40 by the end of the year.
Fitting for a king
Since I'm the editor of Spear's I get to choose one outfit, so I opt for the flannel single-button suit – in what turns out to be a rich, seductive shade of navy blue, replete with delightful touches such as the lined pen pocket.
This I discover when I return for my fitting three weeks later: I get shirted and suited, and then the guys get to work with the tape measure: the suit cuffs need another inch, the suit collar could do with a pinch to hold the shirt just so – oh, that single button could do with another half-inch of slack.
As I stand before the mirror, I realise I've been transformed from flat-pack to rat-pack. It's stunning. Hart asks me if I like the suit. Like it, I say, it's magnificent. Instantly he beams with pleasure – it's an infectious moment that suddenly makes the experience so much more than I had imagined.
Then we broach a difficult subject: trousers. And length. Now, I have noticed that Nick Hart's trousers do not appear to touch his shoes: I look around and see that both Oliver and Faisal are also decidedly shy of the shoe. Mine, currently, break once above the brogue. The question is whether to break or not.
Nick thinks it takes away from the sharp aesthetic. I look in the mirror, trying to decide. The envelope is being pushed. Suddenly I'm Chuck Yeager approaching Mach 1. The tension in the room is palpable.
OK, I say. I'll try it. So the trousers are pinned shorter than any I've worn since prep school, final adjustments are made, and then the exquisite suit is taken away for final adjustments. When the pictures come in from the photo-shoot, I see immediately that Hart is spot-on about the trousers.
Which is not surprising, and is why you'll be hearing more about The Wardrobe by Spencer Hart.
Alec Marsh is the editor of Spear's