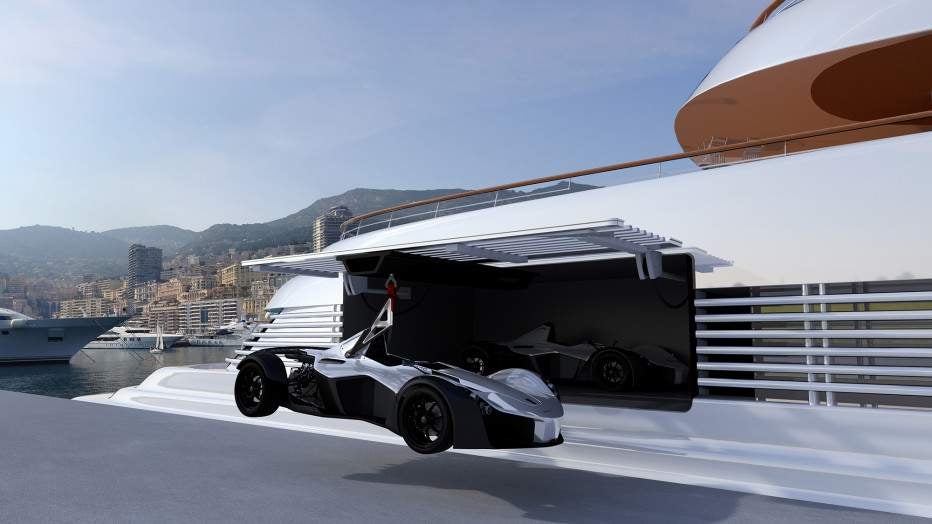 BAC's Mono single-seat sports car has been re-engineered specifically for use on super-yachts. Powered by a 305bhp 2.5-litre 4-cylinder petrol engine, it's the only-seat speedster constructed for all times on the seven seas. The identical engine to BAC's Mono enables the Marine Edition to succeed in 62mph in 2.8 seconds and with a prime velocity of 170mph.
Weighing in at only 580kg — a 3rd of the load of a Ferrari, the Mono Marine supercar is suited to the super-yacht environment where lean mass, performance and design are paramount. BAC's Mono has been converted for marine use with a carbon-fibre crane arm and lifting points for super-yachts, designed to transport the Mono on top of any super-yacht. The crane arm can be universally used with all yacht crane systems.
Costing £500,000, the Marine Edition is completely customisable inside and out and built to order. The framework has been developed with the crane arm in mind too, with custom chassis lifting points for super-yacht crane cradles and mounting to helipads, assuring the Mono is secure whilst on board.
The new Marine Edition features marinised anti-corrosion components. Designed for life on-board the world's most premier super-yachts to ensure, the Marine Edition is kept protected in the salty climates with a climate-controlled container to store it in on board, guarding the car from the marine environment.
BAC co-founder Ian Briggs says, 'I started my career designing luxury yachts and I have wanted to combine my love of marine and automotive design ever since. The Marine Edition Mono represents purpose and style for a clientele that knows no compromise.'
Andrew Whitney, Director of Strategy & Corporate Development at BAC says, 'Today's super-yachts are paragons of exquisite taste, exceptional design, and the ultimate experience possible. It is only fitting that owners should be able to extend that experience beyond the vessel upon arrival'.