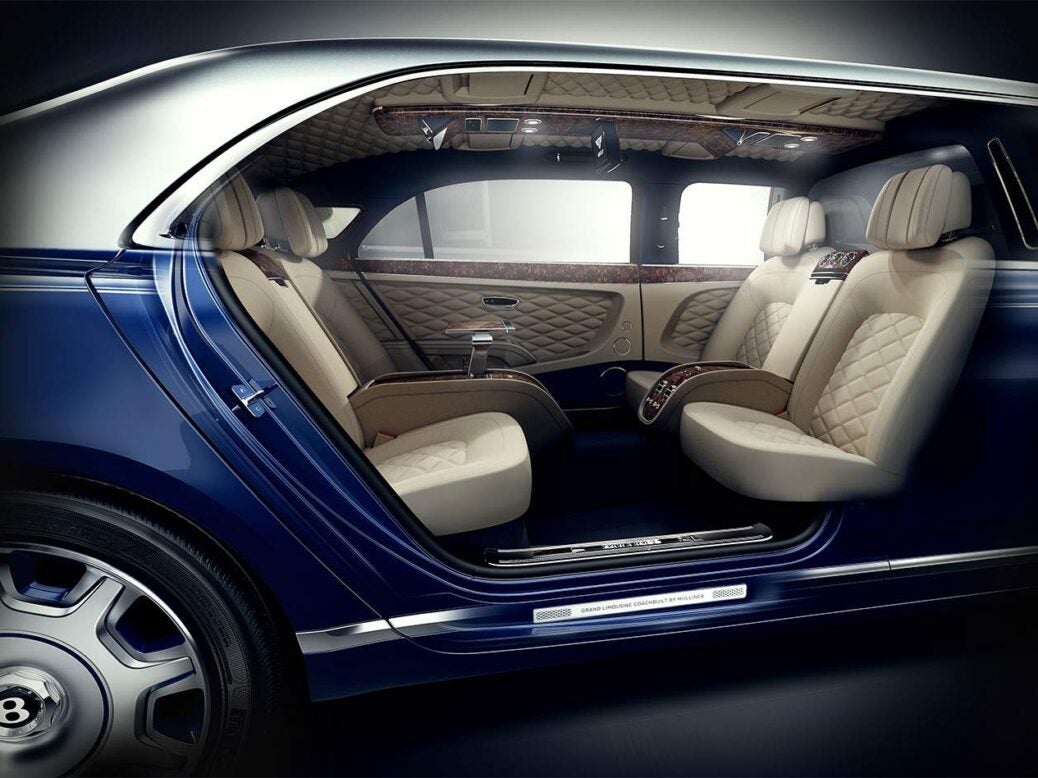 Bentley unveiled the new Mulsanne Grand Limousine by Mulliner at the Geneva Motor Show yesterday. It's the latest creation of Mulliner, their in-house coach-building division.
The new Bentley Mulsanne Grand Limo has iPad stations, fold-out tables, and champagne flutes and is the longest ultra-luxury saloon in the world. It is one metre longer than the standard Mulsanne, with most of the additional length accounted for by and extended wheelbase. It is also 79mm taller. The extra-long Mulsanne offers 250mm (9.8in) of extra legroom at the back, which is complimented by the airline-style extending leg rests and a rear sunroof for maximum pleasure.
The rear cabin design is inspired by the interiors of a private jet, with four seats which face each other with a detailed wood-veneered roof bow above. Below is a leather-sheathed cabin with a number of useful features, including the three dials on the veneer panel that show the temperature outside, UK time and local time.
Bentley have employed electrochromatic smart glass, allowing passengers to turn the glass partition screen from clear to opaque at the touch of a button.

Bentley revised the Mulsanne with a new HVAC system that has been exclusively developed and features iPad charging, docking stations, veneered fold-out tables, a bottle cooler and soft drink cabinet with bespoke tumblers. The intercom system handles communication between the driver and the coach.
On the exterior, the limousine displays a two-tone Silver Frost and Moroccan Blue coat with lines that run across the bonnet to the shoulders of the car. Speaking about the car, Wolfgang Dürheimer, CEO of Bentley Motors, said, 'The Mulsanne Grand Limousine showcases the exquisite craftsmanship of our in-house coachbuilder, Mulliner and exemplifies the way in which our experts consult with a customer to turn their vision into an extraordinary reality. The attention to detail, quality, creativity and skill applied to every Mulliner commission is truly unique in the automotive world.'

The Mulsanne Speed remains the cruise missile of the range, offering 530hp and 1,100Nm (811lb ft) of torque for making every trip shorter and more enjoyable. 0-60mph comes in 4.9 seconds with the top speed rated at the most comfortable 190mph of the market.
Image Credit: Bentley Motors