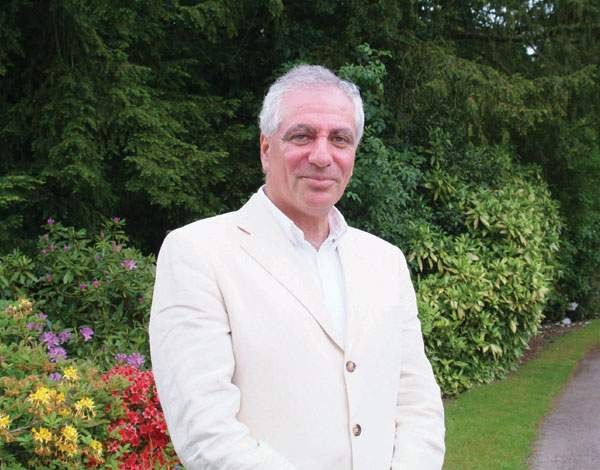 Christopher Silvester wonders at the many lives of the man behind the spa's success
Simon Lowe has had a handful of careers — as a developer, in a modest way, of prime London residential properties, as partner and finance man behind several London restaurants, as a textiles agent in China, as an owner of country house hotels, and lately, as a wellness entrepreneur.
'In the Sixties and Seventies everyone discovered the word "spa",' he tells me. 'Today the new buzzword is "wellness". Every hotel now has a spa — or rather, a few treatment rooms. At the old country-house hotels, people would stuff and drink themselves silly and then maybe go for one walk. All these hotels, of which I had three, were spending fortunes adding on things like rooms for wedding receptions, conference facilities and spas. It didn't work. The model had to change.'
The same applied to the traditional health farm, an establishment where members of the affluent gentry and over-stressed city-dwellers would go to diet and wind down. The entire emphasis was on basic weight loss, with little thought given to sustainability of results once the customer went home.
In 2005 Lowe acquired Grayshott Health Spa in Surrey, which had its 50th anniversary in 2014. During the time he has owned it, he has presided over its transformation from an old-school health farm into a modern establishment where the quality of the science behind the treatment regimes is as important as the calm, leafy surroundings of its country house location near Haslemere.
'I had known Grayshott from the early 1970s when my first wife was constantly on a diet,' recalls Lowe, who has a shock of curly white hair and speaks in a lush, claret-stained baritone. 'She dragged me down to this place, which for a young man who liked his beef and his wine was no good at all. There was a whole coterie of us who used to go down at weekends to see the wives and there was a fabulous pub called the Links Tavern in Liphook. We all used to skive off on a Friday night to have shampoo and lobster thermidor. The wives would come with us.'
Lowe's parents were German Jews ('multi-generational, very happy, very integrated') who departed Germany in the nick of time before the outbreak of World War II and met in London. His father, whose surname was originally Lewenhaupt, meaning 'lion's head', was in the metals business and because his warehouses were bombed out, the family moved up north.
Lowe was born in Leeds and lived there for twelve years, and when his family moved to Switzerland he attended Highgate School in London as a boarder. He went to university in Lausanne, followed by Leeds in the late Sixties, where his contemporaries included Jack Straw.
After university, he started buying student houses in Leeds to rent out and in 1974 he began importing textiles from Germany and the Far East, setting up his own mail-order business, but at the age of 30 he discovered the restaurant trade. 'I had a great friend called Andrew Leeman, who worked at the Mayfair restaurant Langan's,' he explains. 'One day I said, "Let's open a restaurant together."' The result was the Texas Lone Star Saloon, which opened on the corner of Gloucester Road and Harrington Gardens in 1980 before adding branches in Chiswick and Queensway.
'In those days, business at that level was done on the back of a cigarette packet. Half the time we bought and sold things for cash. There were no computers around, no micro-systems in place. We used to write the takings down. It was a completely different world from what it is today.'
One restaurant chain begat another. Lowe, Leeman and their partner Howard Malin started another chain, the Palms pasta restaurants; they opened Casper's Bar Grill and Telephone Exchange in Hanover Square; and then they bought Morton's in Berkeley Square in the late Eighties. Lowe and his partners also made the leap into hotels, in 1989 buying the Feathers in Woodstock, Oxfordshire, which was 'basically a restaurant with a few rooms', and then in 1995 Bishopstrow House in Wiltshire. They sold out all their interests in 2001; Leeman stayed in town and Lowe went to live in West Sussex.
At the same time, Lowe had kept his oar in with the textiles business. 'My best pal from childhood had a company in China and we really caught the wind of China in the late 1990s. One day in 1995 he called me up and said, "I'm in China and I really think it's going to happen here. Would you like to back this business I'm starting?"
'We went to companies in the UK and offered
to represent them in China, and we picked up all kinds of agencies.' Towards the business's end (it was sold in 2010), they became the quasi-agents for M&S in China.
After he and his partners had sold off their restaurants and hotels group, Lowe bought Grayshott. Originally belonging to Alfred, Lord Tennyson, the house had been acquired by the Stalbow family and had been opened as a health spa in 1964. Before Lowe acquired it, it was 'on its last legs'. Although still very popular with the old guard, it needed an infusion of new blood otherwise it would run out of customers quite shortly, so Lowe had it redone from top to bottom at a cost of about £3.5 million.
'What was, and what remains, its primary asset is the people, primarily the therapists. They are led by what I call the Fab Five, who've been there 25 years each… Some of them go back even further. We're very discreet — we've always had quite a lot of the theatrical profession coming and going, though they often only come when certain therapists are there.'
Lowe has introduced more modern treatment regimes, with the result that the mean age of customers has come down from the late sixties and is now closer to 45. Programmes are now more relevant to younger people, many of whom already lead more active lives but who seek weekend-long booster experiences. A particular success has been their week-long gut-repair regime and an accompanying book, Gut Gastronomy.
Another recent blow to the old health-farm model has been that today's smart young people often want to fly to Paris or Barcelona or Amsterdam for the weekend, bolstered by offers from internet discounters. Lowe realised that Grayshott had to move 'from a model based on want to one based on need'. So last year, for example, it launched a new 'Nurture & Support' wellness programme for people who are living with cancer or are in remission, a four-day retreat using products and treatments that are specifically designed to work with post-cancer medication.
Lowe lives at Grayshott when he's in the UK, but he spends three months of the year on the Caribbean island of Nevis, where he is resident and where he has had a home for twenty-odd years. Otherwise he lives in West Virginia with his second wife, who is half-Iranian and half-American, so as to be closer to their children, both of whom live in the US, one in New York and one in California.
His plans for Grayshott indicate another new dimension to the health spa experience. Lowe has obtained planning permission to build ten lodges, each containing four luxury apartments, in a joint venture with a developer. The idea is to offer longer-term stays or even sell some of the apartments in what will essentially be based on the US model of a gated community.
Residents will automatically become members of the Grayshott Club and will be able to use all the spa facilities: pools, tennis courts, aerobics, aqua-aerobics.
Another possibility is rolling out the brand overseas or with partner establishments, following a similar model to that of celebrity-chef residences at leading hotels. Lowe recognises that Grayshott's real value is as a service brand rather than merely as a destination in the Surrey stockbroker belt, though he will be careful not to dilute the brand too much.
While other spas offer cut-price experiences for the mass market, Grayshott continues to offer a premium service. 'This differentiates us from most other spas,' he says. 'We don't want to compete with a cowshed in Cyprus — or Devon, for that matter.'