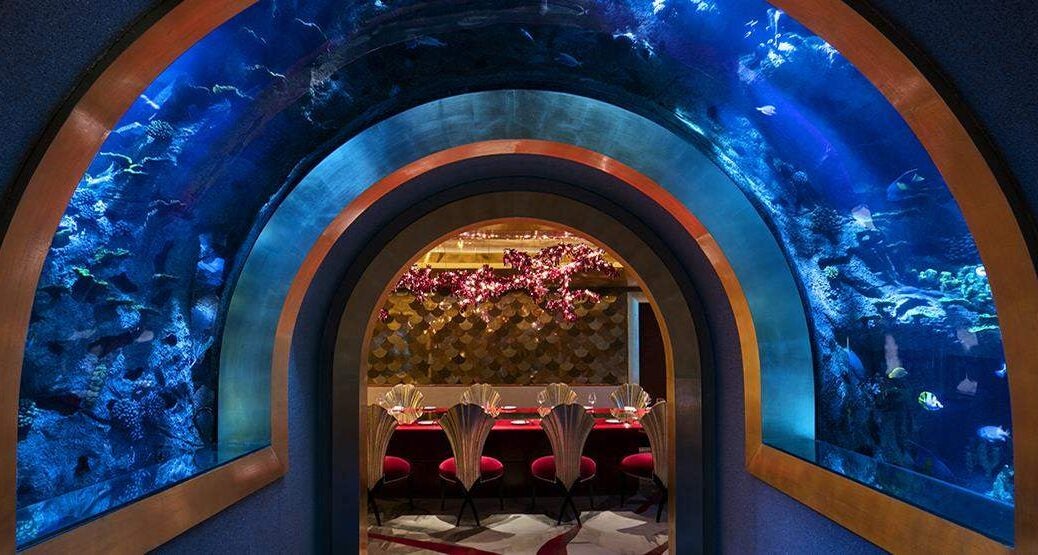 The Al Mahara is typical of the vivid imagination behind the creation of Burj Al Arab Jumeirah; the extraordinary and unique experience dining within the vast aquarium sets the scene for the critically acclaimed seafood connoisseur, Nathan Outlaw, writes Codelia Mantsebo.
The doors of Nathan Outlaw at Al Mahara opened in September 2016, introducing the chef's simple yet stunning approach to seafood to Dubai – a welcome notion to the city's opulent lifestyle.

The predominantly Cornwall based chef brings his unique style of cooking and relaxed hospitality to Jumeirah's Burj Al Arab. Not only does the restaurant deliver on flavour, hospitality, interior design and atmosphere, but the overall dining experience takes people on a voyage of unmissable discovery. Outlaw, along with head chef Pete Biggs, have produced a restaurant that delivers top quality, simple dishes, packed with delicious and complex flavour combinations.
Celebrating British cuisine, the Michelin starred chef has created a diverse and unique menu, with each dish created specifically for Burj Al Arab Jumeirah, with many ingredients flown in daily from his hometown, Cornwall and all over the world. Guests can choose from a seasonally changing set menu with five options for each course or a six-course signature tasting menu.
For the six-course Signature Tasting Menu, Outlaw serves up citrus-cured brill capped with anchovy and smoked almonds in basil oil. This is followed by a divine combination of the fresh flavour of perfectly seared yellowfin tuna with controlled sharpness of a cured ginger carrot mix.
Crispy Oysters & Caviar, Cucumber & Oyster Sauce
Crispy oysters with cucumber chutney, oyster sauce and caviar celebrate a beautiful blend of texture and taste. Lobster risotto, Outlaw's signature dish since his first ever restaurant is made with fresh basil, spring onion and orange — lending a subtle taste that allows the flavour of the lobster meat to shine through. The lobster risotto is followed by a delectable combination of turbot, cauliflower, wild mushroom and truffle.
Lobster Risotto – Outlaw's signature dish since his first ever restaurant
The six course meal is finished with a classic sticky toffee pudding, served with jersey cream and apple jam-stuffed dates to balance the sweetness.
As head chef Pete Biggs runs the kitchen at Al Mahara, Nathan Outlaw will be constantly involved with the restaurant and is set to visit at least seven times a year to consult with very talented head chef as well as restaurant manager Sharon McArthur and the team.
Chef Nathan Outlaw
A surprise move for the Cornwall based chef; Nathan Outlaw at Al Mahara is an undoubtedly highly accomplished restaurant nonetheless. Dubai's high-end lifestyle does not overwhelm Outlaw's relaxed palate, rather, Al Mahara's exquisite dining space, complete with its stunning floor-to-ceiling aquarium, makes dining at Nathan Outlaw at Al Mahara quite a special experience.
The six course tasting menu is priced at £190 (850 AED) without wine, while the set menu is priced at £100 (AED 450) for a three course lunch and £145 (AED 650) for a four course dinner.
Four nights at the Burj Al Arab Jumeirah start from £3,399 per person based on two adults sharing a One Bedroom Deluxe Suite for four nights on a bed and breakfast basis, including return flights with Emirates and private transfers. Book with ITC Luxury Travel (01244 355527, www.itcluxurytravel.co.uk)
Codelia Mantsebo is Online Writer at Spear's