The rebranding of The Red Sea Development Company to Red Sea Global marks a commitment to regenerative development on an entirely new scale.
Spear's and Elite Traveler have followed the progress of the world's most ambitious regenerative tourism venture, THE RED SEA, since its early days — first discussing the revolutionary vision with The Red Sea Development Company's (TRSDC) CEO John Pagano back in March 2021.
Much has changed in the time since and what was a story squarely rooted in Saudi Arabia – albeit one generating lessons and innovations with a truly worldwide impact – is now making international waves.
The latest chapter is both a change in name and an even greater scaling up in ambition, as TRSDC rebrands as Red Sea Global (RSG). The headline: Pagano and his team are expanding their portfolio of development projects at home, and potentially looking beyond Saudi shores for opportunities further afield.
It's a natural progression for a company that has been consistently scaling up its responsibilities and ambitions since inception.
The original vision was to not just sustain, but enhance 120 miles of Saudi Arabia's Red Sea coastline, bringing a net positive conservation benefit of 30% by 2040 to an area Pagano describes as "one of the world's last hidden treasures", all while pressing ahead with the creation of a luxury destination that would provide a gateway into the Kingdom.
This radical declaration of intent has evolved into a reality. Targets have been met. The first guests will arrive in early 2023 and are set to experience a world beating luxury travel destination, born from a science-led approach.
Along the way, Pagano also took over responsibility for AMAALA — another tourism giga-project that forms a cornerstone of Saudi Arabia's Vision 2030, the first phase of which is due for completion in 2024. The group is also now working on a number of new projects along the Kingdom's Red Sea coast.
But the rebranding as Red Sea Global marks arguably the greatest statement of intent yet from a company that has built its reputation upon setting and delivering on lofty goals, signaling an ambition to introduce this approach on an even greater scale.
"We want to take our unique regenerative development approach and export it around the world," says Pagano. "We will wait for the right time and the right opportunity, but it's a matter of when not if. We have the capital; we have the expertise. Soon we will be opening resorts and we will be able to showcase to the world exactly what we can do, how we do it and how we are doing things differently. We hope this will ultimately cause others to follow, through imitation if nothing else."
Going Global
Imitation is the sincerest form of flattery, but no other real estate developer will enjoy the same regenerative track record and will struggle to make a similar impact. Indeed, the lessons drawn mean Pagano and RSG have their sights set on sectors beyond the tourism and hospitality sector, with the CEO identifying growing potential for a sustainability-focused company in the commercial real estate sector.
"As an example, London has a huge amount of commercial office space, and yet businesses are struggling to find space that is environmentally acceptable. More than ever employees are aware of environmental issues and can choose an employer that aligns with their values," says Pagano.
"That type of pressure is going to force changes. At Red Sea Global we are ahead of the curve, we are leading by doing, not just talking and that gives us great credibility for future endeavors."
Amid all this talk of global ambition, Pagano acknowledges a need to grow Red Sea Global methodically. There are no shareholders demanding growth at all costs and the team can afford to await the right projects. A gradual expansion regionally is the likely first step, however all opportunities, wherever they might arise, will be judged on their merits.
"We have established our credentials in the tourism space, so logically it makes sense to expand that regionally," says Pagano. "You have got neighboring countries like the UAE as well as African nations where there may be opportunities for Red Sea Global to bring both skill and capital."
"Ambition is high, and we certainly should also be looking towards Europe and North America, in which case we wouldn't be limited to tourism; it could be anything. I have a totally open mind to what, why and where."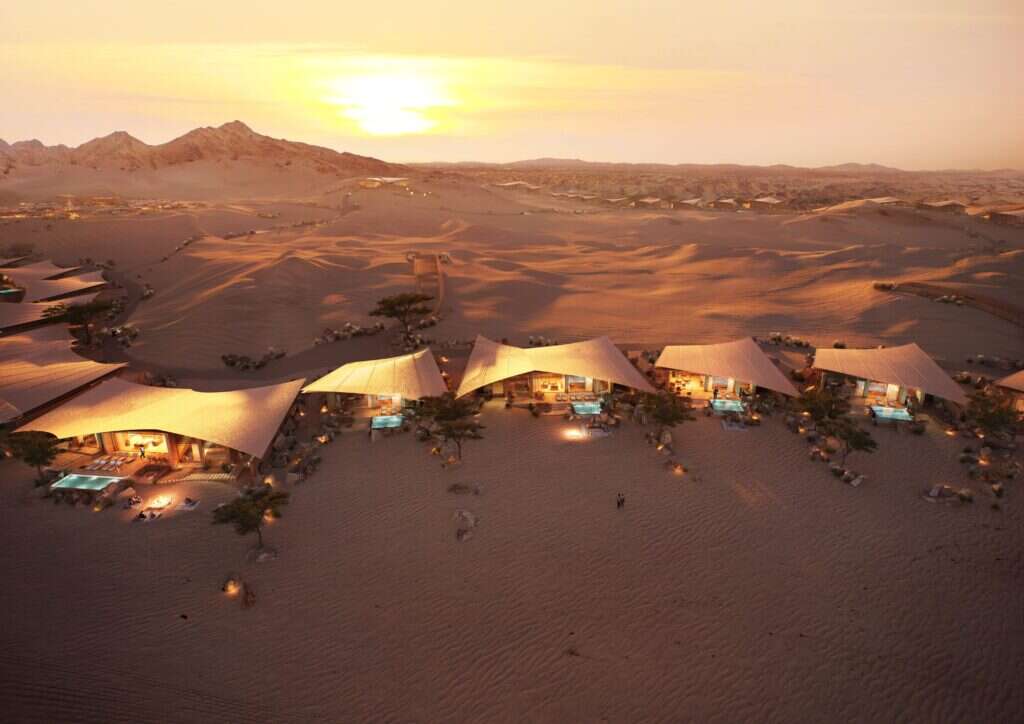 It's all about innovation
From the outset, Red Sea Global has focused on taking ownership of all aspects of regenerative development. It's a company that has been determined to break the mold and do things differently, committed to establishing and developing its skills base in-house.
"When I arrived here, I felt like there was a set formula for how large-scale projects were approached not just in Saudi Arabia but in the region as a whole," says Pagano. "It involved bringing in contractors to do the job and then they disappear. It seemed like a missed opportunity.
"Red Sea was a big ambitious project, it was going to take ten years, it felt like the right time to build what I described then as 'a national champion'. A vertically integrated real estate development company that could deliver THE RED SEA and then go on to complete other projects in Saudi Arabia, regionally or, under the right circumstances, around the world."
This determination to take a different approach has also seen a series of partnerships with external parties with the potential to make a transformative impact upon a variety of sectors. In June, for example, Red Sea Global announced a partnership with ZeroAvia, a world leader in developing zero-emission solutions for commercial aviation. Through the partnership, RSG ultimately hopes to convert  a fleet of around 30 seaplanes that are powered by ZeroAvia's 600kW hydrogen-electric powertrains to THE RED SEA.
"We are an incubator of ideas," says Pagano, "leveraging the most innovative concepts and technologies to help us deliver a new archetype which pushes beyond sustainability to deliver regeneration for people and planet."
It is this approach, he explains, that will continue to differentiate RSG from other players in the real estate sector as the company expands. "Sustainability has just become part of the standard nomenclature of real estate, everybody's doing it. It's overused. We want to go further and focus on regeneration, to begin to undo the damage."
Sticking to the values
But while RSG has worldwide ambitions, it will also stay close to its roots. "We are a company born out of Saudi Arabia and Vision 2030. That is our grounding," says Pagano. "Fifty percent of our staff are Saudi and we have the backing of the Saudi sovereign wealth fund.
"Saudi is expanding its ambition, it's opening up to the rest of the world, and it's going to participate elsewhere in the world as a leader. We are a big part of that."
Indeed, growth has consolidated, rather than eroded, the original values upon which the company was built. In terms of taking a unique approach, success has delivered a proof of concept that will only grow in impact and breadth as the number of projects expands.
"Protecting and regenerating the environment is a key feature that feeds into everything that we do," says Pagano. "The social and governance aspects are also critical for us, as a company we are transparent, I think that's important.
"The social side is also vital, equally as important as the other two. As part of a multi-billion dollar building project, Red Sea Global has brought countless jobs to the region already. It has also provided opportunities for Saudi Arabians to develop industry skills in numerous sectors like science, engineering, and real estate development.
"You can't develop without being socially responsible today, it's a core value of our business and its absolutely something we would continue in local communities as we expand further afield."
It's an approach that is already having a transformational impact upon Saudi Arabia's west coast, as THE RED SEA approaches the arrival of its first guests in early 2023. In the not-too-distant future that influence may be coming to bear upon geographies and projects much further afield.
For more, visit redseaglobal.com